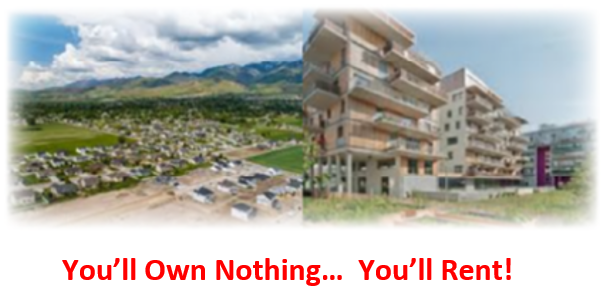 CDA 2030 is now 'Connect Kootenai.'  The United Nations' Agenda 2030 has been exposed as a socialist attack on property rights.
By Steve Dunham
The attack on private property has escalated ever since Karl Marx popularized the abolition of private property using the slogan "from each according to his ability, to each according to his needs." President Johnson said in order to win his War on Poverty and usher in his utopian vision known as the Great Society, the government would have to take more money from the "haves" and give it to the "have-nots."
The latest version of robbing Peter to subsidize Paul was formulated at the 1992 Earth Summit, in the form of Agenda 21 which is now called Agenda 2030.
Apartment projects fit well into the Agenda 2030 program of changing zoning regulations to allow apartments in residential areas with the eventual goal of eliminating single-family home ownership. The billionaires at the World Economic Forum support Agenda 2030 and a circular economy where our private property ownership will be eliminated.
The UN's Agenda 21 directs City Councils to advance an agenda of redistribution of wealth and erosion of property rights through increased taxation, regulation, property acquisition and zoning changes.
One of The UN's Agenda 2030'S master tools – 'Regional Government'
Another way Agenda 2030 is being promoted is through regional government. It was first conceived and implemented in the 1950's as metro government.  Our unique system of government of separations of power, checks and balances, multiple layers of government, and our faith and trust in God has given us the most individual freedom of any nation on earth. We have many layers of government including self, family, church, city, county, state and federal.  The Doctrine of Lesser Magistrates can now be used to intercede against the county or state by city officials to stop the enforcement of ungodly or unconstitutional laws as well as states nullifying unconstitutional laws at the federal level. Communism and socialism have always had a much easier time of subverting nations with only a central government as opposed to those with multiple layers of civil government.
Regional gov't first proposes to merge city and county governments under the reasoning that it cuts down on the duplication of bureaucratic jobs, is more efficient, and it will save the taxpayers lots of money. Cities and counties are always trying to merge police and sheriff departments to supposedly save us money.  The John Birch Society's founder, Robert Welch, once said we can survive an inefficient bureaucratic socialist government but an efficient one will apply total cradle to grave control. You think it is hard to fight city hall now, under regional government you would have no city hall to fight. Local control of your community is gone.
But it gets much worse. The promoters of regional government have bigger plans. Once cities are merged into counties, then counties will be merged into mega counties. Then the mega counties will be merged into the single state government.  Then you will have to go to Boise or Olympia to fight city hall and try to protect your property rights.
The planners at the United Nations, our 'Deep State' the Council on Foreign Relations (CFR), the WEF and other International organizations see the goal of regional government as having all nations first placed under the control of European Union type governments then ultimately under total United Nations world government control.
Don't be fooled into supporting regional government because they say it will save us money. In the long run it will cost you the loss of your property rights as well as your individual freedoms.
Everyone should watch Tom DeWeese's in-depth presentation on Agenda 2030 that was recently given in CDA to better understand and oppose regional government and the attack on Private Property Rights.
Also see: