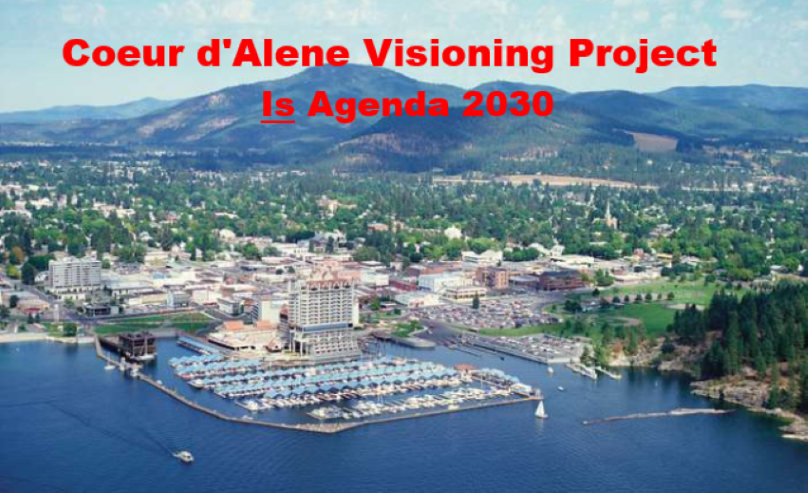 Welcome to Agenda 2030 in Coeur d'Alene, Idaho
Editor's Note:  This article originally ran in November, 2020 and was recently linked to in another article.  As a result of the many views it got from that link we have decided to run it once more.  Interests in what is really going on in Coeur d'Alene have been heightened by this and other articles exposing CDA 2030 (Agenda 2030) and Envision CDA.
By Karen Schumacher
Agenda 2030 claims to be a replacement for the eight Millennium Development Goals (MDG).  But the truth is it is nothing more than an expanded version of Agenda 21.  Agenda 2030 was introduced in 2015 with a start date of January 1, 2016.  Thanks to UN non-governmental organizations (NGO) and other United Nations (UN) partnerships, Agenda 2030 has already been at work in Coeur d'Alene.
The citizens of Kootenai County were successful in fighting off a horrific implementation of Agenda 21 with the 2010 Kootenai County Comprehensive Plan.  This villainous plan would have taken property rights away; controlled private property development; put a false boundary around the city preventing future growth; forced citizens to adopt mostly biking, walking, or mass transportation for mobility; forced social integration; increased regulatory authority over private property; along with other Agenda 21 Human Settlement ideology.  The Northwest Property Owners Alliance (NWPOA) found multiple issues to object to in this plan and it was eventually defeated in 2013.
But, they're back.
With very little citizen involvement the city of Coeur d'Alene has created a plan that disguises the same UN Sustainable Development (SD) agenda in the CDA 2030 Visioning Project.  How ironic, they used the exact same year as Agenda 2030 and even use the UN term visioning.
Agenda 2030 has crammed forty chapters of Agenda 21 into 17 goals.  To really understand their plan to transform "the world", the UN provides you with an in-depth explanation.  Did the citizens of Coeur d'Alene ask to be transformed?
Part of the purpose of the 2010 comprehensive plan was to create clusters.  This is a United Nations Industrial Development Organization (UNIDO) brainchild to put you into a forced economic development scheme to meet the needs of corporations.  Rather than defining it as a cluster, the CDA Visioning Project just creates it.  Clusters are the concentration of resources and funding in targeted areas, with patterns of economic growth creating opportunities for the poor, and includes businesses, banks, governments, and education.  It is the manipulation of people to serve the needs of corporations.  And it is astonishing how this plan even openly outlines it.
Because the length of both documents exceeds this post the highlights of both plans, are outlined below.  The CDA plan has six themes matched against some of the Agenda 2030 goals.  For anyone who lives in the Coeur d'Alene area, it is recommended that these themes are reviewed against the Agenda 2030 goals.
Coeur d'Alene Visioning Project
Theme 1 – Community & Identity
Create places where people can gather; mixed housing; encourage regional adoption; access to child care
Agenda 2030
Goal 4 – Access to quality early childhood development and pre-primary education so that they are ready for primary education
Goal 11 – Access for all to adequate, safe and affordable housing and basic services; access to green, public spaces; strengthen regional development planning
Coeur d'Alene Visioning Project
Theme 2 – Education & Learning
Address industry needs, educational requirements; availability of skilled workers; improve local workforce education and training programs
Agenda 2030
Goal 4 – Equal access to technical, vocational and tertiary education; increase numbers of youth and adults with relevant skills, including technical and vocational skills for employment, decent jobs
Goal 8 – Reduce the proportion of youth not in employment, education or training
Coeur d'Alene Visioning Project
Theme 3 – Environment & Recreation
Preserve urban forests; preserve open space; watershed planning; expand recycling participation
Agenda 2030
Goal 6 – Protect and restore water-related ecosystems (water sheds)
Goal 11 –  Reduce waste generation through recycling
Goal 15 –  Ensure the conservation of forests
Coeur d'Alene Visioning Project
Theme 4 – Growth & Development
Expand medical services, businesses; utilize renewable energy; develop infrastructure master plan to ensure critical infrastructure needs are met; complete a 'multi-modal' program of transportation
Agenda 2030
Goal 3 – Ensure access to quality essential health-care services
Goal 6 – Improve water and sanitation management
Goal 7 – Facilitate access to renewable energy
Goal 9 – Develop quality, reliable, sustainable and resilient infrastructure
Goal 11 – Ensure access to transport systems; expand public transportation
Coeur d'Alene Visioning Project
Theme 5 – Health & Safety
Expand new high demand medical services; promote development of recreational activities and a healthy lifestyle; nutrition
Agenda 2030
Goal 2 – Access to nutritious food all year round by all
Goal 3 – Ensure healthy lives; strengthen the capacity for risk reduction and management of health risks
Coeur d'Alene Visioning Project
Theme 6 -Jobs & economy
Support activities to start, recruit, and expand businesses and industries that provide higher wages and wage increases; identify job skills needed by employers; assess worker skill levels; provide skills certification testing for workers to better match worker skills to employer needs; develop economic incentives to attract new businesses or encourage business startup and development activities
Agenda 2030
Goal 8 – Achieve full and productive employment and decent work for all     including young people and persons with disabilities; equal pay for work of equal value; encourage the formalization and growth of micro-, small- and     medium-sized enterprises, including through access to financial services
Everything needed for the UN's goal of regional cluster development is in this plan, and beyond.
Now why would Coeur d'Alene elected officials do this to their citizens?  They are doing it because they don't listen to their citizens, they listen to the UN.
The partners in this plan include multiple UN associates.  Not only were Kootenai County city planners, who are associated with the American Planning Association (APA), part of this plan, but a UN organization itself, the United Way.  Waste Management is a member of the Solid Waste Association of North America (SWANA), which just happens to be a member of the International Waste Management Association of North America, a UN NGO.  The Salvation Army was also a participating member in this plan's development, and they too are a UN NGO.  Another active partner with the UN is the U.S. Army Corp of Engineers.  And sadly, the U.S. Chamber of Commerce engages in this plan as a traitor to the United States as a UN NGO and member of the International Chamber of Commerce as another UN NGO.
So, the UN cronies, who have already been given their assignment to engage with local officials to push UN ideology and goals, have been successful in taking away the rights of Coeur d'Alene citizens.  How irresponsible those officials have been to those who elected them.  The citizens are the ones who should be advising their officials on how they want their city to look, be managed, and what they want for their future, not the UN.  These same citizens should take a direct and demanding approach with their elected officials to stop this plan and insist on their involvement ONLY for any future plans.  If those officials fail to listen an immediate recall should be in order.
It is time the citizens of all Idaho cities and counties take control of their government.