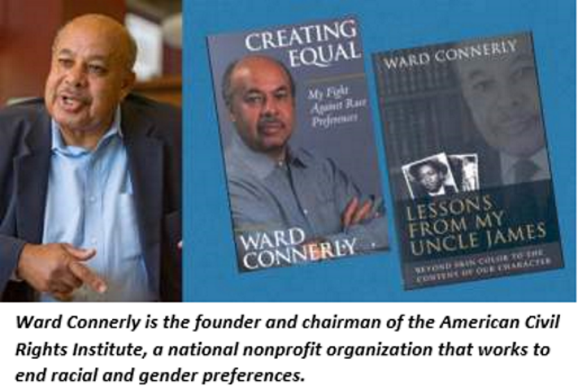 An Urgent and Most Important Appeal to WA Citizens
By Ward Connerly
Can there be any doubt that our nation is engaged in a cultural civil war, with bogus charges of "racist" and "white supremacist" being hurled by one side as bullets, and with no regard for where those bullets might land or the consequences they might have. This "war" is also being fought on a battlefield in the State of Washington over the issue of individual rights for the citizens of the Evergreen state.
As I have previously written on these pages, the Washington Democrat Party passed on the last night of the 2019 legislative session one of the most egregious bills to be approved by any non-federal legislative body in my 80-year tour of life in America. The bill is I-1000 and it was muscled through on the last night of the 2019 legislative session, as both hands of the clock on the wall approached "12."  The bill was approved on a party line vote in the Democrat-controlled Washington Legislature based on a citizen-petition that had been circulated by the social justice wing of the WA Democrat Party.
In response to this action, a small American lady of Asian descent took an historic step in the process of teaching her fellow Americans an invaluable lesson about eternal vigilance.  Linda Yang organized WA Asians 4 Equality, enlisted Beverly Hanson, Janice Camarena, John Carlson and yours truly as honorary "Asians," to work with volunteers from what she described as her "community."  Our mission was to overturn by referendum the action taken by the Legislature.
Initiative 1000 allows preferences based on the use of characteristics such as race, sex, color, ethnicity, national origin, age, sexual orientation and disability when considering a person for education or employment opportunities.  I-1000 falsely claims to ban preferential treatment, meaning when those characteristics are the sole or deciding factor for considering a person for education or employment opportunities. The measure creates the Governor's Commission on Diversity, Equity, and Inclusion which is responsible for ensuring compliance with the measure, and is required to issue an annual report on the progress of state agencies with respect to compliance. This commission is essentially a "deep state" vehicle designed to ensure the protection and preservation of "identity politics" in Washington.
I am extremely happy to report that Linda Yang and her chief associate, Kan Qiu, with only 130,000 signatures required, turned in 213,268 signatures, collected in 56 days, and on August 7 the WA Secratary of State certified that I-1000 would be decided by the people in the general election on November 5, 2019.   At that point, I-1000 became R-88, and the voters will be asked whether they accept or reject R 88.
It has been widely reported by the social justice warriors who are supporting I-1000 that they will have a budget of $4 million to spend between now and the election.  This is a very significant amount, and based on the fact that the ruling party – Democrat Socialists – is supporting this, it is likely that the Indian tribes, labor unions and other left-leaning interests will be supporting the campaign of the opponents.
For those who believe that America should continue to be a God-fearing nation dedicated to the rule of law and the founding principles of liberty and individual equal rights for all, I implore you to become engaged in the campaign to defeat I-1000 (Reject R – 88).
Please call Linda Yang at (425) 628-8375, thank her for being a great American, make a contribution to the campaign, and volunteer to write a letter to the editor of your local newspaper or whatever else you can do.  We cannot twiddle our thumbs while the Far Left destroys America!!
See:
From Ward Connerly:
The Importance of WA Referendum 88
Ward Connerly Warns Against Washington State's "Racial Preferences" Initiative – video
Building Diversity Through Affirmative Action:  Legalized Discrimination
Ward Connerly Outs WA's I-1000 Bill at Spokane Conservative Republicans' Jan. Meeting
From Tim Eyman:
What an amazing 24 hours: My 24 hours w/ Ward Connerly and the fight to stop I-1000 
From Steven Neill:
I-1000: Reviving Bigotry in WA State
And from Rich Loudenback: 
WA's leg. morons passed I-1000 'Affirmative Action.' Foolish Gov. Inslee WILL SIGN IT and he wants to be our President?  God Help Us!
Wardell Anthony "Ward" Connerly is an American political activist, businessman, and former University of California Regent (1993–2005). He is also the founder and the chairman of the American Civil Rights Institute, a national non-profit organization in opposition to racial and gender preferences. He is considered to be the man behind California's Proposition 209 prohibiting race- and gender-based preferences in state hiring, contracting and state university admissions, a program known as affirmative action.