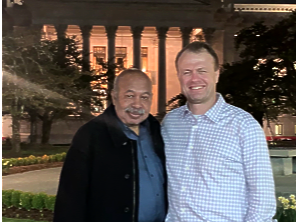 What an amazing 24 hours:

My 24 hours w/ Ward Connerly and the fight to stop I-1000

"When a movement has to use fear and intimidation to get what it wants, how worthy is it?"
By Tim Eyman

Comments I made on Thursday, April 18, 2019 in Olympia, WA:
Ward Connerly is an American hero. Thanks to his leadership and inspiration, nearly 60% of voters passed Initiative 200 in 1998. For the past 20 years, it has prohibited state and local governments from discriminating against, or granting preferential treatment to, any individual or group on the basis of race, sex, color, ethnicity, or national origin and the operation of public employment, public education, and public contracting. From 8 AM-10 AM in Olympia today, there is a public hearing on initiative 1000 which guts / negates/ obliterates voter- approved I- 200.  Ward and his wife Janice flew into town yesterday and we had a wonderful evening having dinner and scouting out the Capitol campus. He is a warm, caring, courageous man who has dedicated his life to fighting for equal treatment for all Americans. He'll be telling Olympia legislators: don't re-empower the government to discriminate. Ward is fighting for all of us today. I ask you to pray for him.
Political activism involves slogging through swamps and sludge and muck. It's messy and ugly and gross. But every once in a while, you find that perfect moment, that mountaintop that makes it all worth it.
I had one of those yesterday with an American hero Ward Connerly.
Here's my legislative testimony where I honored this heroic man — it's just 90 seconds long: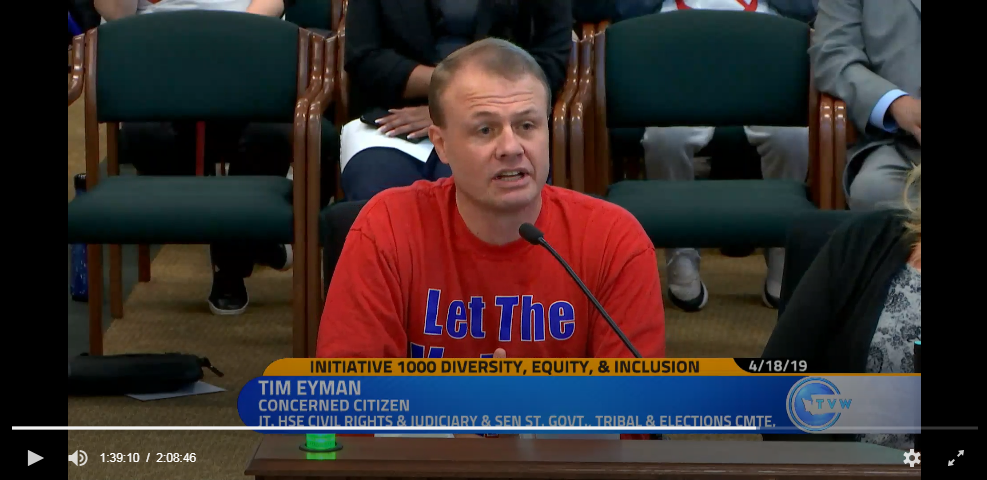 You can watch the entire two-hour hearing here:  (Ward Connerly is at 35:40 and his wife, Janice Camarata is at 1:37).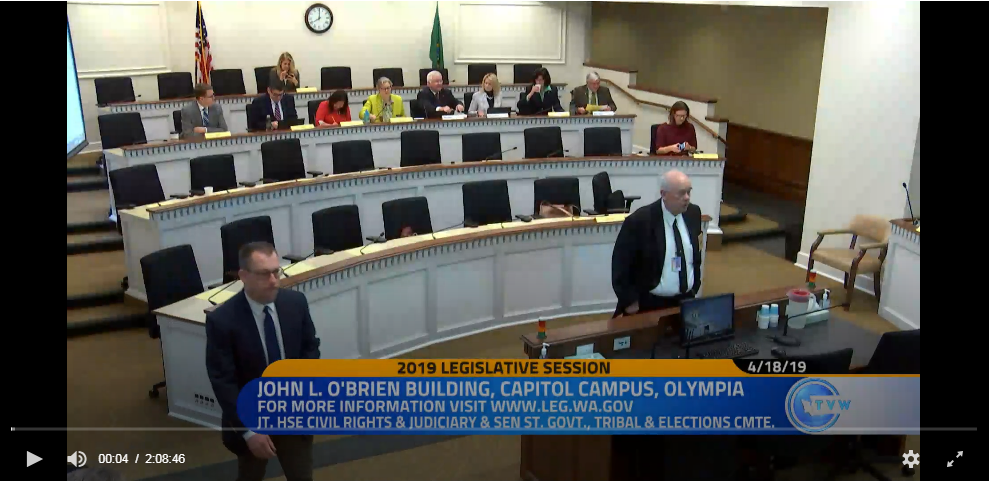 I was one of the original co-sponsors of Initiative 200, the Washington State Civil Rights Initiative. It was my first. I worked on it for nearly 9 months and loved every minute of it. But I was an abysmal failure at leading it's signature drive, having never done one before. We weren't going to make it. So I called John Carlson and literally begged him to take over. He did. I then called Ward Connerly and asked him to help save it. He did. I essentially put Initiative 200 up for adoption. The two of them qualified I-200 for a public vote and carried it over the finish line with nearly 60% of voters passing it.
I-200 is one of my proudest failures.
Working together, we've successfully qualified 17 statewide initiatives for a public vote. Voters have passed 10 of them (it'll be 11 this fall when voters bring back our $30 tabs!!). They've saved taxpayers over $43 billion (https://permanentoffense.com/about-us/).
We don't win every battle but we know we can never win unless we're willing to fight.
Is it any wonder that Attorney General Ferguson is so desperate to impose a lifetime ban on my future political activities?
You're obviously under no obligation to help me but I hope you will anyway. The costs of litigation, bankruptcy, and other crap coming from the AG's attacks are brutal. I really need your help. Please:
1)  Mail check to:  Tim Eyman Legal Defense Fund, 500 106th Ave NE #709, Bellevue, WA, 98004
2)  PayPal:  https://www.paypal.me/timdefense
3)  GoFundMe:  https://www.gofundme.com/Help-Tim-Eyman-Survive-Fund/donate
Thank you for your friendship during this very difficult time.
I love you all.
Tim Eyman, 509-991-5295,tim.eyman@gmail.com, www.TimDefense.com