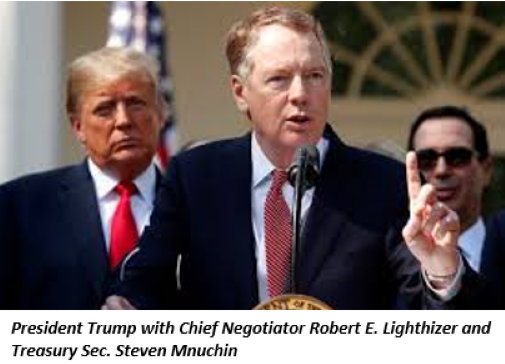 What Trump Can't Know About the USMCA!
By Rich Loudenback
If you really believe in President Trump after reading this, you will realize he can't possibly know all that is in the United States, Mexico and Canada Free Trade Agreement (USMCA).  Unfortunately he is believing trusted advisors that are lying to him.  As pro America as President Trump is, he should be raising absolute hell about the facts involved in this ginned up nefarious scheme by the deep state to hasten the demise of America's sovereignty.
We keep hearing from our duped elected representatives and senators that there is good stuff in it for their special interests, i.e. dairy farmers, cattle ranchers, corn, wheat, soy bean and other crop farmers, etc.  The bullet-pointed propaganda they are getting from well financed lobbyists are pearls used as bait to reel them and America in for control by others.  They are not doing their due diligence if they don't vet it themselves and vote against it.  If they don't, there should be hell to pay come the next election, should there still be one.
We need one good American patriot who has President Trump's ear to open his eyes to the truth about the USMCA before it's too late.
Most Americans are oblivious to the fact that we are so close to dissolving away as a sovereign nation.  If you haven't recognized it yet, we are under a full court press by the indoctrination of our youth, attack on our freedoms of speech, property rights, voting rights, religion, national borders, historical monuments and much more into ad nauseum.
IT IS VITAL THAT YOU TAKE THE TIME TO READ THIS, THEN VET IT AND TELL OTHERS FOR THE SAKE OF OUR CHILDREN'S FUTURE! 
Written by Christian Gomez, The New American Magazine
(Italics are my comments- RL)
A side-by-side comparison of the USMCA and the TPP shows extensive overlap. Virtually all of the problems inherent in the TPP are likewise contained in the USMCA, such as the erosion of national sovereignty, submission to a new global governance authority, the unrestricted movement of foreign nationals, workers' rights to collective bargaining, and regional measures to combat climate change.

 Guess who was the chief negotiator for NAFTA, TPP and USMCA?  Answer: Robert E. Lighthizer, who is also a member of the globalists' Council on Foreign Relations (CFR).   Click the CFR link to learn why that is all bad!!!
And Council on Foreign Relations President Richard Haas said "

The USMCA looks to be the trade pact formerly known as NAFTA plus 10-20%.

Hope it becomes a precedent for TPP. I suggest the US-Pacific Trade Agreement (USPTA)," Haass said on Twitter, adding, "What matters is that the US joins it; doing so would bolster our strategic position visa-vis China and our economy." The next day, Haass again took to Twitter, where he reiterated his renewed hope of the United States rejoining TPP. Haass tweeted:

"USMCA is NAFTA plus TPP plus a few tweaks."
The USMCA — the NAFTA replacement — represents the next globalist step toward the economic integration of the United States, Mexico, and Canada into an EU-style North American Union. Read the actual text to believe it:  USMCA | United States-Mexico-Canada Agreement – The full actual document
It runs for 1,809 pages — 1,572 pages for the treaty chapters, 214 pages for additional annexes, and 23 pages of side letters. Obviously, the mammoth size of the agreement should set off alarm bells that much more is involved than "free trade," which should mean the absence of government intervention.
The pact is even worse than NAFTA regarding undermining American sovereignty and self-determination

, in favor of North American integration extending beyond trade to include labor and environmental policies. It is, in fact, so bad that the globalists who had lambasted Trump for renegotiating NAFTA praised him afterward.
'MIGRATION ROADMAP'– Chapter 23 Is Totally Antithetical to the Wall. Chapter 23 of the USMCA would also serve as a beachhead for a cross-border migration invasion similar to that experienced in the European Union.

Provisions from USMCA's Chapters 17 and 23 have the potential to undermine President Trump's border security measures and further open our nation's borders.

Article 23.8 on "Migrant Workers" requires each country to "ensure that migrant workers are protected under its labor laws, whether they are nationals or non-nationals" of the country they are residing in. (Emphasis added.)
'FREE TRADE COMMISSION,'Chapter 30 of the USMCA establishes the creation of a "Free Trade Commission," which is broader in scope and power than the original 1994 NAFTA Free Trade Commission. According to Article 30.2, the USMCA's

Chapter 30 "Free Trade Commission" can make changes

to the agreement itself, implement changes to the agreement, change the rules by which it operates, approve who serves on its lower subordinate committees, and oversee the work of those committees like an international bureaucracy or government — all without the consent or approval of Congress.
The Free Trade Commission will also oversee committees on Agricultural Trade

, Rules of Origin and Origin Procedures, Textile and Apparel Trade Matters, Customs and Trade Facilitation, Technical Barriers to Trade, Government Procurement, Transportation Services, Financial Services, Telecommunications, Intellectual Property Rights, State-Owned Enterprises and Designated Monopolies, the Environment, Small and Medium-Sized Enterprises Issues, North American Competitiveness, Good Regulatory Practices, and Private Commercial Disputes. The committees will meet regularly or on an annual basis, depending on the committee, and like the Free Trade Commission, unelected government representatives from each of the three countries will comprise them. Committees can propose changes or revisions to the chapter in the agreement that corresponds to their area. All of the committees' work, discussions, findings, and recommendations are to be submitted to the Free Trade Commission for further consideration. And much like the TPP Commission, the Free Trade Commission can make changes to the agreement without the consent of Congress. In fact, the agreement completely undermines Congress' constitutional Article I, Section 8 power to regulate trade with foreign nations, such as Mexico and Canada, and to impose tariffs on them should the need arise, as in the case of national security. Tariffs to remedy problems would be out of U.S. hands. Steel and aluminum tariffs
Longtime State Department official Lincoln Bloomfield argued that global government could be brought about via regionalism.

In the plan, he proposed that "ever larger units evolve through customs unions, confederation, regionalism, etc., until ultimately the larger units coalesce under a global umbrella."
Submission to International Authority: Consistent with other globalist schemes, the USMCA follows the "rules-based system" of compliance with international authorities such as the World Trade Organization, International Labor Organization, and a plethora of United Nations conventions including the

 Law of the Sea Treaty,

and the furtherance of "sustainable development," which is mentioned no fewer than six times in the environment chapter.
One example of the USMCA's complete subordination to international authority can be found in Article 24.18 of the new environment chapter, regarding fisheries, which states in part:

Each Party shall base its fisheries management system on the best scientific evidence available and on internationally recognized best practices for fisheries management and conservation as reflected in the relevant provisions of international instruments aimed at ensuring the sustainable use and conservation of marine species.
The footnote below for that section defines what exactly those "international instruments" are, stating:

These instruments include, among others, and as they may apply, United Nations Convention on Law of the Sea (UNCLOS), the United Nations Agreement for the Implementation of the Provisions of the United Nations Convention on the Law of the Sea of December 1982 relating to the Conservation and Management of Straddling Fish Stocks and Highly Migratory Fish Stocks, done at New York, December 4, 1995 (UN Fish Stocks Agreement), the FAO Code of Conduct for Responsible Fisheries, the 1993 FAO Agreement to Promote Compliance with International Conservation and Management Measures by Fishing Vessels on the High Seas (Compliance Agreement), done at Rome, November 24, 1993, the 2001 FAO International Plan of Action to Prevent, Deter, and Eliminate Illegal, Unreported, and Unregulated (IUU Fishing), and the 2009 Agreement on Port State Measures to Prevent, Deter, and Eliminate IUU Fishing.
Although the USMCA does not include a separate chapter on gender-related issues, as was originally outlined among Canada's goals, such language is sprinkled throughout the labor chapter, further advancing the LGBTQ agenda.
—————————————————————————————————————————————————–
Please see Christian Gomez's special report:  'USMCA – A TPP Redux?'
Also see:
NAFTA's Next Phase toward North American Union?
President Trump's Brutus and Cassius?
USMCA Advances the Globalist Agenda!
ID's US Sen. Risch: Don't Vote with Trump on USMCA, Have the Guts to Show Him What He's Not Aware Of!
Negative Impact of USMCA on U.S. Cattle Industry Predicted
USMCA: What They Are Not Telling You – 33 min. video