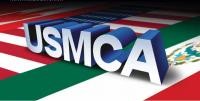 How to Stop the Passage of the USMCA
By Kristin Kenowski
In case you missed it, last week Mexico's Senate passed a progressive labor reform bill, which brings us one step closer to the U.S. Congress ratifying the United States-Mexico-Canada Agreement (USMCA). Congressional approval of the USMCA trade agreement would accelerate the development of a North American Union (NAU), which would threaten our God-given rights as secured by the U.S. Constitution and strip America of its sovereignty. Meaning, there is no time to waste in preventing its passage.
House Democrats claimed that they were waiting on Mexico to pass this bill, but now President Trump is under pressure to remove his tariffs on steel and aluminum for Mexico and Canada. The Democrat controlled House may very well push the USMCA approval and implementation very quickly if the tariffs are removed. House Speaker Nancy Pelosi (D-Calif.) unveiled her stance on the USMCA passage this past Thursday, stating she wants more enforcement of the agreement once it would be in place. Regarding the USMCA's chance of approval, Pelosi said: "We would like to get to a yes… I thought it would be easier than this." To the House Speaker's dismay, so far the Trump administration isn't budging on the tariffs, which means the USMCA could be rejected and NAFTA could be ended!
Still Democrats and Republicans alike must be enlightened to what the USMCA would actually entail. The fact is that the unaccountable USMCA bureaucracies usurp Congress' Article I Section 8 power "to regulate commerce with foreign nations." Congress would be willingly opening the door for the USMCA's unelected, trinational Free Trade Commission (buried deep in the USMCA agreement) to regulate commerce among the United States, Mexico, and Canada.
Stopping congressional approval of the USMCA will not be easy, but it can be done. Founder Robert Welch repeatedly stated what was needed to defeat the conspiracy: using education as our total strategy and truth as our only weapon. America must wake up or otherwise face the tough reality of our freedoms disappearing.
In order to stop the passage of the USMCA share these key talking points with your representative and senators:
The USMCA:
Expands upon what the North American Free Trade Agreement (NAFTA) started, increasing government regulations through the USMCA Free Trade Commission
Surrenders independence and sovereignty to a North American regional governing bureaucracy
Dictates employer relations, such as LGBTQ policies
Could wipe out America's entire cattle industry
Threatens our rights as secured by the U.S. Constitution
Accelerates the merger of our government with Mexico's and Canada's into a North American Union
But the education cannot stop there! It is imperative that your representative and Senators know the globalists' goal of securing a North American Union through the USMCA. ShopJBS.org has USMCA materials that can be easily handed out, our YouTube channel can also be utilized as a great resource, and the Stop the USMCA action project page covers even more valuable information that needs to get out to the American people. Help us share it! Members can also log on our website and utilize the USMCA PowerPoint for group presentations.
Most urgently, phone your representative (202-225-3121) and Senators (202-224-3121), and ask them to oppose and vote NAY on any USMCA implementation bill. Ask others to do the same. Then, follow up with an email explaining why the USMCA strips our nation of sovereignty.
Canada has stated that it will not sign the deal with the U.S. imposed aluminum and steel tariffs still in place, so there is hope that the USMCA will not get approved. But since the USMCA is so dangerous to our personal rights and national sovereignty, we have to work to stop the USMCA as if it will come to a vote in Congress this summer and does have a good chance of being approved. Are you with us?
Published with Permission of jbs.org