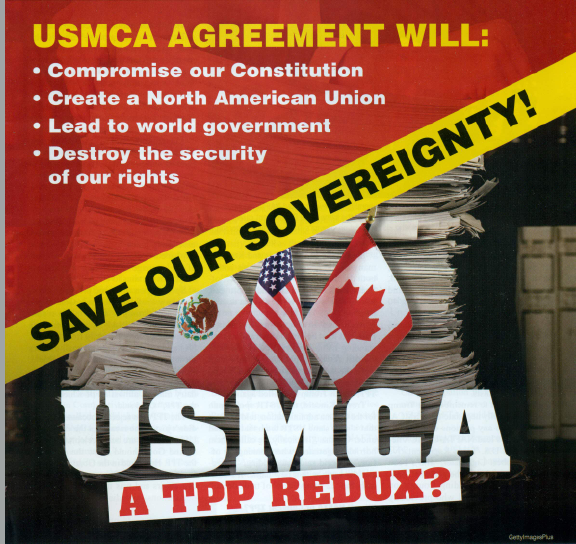 Betrayed, by Advisors, Trump Will Be Livid When He Learns the USMCA Takes Our Sovereignty!
By Rich Loudenback
Trump-loving Americans want to believe he can do no wrong.  Not a perfect man, he is thought of as the perfect man for our times, complete with some imperfections like everyone else.
However, our beloved President can't possibly know everything all the time about all on his own.  He must rely on advisors.
He's trusting that his Chief Economic Advisor, Larry Kudlow would tell him no wrong.
Kudlow says our Chief Trade Negotiator, Robert E. Lighthizer is the best we have and the perfect man to negotiate the USMCA trade deal to replace NAFTA, which Trump acknowledges as a bad deal for America.  Trump also acknowledged that the proposed TPP was so bad for America he cancelled it immediately upon taking office.
But all three programs are designed ultimately to erode our national sovereignty driving us into a regional partnership (North American Union) then on to becoming a member state of a global government.
TREACHOROUS BETRAYAL BY 'TRUSTED' ADVISORS:
"A side-by-side comparison of the USMCA and the TPP shows extensive overlap. Virtually all of the problems inherent in the TPP are likewise contained in the USMCA, such as the erosion of national sovereignty, submission to a new global governance authority, the unrestricted movement of foreign nationals, workers' rights to collective bargaining, and regional measures to combat climate change." – Quote from Christian Gomez in his New American Magazine special report 'USMCA – A TPP Redux?'
Guess who was the chief negotiator in both NAFTA and TPP?
Answer: Robert E. Lighthizer, who is also a member of the globalists' Council on Foreign Relations (CFR).
And Council on Foreign Relations President Richard Haas said, "The USMCA looks to be the trade pact formerly known as NAFTA plus 10-20%. Hope it becomes a precedent for TPP. I suggest the US-Pacific Trade Agreement (USPTA)," Haass said on Twitter, adding, "What matters is that the US joins it; doing so would bolster our strategic position visa-vis China and our economy." The next day, Haass again took to Twitter, where he reiterated his renewed hope of the United States rejoining TPP. Haass tweeted: "USMCA is NAFTA plus TPP plus a few tweaks."
The USMCA — the NAFTA replacement — represents the next globalist step toward the economic integration of the United States, Mexico, and Canada into an EU-style North American Union.
HARD TRUTH: UNREFUTABLE FACTS
Again quoting from Gomez's extensive in depth report:
"It runs for 1,809 pages — 1,572 pages for the treaty chapters, 214 pages for additional annexes, and 23 pages of side letters. Obviously, the mammoth size of the agreement should set off alarm bells that much more is involved than "free trade," which should mean the absence of government intervention.
"The pact is even worse than NAFTA regarding undermining American sovereignty and self-determination, in favor of North American integration extending beyond trade to include labor and environmental policies. It is, in fact, so bad that the globalists who had lambasted Trump for renegotiating NAFTA praised him afterward. (See the article on page 1.)

"The only major differences between the TPP and the USMCA are its geographic scope and accession chapter. Unlike the TPP, which allowed for the accession of new member countries — requiring only the approval of the TPP Commission, rather than the governments of each country deciding — the USMCA does not appear to include a provision for adding new members to the agreement.
"In addition to Lighthizer, another of Trump's negotiators was his son-in-law Jared Kushner, who has had business ties with the Deep State, including Goldman Sachs and George Soros. In addition to Lighthizer and Kushner, many of the negotiators working within both the State Department and USTR office are career diplomats and employees, having also worked in the Obama administration.
                                    TRUMP CAN'T HAVE IT BOTH WAYS:                                      USMCA IS ANTI-THETICAL TO THE WALL
"'MIGRATION ROADMAP' – Chapter 23 of the USMCA could also serve as a beachhead for a cross-border migration invasion similar to that experienced in the European Union. In language that is virtually identical to that found in the TPP, Article 17.5 of Chapter 17 of the USMCA states: "No party shall adopt or maintain … a measure that … imposes a limitation on … the total number of natural persons that may be employed in a particular financial service sector or that a financial institution or cross-border service supplier may employ … in the form of numerical quotas or the requirement of an economic needs test." This opens the door for Mexico and its incoming radical socialist government or for a Mexican, a Canadian, or even a U.S.-based company to sue the U.S. government for restricting the number of employees that such a company would want to bring across the border into the United States. As well, provisions from USMCA's Chapters 17 and 23 have the potential to undermine President Trump's border security measures and further open our nation's borders. Article 23.8 on "Migrant Workers" requires each country to "ensure that migrant workers are protected under its labor laws, whether they are nationals or non-nationals" of the country they are residing in. (Emphasis added.)
"Such provisions could also further serve to help Democratic lawmakers retain President Obama's unconstitutional executive action for Deferred Action for Childhood Arrivals, commonly known as DACA. In fact, any adjudication on this matter could very well fall under the judicial jurisdiction of a USMCA bi-national panel for dispute resolution, rather than under the legal control of the United States.
"'FREE TRADE COMMISSION,' Chapter 30 of the USMCA establishes the creation of a "Free Trade Commission," which is broader in scope and power than the original 1994 NAFTA Free Trade Commission. According to Article 30.2, the USMCA reads, "The Commission shall":
(a) consider matters relating to the implementation or operation of this Agreement;
(b) consider proposals to amend or modify this Agreement;
(c) supervise the work of committees, working groups, and other subsidiary bodies established under this Agreement; (
d) consider ways to further enhance trade and investment between the Parties;
(e) adopt and update the Rules of Procedure and Code of conduct; and
(f) review the roster established under Article 31.8 (Roster and Qualifications of Panelists) every three years and, when appropriate, constitute a new roster.
"In other words, the USMCA's Chapter 30 "Free Trade Commission" can make changes to the agreement itself, implement changes to the agreement, change the rules by which it operates, approve who serves on its lower subordinate committees, and oversee the work of those committees like an international bureaucracy or government — all without the consent or approval of Congress.
"The Free Trade Commission will also oversee committees on Agricultural Trade, Rules of Origin and Origin Procedures, Textile and Apparel Trade Matters, Customs and Trade Facilitation, Technical Barriers to Trade, Government Procurement, Transportation Services, Financial Services, Telecommunications, Intellectual Property Rights, State-Owned Enterprises and Designated Monopolies, the Environment, Small and Medium-Sized Enterprises Issues, North American Competitiveness, Good Regulatory Practices, and Private Commercial Disputes. The committees will meet regularly or on an annual basis, depending on the committee, and like the Free Trade Commission, unelected government representatives from each of the three countries will comprise them. Committees can propose changes or revisions to the chapter in the agreement that corresponds to their area. All of the committees' work, discussions, findings, and recommendations are to be submitted to the Free Trade Commission for further consideration. And much like the TPP Commission, the Free Trade Commission can make changes to the agreement without the consent of Congress. In fact, the agreement completely undermines Congress' constitutional Article I, Section 8 power to regulate trade with foreign nations, such as Mexico and Canada, and to impose tariffs on them should the need arise, as in the case of national security. Tariffs to remedy problems would be out of U.S. hands. Steel and aluminum tariffs
"Longtime State Department official Lincoln Bloomfield argued that global government could be brought about via regionalism. In the plan, he proposed that "ever larger units evolve through customs unions, confederation, regionalism, etc., until ultimately the larger units coalesce under a global umbrella." – Unquote Christian Gomez
Americans who understand what our great Republic and our capitalist system of government are about can't say enough about how we appreciate our incredible fighting President.
President Trump needs help in many ways and that includes help from patriotic 'trusted' advisors.  But he is not getting the truth.  He is being betrayed!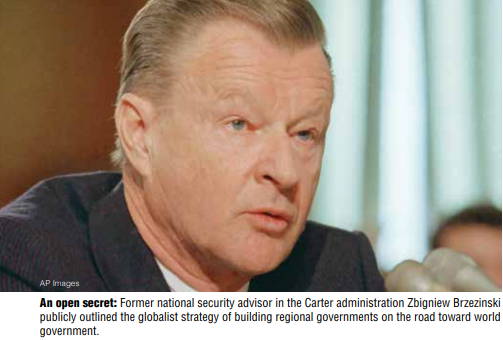 What we need is for one good American who has his ear to reveal the facts contained in this most nefarious of trade pacts.  The USMCA is a an artful tool that deviously makes us a member state of at first a regional government to be morphed gradually into a global government run by unelected, unaccountable global elitists from the CFR and UN who know best about everything for everybody all the time.
We tried to convey the sovereignty destroying facts to Idaho US Senator James Risch at the Coeur d'Alene Lincoln Day Dinner, and to our dismay, his rote answer was 'How can I vote against the President?'  Right! He wouldn't listen to us.
All we need is one good patriotic American hero to help save our nation by opening our driven President's eyes.  That's all we need, I believe.
Because I believe in President Trump.  And he just needs to know the truth.  I also am of the opinion that Gomez's eye opening report is the perfect information for President Trump to read.
Please see Christian Gomez's special report:  'USMCA – A TPP Redux?'
Also see:
USMCA | United States-Mexico-Canada Agreement – The full actual document
NAFTA's Next Phase toward North American Union?
President Trump's Brutus and Cassius?
USMCA Advances the Globalist Agenda!
ID's US Sen. Risch: Don't Vote with Trump on USMCA, Have the Guts to Show Him What He's Not Aware Of!
Negative Impact of USMCA on U.S. Cattle Industry Predicted
USMCA: What They Are Not Telling You – 33 min. video