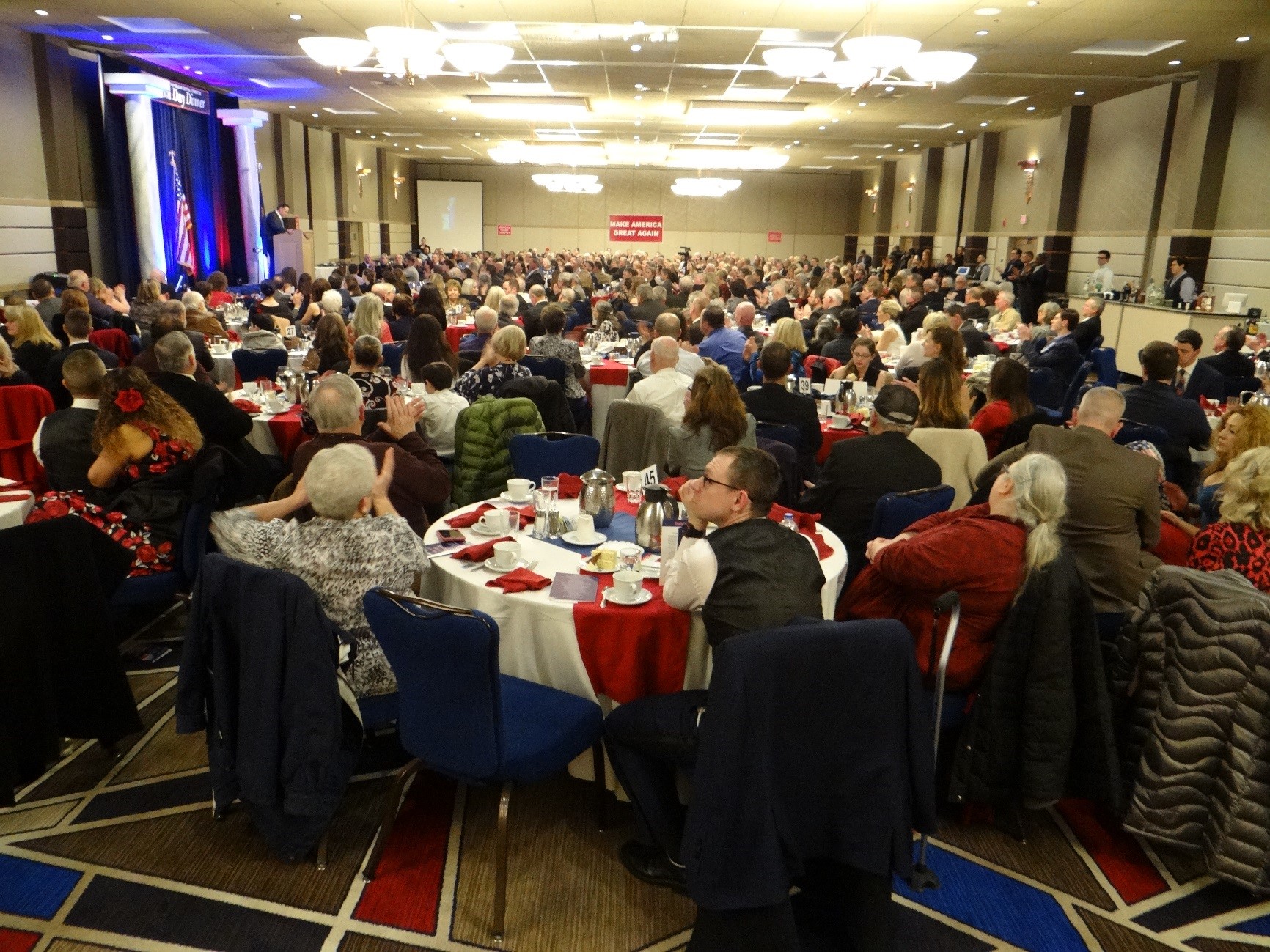 2019 GOP Lincoln Day Dinner is Biggest Ever in Cd'A!
By Rich Loudenback
The Kootenai County Republican Central Committee (KCRCC) hosted their annual Lincoln Day Dinner at the Coeur d'Alene Resort on Saturday March 2nd.   KCRCC Chairman Brent Regan  was pleased to report that they set a new attendance record with 475 happy Republicans showing up to support and celebrate their great platform and accomplishments.  He stated after the event that everything went like clockwork, finishing right on time.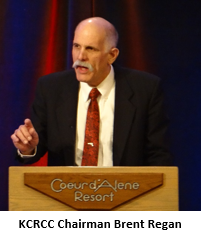 Regan opened the event by thanking everyone for slogging through two feet of global warming to get there. He said he heard we haven't had this much snow in 100 years, so maybe instead of climate change they need to call this a climate rerun.
He mentioned that two years ago they gathered there to celebrate 'Making America Great Begins In Idaho,' to which he proudly reported, "And we can say with confidence that it truly has."
He went on to say, "The propaganda wing of the Socialist Party, otherwise known as the lying, fake media, won't tell you the good news, but I will.
"The engine of American prosperity is at full throttle. Unemployment is at an all-time low. Financial markets are at an all-time high. President Trump has negotiated that American farmers can now sell rice to China. If you are a minority in America you have a higher standard of living than anywhere else in the world. And because of the American example in our lifetime, world poverty, grinding poverty, dollar a day poverty has fallen from 1 in 4 people to 1 in 20, an over 80% drop. All of that is the greatest anti-poverty achievement in the history of the world, by following the American example.
"Satellites tell us in the last 10 years, the planet has gotten greener because of plant food in the atmosphere. You know it as CO2. Food production is at an all-time high while only two thirds of farmable land is under cultivation. And that number is falling.  One of the primary concerns among America's health community is that of obesity.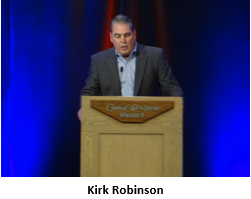 "We are not here to highlight our differences, or grievances, or our envy. We are here tonight to celebrate what binds us together and makes us un-hyphenated Americans. God, family, community and country. These are pillars upon which American exceptionalism proudly stands."
Regan then introduced Pastor Tim Remington from the Alter Church for the invocation, the Pappy Boyington Detachment of the Marine Corps League for the posting of the colors and Pastor Paul Van Noy of the Candlelight Christian Fellowship for the blessing of the meal.
"Those that serve in our Armed Forces we owe an immeasurable debt," said Regan.  "This is a personal debt that each of us individually owe.  A new local organization aids our veterans. The Double Tap Foundation has been organized to do just that."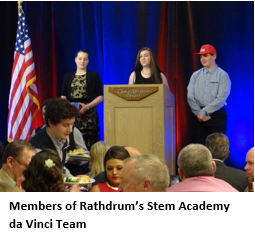 Double Tap director Kirk Robinson introduced their program which provides services for veterans in many ways with their primary focus centered around the gym where veterans can come in weekly for lone private sessions for physical fitness, nutrition and camaraderie. He said they have two full-time staff members who give one-on-one hour long services to all vets. A new Vet never pays a dime.  Visit Double Tap online at patriotfitness.health/
A report from space by the students from Rathdrum's Stem Academy da Vinci Team announced that last year they announced their intentions to put a satellite in orbit.  This year they announced that they are proud to introduce themselves as the high school team who launched a satellite.  They stated that with the many donations to their effort they were able to put their satellite in orbit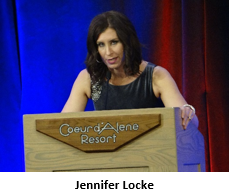 and establish a ground station so that they are able to communicate with their satellite and other students around the world.  Quite an achievement and the only high school in the world to do so.
Deputy County Clerk of Kootenai County and acting Chairwoman of the Idaho Republican Party, Jennifer Locke introduced freshman representative from District 11 Tammy Nichols.
Rep. Nichols called for GOP unity against the politically motivated local media destroying Idahoans by lying and labeling conservatives with half-baked information motivated by a deeply seated political agenda.  See her full speech in her article in this issue:  "ID Rep. Tammy Nichols Calls for GOP Unity Against Politically Motivated Local Media"
Janice McGeachin, Idaho's new Lt. Governor delivered insightful comments on her efforts leading the Idaho Senate and the need for our Idaho education to embark on helping our youth develop trade skills that are direly lacking currently in our one size fits all scheme of things.  See her complete speech in this issue: "Idaho Lt. Gov. Janice McGeachin, on Idaho's Future."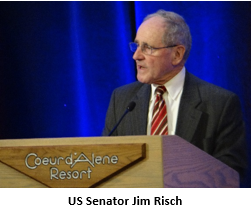 Idaho US Senator Jim Risch reporting from the U.S. Senate announced that his Idaho partner in the Senate, Sen. Mike Crapo, couldn't attend the Lincoln Day event. He boasted that in all the years together after conferring with each other on most all votes they only differed two or three times in their votes. Risch acknowledged that newly elected US Representative Russ Fulcher will be a great addition to their team.
"This is a great time to be a Republican.  I won't live again to see a time of prosperity like we have in America today with the unemployment we have, with the consumer vision as good as it is today and as prosperous as it is today. The one statistic I think you missed was as of the tick of midnight on December 31 America became the largest producer of crude oil in the world, passing Saudi Arabia and Russia. That was not an accident. And it wasn't because our New Green Deal friends on the other side were promoting oil by any stretch. It was because of your president and because the United States Republican Congress ratcheted back the vast majority of the rules that had been placed on the oil and gas industry during the eight years of the Obama administration.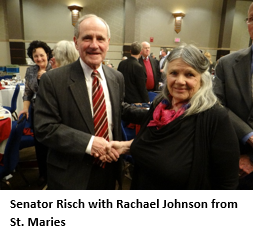 "Isn't it amazing what magic can happen when you turn the free enterprise system free, or the free market loose?
"Today in Washington DC everything is about Donald Trump. I've almost quit doing TV interviews because it's all about Donald Trump. If you turn on the cable TV or you pick up the New York Times or the Washington Post which I don't recommend you do is all about how badly they can demean him, how bad can they make him look. I've done this all my life and I have never seen a human being who has drawn so much hate, the vitriol and the bitterness of the other side. The Democrats feel that way and the national media feel the exact same way and it is disgusting!
"This is the President of the United States we're talking about. This is the man that did all the things that the chairman has listed. Do you know if Barack Obama had done half of those things they would've been insisting that his head be the fifth on Mount Rushmore.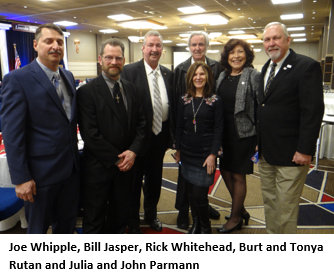 "When President Trump ticked off his successes during his State of the Union speech he ticked off that we have historically the lowest unemployment among African Americans males in the history of the United States of America. Our friends on the other side sat on their hands.  Also when he mentioned the lowest unemployment for Hispanics, they also sat on their hands.
He then stated that Pres. Trump's personal persona is nothing like his public persona. He said these guys think they're getting to him and don't realize that this guy loves this stuff.  He also pointed out that when adversaries set across from him in negotiation and look in his eyes they realize that they're not looking at or dealing with Barack Obama anymore. "There's a new sheriff in town."
Risch then recounted several interesting tales about his exchanges and warm experiences with the President to everyone's enjoyment.
He wrapped it all up by saying, "I never thought I would see socialists elected to the United States Congress. And you think they're joking? These people mean business. They really mean business!
"This country needs us Republicans more than they've ever needed before because like the president said in his State of the Union address, 'America will never be a socialist country,' and I would add as long as there is a Republican Party."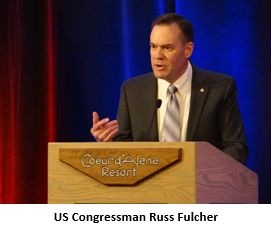 Freshman US Congressman Russ Fulcher followed with an opening comment that there is a segment of people like those in the agencies and senior officials, people who will seemingly say and do anything to try and get  this president thrown out, which is very, very troubling. "If an unelected group of people can target the United States President, who is elected by the people, and orchestrate a way of to throw him out, then they can target anyone. Then we wouldn't be a Republic anymore. We are in a very, very critical time at this point in our history.'
Fulcher pointed out that they went into office with the purpose of promoting liberty and restoring more control of government back to local levels.  He then said there are three things that they in their congressional role can do to make a difference:
"First: Support the President.
"Second: Let nature take its course with this Democrat Party. A young lady from New York and her New Green Deal plan is the gift that will keep on giving [which received a large applause]. "And if you want to watch something interesting, watch a couple of strong-willed women bang it out, by the name of Nancy and ABC or whatever her initials are. [laughter] Just let nature take its course on that front.
"The other thing we need to do is take care of things at home. That's where you come in. As someone who is running a congressional office we need to make sure we have the best constituent services we can have. We are doing that locally here in Coeur d'Alene, in Lewiston and in Meridian. But those precinct committeeman seats, those legislative seats, those city Council seats, all those roles – that's called taking care of business at home.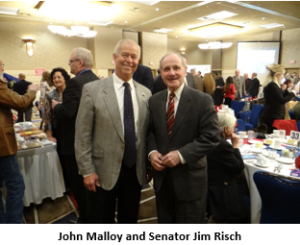 Fulcher took a moment to share an experience he had in Washington DC's great Rotunda when, while walking through it at night alone and hearing his own footsteps echo, he decided to stop, sit on a bench and found himself reflecting on the history of that place.  He said all of a sudden there were a lot of people there, realizing that during the Civil War that it was used for triage and then thinking of all the men and women far greater than himself who had laid in state there.  It was a moving moment to all present at the dinner.
He finished with saying "Folks, we are so blessed…. But it's the efforts, like Jim said.  What is the barrier between what we have, the prosperity we've experienced and socialism? It's the Republican Party! If it weren't for you and what we stand for and the platform we believe in we would be a socialist nation. But I agree with the President when he says 'America will never be a socialist nation!'  Politics and governance is simply the struggle for influence folks. It's a struggle for influence. I just want to encourage you to continue that struggle and know that Senator Risch and I are comforted to know that you have our back."
Keynote Speaker Charlie Kirk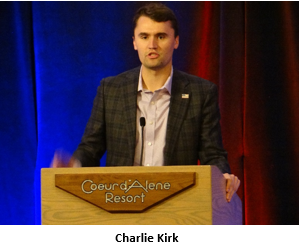 The keynote speaker for the Lincoln Day Dinner was Charlie Kirk, who is the founder and CEO of Turning Point USA from Chicago.  He softened up his audience with some humor by pointing out that they have term limits in Illinois. "They're a little different than most states" he said. "One term in office and one term in jail." He also said they actually have more governors in prison than not in prison.  And he mentioned that his grandmother was a lifelong republican from the north side of Chicago who passed away in the 90's and has been voting Democrat ever since.
"I heard that Idaho is the most conservative state and this is the most conservative part of Idaho and I was pretty thrilled to hear that."
Kirk stated that what President Trump has done in the face of relentless media attacks is truly historic. "If he walked on water then they'd say he couldn't swim. And if he cured cancer there would be a CNN headline 'Donald Trump Puts Doctors Out Of Business.'  Time and time again he does exactly what he said he would do on the campaign trail. He is the first American president being attacked for doing exactly what he said he would do.
"We are living in a tale of two different Americas. I agree that socialism is on the rise and I've been saying that for a couple of years. I might disagree though when I hear that we will never be a socialist country. I don't know. I don't know, and I wish I could say that with authority, because of what I do. For those of you that don't know, I run a nonprofit called Turning Point USA.  I founded it when I was 18 years old. We have amazing voices in our ranks such as Candace Owens and Brandon Tatum and Kyle Kashuv some of the most outspoken conservatives in the entire movement. And our job is to fight on over 1400 high school and college campuses for three big things: American exceptionalism, free-market capitalism and the Constitution. That's it.  That's what we fight for.
"So now when I hear that America will never become a socialist country, I want to believe that, I really do. But my answer currently is, I don't know because, folks, I'm telling you, Cortez is a moderate compared to most college students right now. A moderate! The universities are teaching hatred for America to our youth. The greatest threat to our country is colleges and universities right now. The number one threat to our country without a shadow of a doubt.
Programming Hatred
"They are programming hatred into the minds of our youth. To hate America, to hat e free markets, to hate the idea of God, to hate the flag, to hate everything that we stand for and they hate our veterans. I go to these college campuses and find that it's not that students are inherently opposed to our value systems, it is that they have not been exposed to it all in the first place.
"Far too often, I hear people say 'Well Charlie, college campuses are a place where different ideas are allowed to be exchanged.'  And I have to say that you must be thinking of a far different place than universities today. These are islands of totalitarianism. Where Marxist ideology has become mainstream. Where students are indoctrinated not educated. Where if you dare disagree with the professor your grade will be lowered. Where if you might start a college conservative group like Turning Point USA at the University of California in Berkeley you might get punched in the face, which is what happened two weeks ago.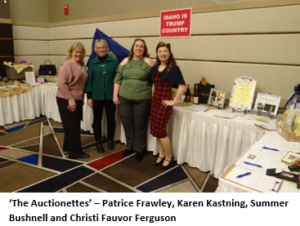 "The most amazing poetic justice was today at CPAC, and I had to watch at 35,000 feet as I was on my way to see you folks, where Pres. Trump called that very student activist from Berkley on stage with him at CPAC and announced to the world that he is signing an executive order saying 'If you do not protect the free speech of All-Americans I'm going to withhold federal funding from your institution.'  This is long overdue folks, long overdue!
"Something that I've been saying for many years I talked about in my book Campus Battlefield where I have a whole chapter on how the federal government and US Congress needs to do real oversight of these universities, in many different ways.
"What happens on campus will soon happen in Congress. Right now you're seeing campuses coming to Congress. Students are taught to adore Alexandria Ocasio Cortez. She's constantly wrong but never in doubt. But there's more coming folks. There will be 100 of her in the next five years. A 100!
The Democratic Party is now dead.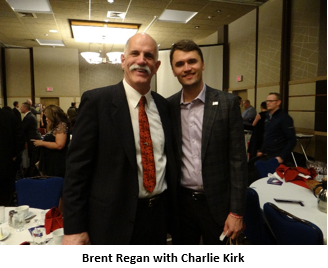 "It is now the Cultural Marxist Identity Politics Socialist Party.  If you don't believe me look where the energy is in that party. You can always tell where the heart and soul of a party is based on where the energy is. Who's filling up the rallies, whose raising the small dollar donations?  Joe Biden had to apologize for complementing Vice President Mike Pence two days ago. Do you have any idea how indecent their party has become?
"The most parallel reality of where the Democratic Party is is their base stemming from the colleges and universities. Far too often I hear one big thing in Republican circles a lot. 'Well Charlie, the Democrats mean well, we want the same thing,  we just have different ways of getting there. Whose heard this before? Who's maybe said this before?
"The Democrats do not want what we want anymore. In the 1960s and 70s I think in JFK versus Nixon they both had some contempt for communism. I think they both loved America. I think they both wanted to see a stronger nation, they just had different ways of getting there in the 1960 presidential election. Jimmy Carter versus Reagan in the 1980 presidential election? One was an unbelievably weak person and the other was a strong leader that revitalized our country. I think they both loved our country. We know Reagan did and I don't think Carter hated America.
The New Democrat Party Doesn't Mean Well
"The Democrat party does not want what we want anymore. They don't. Never again should we say, 'Well we want the same thing, we just have different ways of getting there.'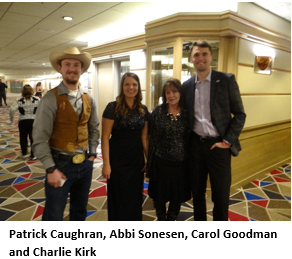 "They want to take us in a completely different direction. They don't mean well. When you send billions of dollars to Iran in the middle of the night in the form of cash you don't mean well. When you don't stand with Israel, you don't mean well. You somehow think it's alright to penalize a Christian baker in Colorado because he doesn't want to make a cake that's against his religious beliefs, you don't mean well. When you vote to have the freedom to execute a newborn child that survives an abortion, you don't mean well. When you vote to give Planned Parenthood, an abortion factory, $500 million a year, you don't mean well. When you support the deep platform against conservatives on Facebook, Google and Twitter, you don't mean well. When you run one of the most disgraceful hearings I've seen in recent memory with a convicted felon liar while the president is negotiating de-nuclearization, you don't mean well. They hate Donald Trump much more than you love America. Folks this is not the Democratic Party of the 60s 70s and 80s. They don't mean well!
"That sickens me to say that. But the problem we are facing on the American left is one that could truly corrode the fabric and soul of this great country. Culture is defined by three big buckets: It's family first, then it's academia and then it's media. And all three are directly related.  (continued) – See the full speech of Charlie Kirk's in this issue: "The Indoctrination of Youth to Transform America to Socialism By Destroying Our Culture"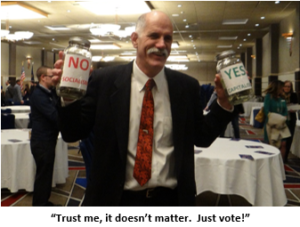 Chairman Regan, true to form, delighted everyone during the event  with his comment about MAGA meaning Make Alexandria Go Away and asking for everyone to be sure and vote on the way out at the door in the form of a donation.  He said there would be two jars for them to vote in with their money.  One jar was marked NO to SOCIALISM and the other jar was marked YES to CAPITALISM.  He was very pleased with the spirited voting which looked to be close to a tie vote.