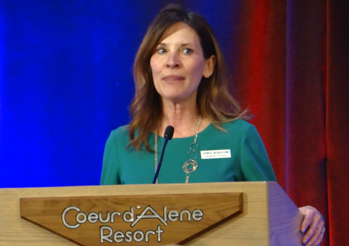 Idaho Lt. Gov. Janice McGeachin, on Idaho's Future
By Rich Loudenback
Janice McGeachin, Idaho's new Lt. Governor speaking at the GOP Lincoln Day Dinner in Coeur d'Alene on Mar. 2 opened with the remark that it's nice to be back in God's country, and then said in fairness, she must also say the same about Southeast Idaho and actually all of Idaho is God's country.  We are all so blessed to live in this state and have so many people that believe in the principles that we share as Republicans and as conservatives.
"I spent my first month at the capitol presiding over the Senate learning the rules of protocol, the rules of the Senate, and keeping the Senate in line and that's not really hard because they are really very well behaved," McGeachin reported.
"Another part of my job is meeting with Idahoans from all across the state, and I mean all Idahoans.
"Also I've been working to improve the educational opportunities for Idaho's youth. Last month, on February 20, was the 100th anniversary of Career Technical Education in Idaho. I am grateful to have the opportunity to serve as a board member of the Idaho Career Technical Education Foundation. Just last month I met with Trent Clark from what used to be Monsanto in Southeast Idaho, now Bayer, and with Dwight Johnson from the Professional Technical Education office here in Idaho.
McGeachin said it's really exciting to talk about ideas of what can be done in Idaho to promote different opportunities for Idaho's kids because the traditional standard method of the one size fits all and Idaho's current educational system doesn't work for every student.
On the success of the students from Rathdrum's Stem Academy's 'da Vinci Team' that became the first high school in the world to successfully launch a satellite into orbit this last year she stated, "It's really exciting to hear what the da Vinci satellite team is doing. I remember being here last year when you talked about the satellite launch and it is so cool that now you've done it. I'm so proud of all of you, the students your teachers and the members of the community that support you. Thank you for your commitment. Thank you.
"Thank you for your eagerness to learn. Because there are so many ways that you can help us, the business community in the skills. If you choose to go to a four-year degree that's great, if you want to go a different direction there are also lots of opportunities that are available for you.
"My husband Jimmy and I will be married 32 years this summer. We are small business owners. We have a transmission repair store, a parts store, a small machine shop and an Irish pub in Idaho Falls. I can tell you from experience that last year we were growing out of our seams so we needed to buy a new building that had twice as many bays in our shop. It's going great but what's impeding our progress in our business is the lack of ability to find skilled mechanics in our shop. The bays are there the cars lined up down the road with the only thing that keeps us from going is having the skilled workers in our shop.
"So I am very committed to that. As your Lieut. Gov. I support alternative educational ideas, alternative paths such as technical apprenticeships and internship opportunities which are vital to our economy. What you do, you the young people, and what we can do to help you be successful will, in turn, help us be successful which makes Idaho be successful.  And that's what makes Idaho so great. It's that we have a very well diversified economy."
McGeachin then stated that on top of all that she's working towards reducing and removing state created barriers to achieving the American dream. She said that this is, in fact, the reason why after serving 10 years in the Idaho Legislature she term limited herself out because she doesn't believe in career politicians and she went back home and started the Irish pub.
She stated that the reason why she decided to get back into the political process, is because like so many Idahoans she shares the concern for the direction our country and our state are on. "It's gotten to be so complicated and cumbersome to start up a new business. I am really concerned about the opportunity for our youth and the next generation to realize their American dreams.
"So what I can do is to help peel back the regulations and the taxation so that our young people can realize the same dreams and opportunities we've had as Idahoans and Americans. I consider that a great honor to be a part of that.  Our state agencies need to be streamlined and they must be required to focus more on providing a better customer service to the people of Idaho.
"Many of us understand how the ever encroaching government impedes our opportunities for prosperity. Doing the right thing in standing up for our freedom and liberty is not always easy nor popular. We are not conservative because it is the easy path, we are conservative because we know it is the right thing to do.
"Defending life and defending the right to keep and bear arms tends to make us some enemies but we will not back down no matter who tries to thwart our efforts. We are all here for a given time and purpose. I know that those of you who are here tonight understand this better than most."
After stating that she is most appreciative of everyone's continued support she concluded with a quotation she said she heard time and time again during the presidential campaign. From 2nd Chronicles 7:14:  "If my people, who are called by my name, will humble themselves and pray and seek my face and turn from their wicked ways, then I will hear from heaven, and I will forgive their sin and will heal their land."
Then she had to remind everyone that making America great again starts right here in Idaho.