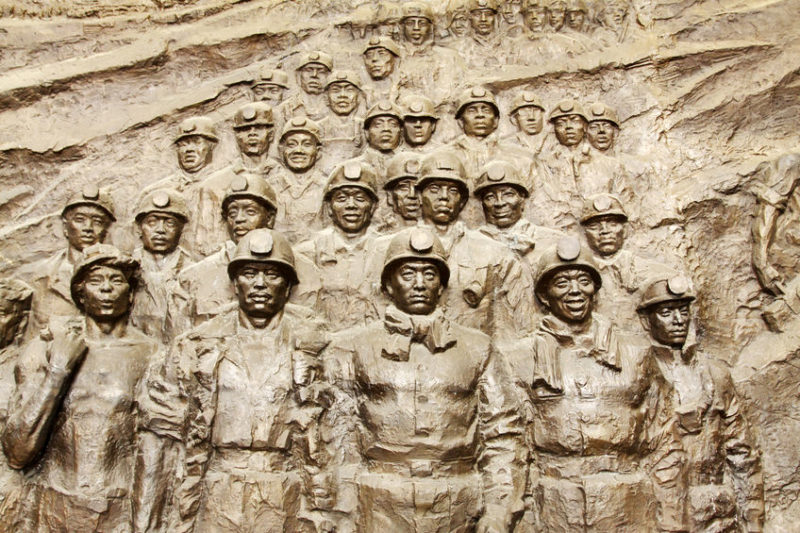 The Green double standard on coal and China
Joe Biden said it best: "I'm not going to speak out against what [Chinese President for Life Xi Jinping] is doing in Hong Kong, what he's doing with the Uighurs in western mountains of China and Taiwan.… Culturally, there are different norms that each country and they — their leaders — are expected to follow."
Biden's acquiescence to China extends to protecting the Middle Kingdom from the Green war against coal, which was launched as an official Sierra Club campaign well over a decade ago. In 2017, Sierra went "Beyond the War on Coal" with its video "From the Ashes," a film condemning the U.S. coal industry as an "outdated form of energy."
When President Biden declared "different strokes for different folks" as official U.S. policy, we understood that what is "outdated" here is merely President Xi creating "a united, tightly controlled China," the central principle of his regime. So it's okay that China, the world's largest consumer of coal, not only added 28.8 gigawatts of coal-fired electricity in 2020 but is also building over 300 coal plants in countries from Turkey to the Philippines.
As Obama climate czar John Podesta explained, the new Biden directive to consider blocking the World Bank and similar institutions from funding overseas power plants "leaves China isolated" as a funder of coal projects. The more likely result, admits Politico, of this "delicate by high-stakes waltz" is pushing energy-poor countries further into China's orbit and threatening the U.S. position is a leading financier for the developing world.
China now has more than three times the coal-fired power capacity than the rest of the world combined and is the leading financier of coal plant construction. This dovetails with China's hegemon position on rare-earth metals. And now China is weighing limits on exports of rare-earth metals to the U.S.
And that's okay?
While Biden embraces Xi Jinping, the South China Morning Post asserts that, "Most people in Britain see China's rise as a top threat to security in the next decade." Just 22 percent of Britons polled supported stronger economic relations with Beijing; only 13 percent approved any Chinese involvement in building British energy and telecoms infrastructure.
A new BBC report details accounts of Uighur women in China's reeducation camps being "systematically raped, sexually abused, and tortured." Over a million men and women have been detained in these camps. Elsewhere in China, rare-earth mining has "poisoned water and soil and caused abnormal disease rates in 'cancer villages' from which impoverished residents cannot afford to move."
The Los Angeles Times report adds that, "Crops and animals have died around a crusty lake of radioactive black sludge formed from mining waste near a major mining site in Baotou, Inner Mongolia. It's so large that it is visible by satellite." Villagers claim that state-owned mining companies are even worse than illegal operators because they can poison the ground and air with the support of local authorities. When villagers protest, they are met by riot police.
Chinese coal mining is also hazardous. Last year along separate incidents at two mines in Chonqing killed 39 miners. As CNN reports, 210 mining accidents in 2017 killed 375 people; another 333 died in 2018. But Paris does nothing to slow down Chinese coal.
One of Joe Biden's first acts as President was to put an end to new oil, gas, and coal leasing on federal lands. No big surprise. His former boss, Barack Obama, in his 2008 campaign promised to "bankrupt" the coal industry and make electricity prices "skyrocket."
As Politico reported in 2009, burdensome regulations led to the shuttering of coal plants that had generated a combined 27 gigawatts of electricity (enough to power 27 million homes) and sent half a million people home from jobs that had paid $36 billion a year in wages.
Then, in 2016, the Interior Department issued a moratorium on federal coal leases "as part of a sweeping review of the government's management of vast amounts of taxpayer-owned coal throughout the West." But the election of Donald Trump reenergized the U.S. coal export market. Coal companies had been eying exports to Asia (including China) for years.
Reuters reported in July 2017 that U.S. coal exports had jumped more than 60 percent over the previous year "due to soaring demand from Europe and Asia." EIA analyst Elias Johnson allowed that, "There's the possibility that the U.S. will become more of a primary player in the global coal trade market." This the Green machine could not tolerate.
West Coast cities therefore began banning coal exports through their ports. In 2016 the Oakland (CA) City Council voted unanimously to ban the storing and handling of coal for shipment, violating a 2013 agreement with the developer of a planned $250 million bulk terminal.
The city's ordinance was voided by U.S. District Judge Vince Chhabria, who ruled the city's arguments were "riddled with inaccuracies, major evidentiary gaps, erroneous assumptions, and faulty analyses." Last May the Ninth Circuit Court upheld Judge Chhabria's ruling.
In 2009, Millennium Bulk Terminals began seeking permits for a port facility in Washington state with a capacity of 44 million tons per year, enough to increase U.S. coal exports by 40 percent. But in 2017 the state's Department of Ecology rejected Millennium's water quality permit, claiming its port would cause "significant and unavoidable harm" to the environment."
Other state agencies also refused permits. Millennium challenged these denials in both state and federal court, with little success, and last December its parent company filed for Chapter 11 bankruptcy.
In 2020 the Richmond (CA) City Council passed an ordinance ordering businesses to phase out shipments of coal and petroleum coke from a port operated by Levin-Richmond Terminal Corp. The port in 2019 had loaded almost a million tons bound for Japan and South Korea.
Levin-Richmond filed suit, and last August the U.S. District Court largely denied the city's motions to dismiss, stating that the plaintiff had plausible claims under the Commerce, Due Process, Equal Protection, and Takings clauses of the U.S. Constitution. The case is still pending.
In January 2020, Montana and Wyoming, which depend heavily on taxes from coal production to fund state services and public schools, asked the U.S. Supreme Court to overturn Washington's actions that prevent Powder River coal from export to Asia.
And prodded by Rep. David Hinkins, in January 2021 Utah became a party to a lawsuit filed by Utah coal producer Wolverine Fuels that claims the city of Richmond's actions violate their interstate commerce rights, threatening hundreds of coal jobs and millions in state royalties.
Coastal state opposition to mountain state mining had left Vancouver, Canada, as North America's largest exporter of coal in 2018. Multiple facilities exported nearly 37 million metric tons of coal in 2017, much to the dismay of Environment Canada's James Kerr, who in 2019 wrote a scathing article insisting that Canada should not be shipping U.S. coal to Asia.
Kerr gloated that "the solidly Democrat states of Washington, Oregon, and California, with tough environmental regulations, have repeatedly declined approval to ship coal despite recent appeals by the coal industry to the courts…. This leaves the thermal coal resources of the solidly Republican states of Wyoming and Montana land-locked." So, he moaned, "Good old Canada … willingly accepts shipping the U.S. coal that is too dirty for the Americans to ship themselves."
Chinese coal, though, is not too dirty for Joe Biden, who at times has pledged to fully decarbonize America. As noted, the Paris climate accords, which Biden quickly rejoined, protect China's coal industry from any sanctions. China in Joe's eyes is a "competitor," not a threat. And what happens in China stays in China.
Author
Duggan Flanakin is the Director of Policy Research at the Committee For A Constructive Tomorrow. A former Senior Fellow with the Texas Public Policy Foundation, Mr. Flanakin authored definitive works on the creation of the Texas Commission on Environmental Quality and on environmental education in Texas. A brief history of his multifaceted career appears in his book, "Infinite Galaxies: Poems from the Dugout."
From cfact.org