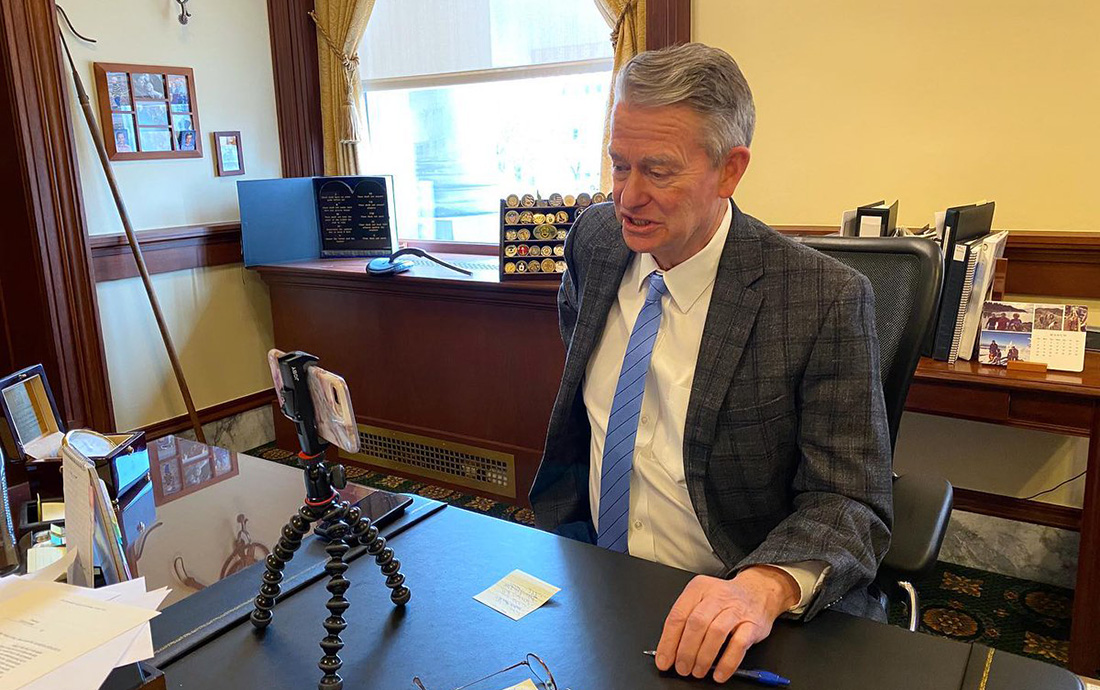 Little misses opportunity to defend religious freedom
By Wayne Hoffman
Gov. Brad Little was handed a major opportunity last week to defend religious liberty in his own state, but he punted. After three people were arrested for singing church hymns in a Moscow, Idaho, parking lot, Little's office issued what had to be the weakest possible statement imaginable, designed not in defense of the poor worshipers who now find themselves facing fines and jail time, but in support and defense of the governor and his handling of the coronavirus.
The statement, "Governor Little has worked closely with religious leaders to ensure Idahoans' spiritual needs are met during this historically difficult time."
The message continued, "Governor Little has not put in place a statewide mask order. The authority of local governments to create and enforce mask mandates was put into law by the Idaho Legislature years ago. Local law enforcement agencies and mayors decide on their approach to enforcement of local mask orders. The Governor's emergency order does not give local governments the authority to create and enforce mask mandates; they would have that authority with or without an emergency order based on the laws passed by the Legislature. The primary thing the emergency order does is give the state and our emergency management agencies access to additional resources to combat the pandemic, keep Idahoans safe and reduce the cost to Idaho taxpayers."
Saying nothing would have been preferable. The last thing Idahoans need is a technocratic explanation from someone in authority stating why it is OK for cities or other government authorities to arrest worshipers in the middle of an outdoor church service — simply because they didn't wear a mask or because they didn't social distance.
Idahoans don't need more excuses from government officials about why Gem State residents are being deprived of their constitutionally-protected rights. Yes, many Idahoans understand the legal nuance: The statutory framework for responding to health emergencies was created long ago. That framework allows mayors and public health districts broad discretion to impose health restrictions and mandates.
Little's office sought to show that the governor's emergency order is not behind the actions of the Moscow police department and mayor. It's not the governor who slapped the cuffs on Christians. But Idahoans were hoping for — indeed needed — something deeper: A demonstration of leadership in defense of liberty.
"No one should ever be deprived of their God-given right to the free exercise of religion or assembly," Little could have said, "Whether or not the arrests are legal isn't the point. They shouldn't have happened at all. In the next legislative session, I will work with the Legislature to repeal any law that has been used during Covid-19 to deprive people of their right to engage in religious fellowship and to worship as they see fit."
Additionally, Little could have used this moment to provide support for law enforcement. He could have announced, "My friends in police agencies and sheriff's offices have told me over and over again that they don't want to cite or arrest people for not wearing masks or standing too close together. They tell me they'd rather be out solving crimes and chasing down actual criminals. I'm asking our mayors and sheriffs to not put our men and women in law enforcement in a position to arrest law-abiding citizens, especially those who are merely gathered for the purpose of meeting their spiritual needs. Remember, the government's role in battling the coronavirus is one of education, not enforcement."
By saying nothing in defense of the Moscow Christians, Little may have inadvertently cleared the way for more arrests in the coming weeks and months. Little can say it's not his doing, but he did nothing to stop it either.
Wayne Hoffman is president of Idaho Freedom Foundation.
From idahofreedom.org