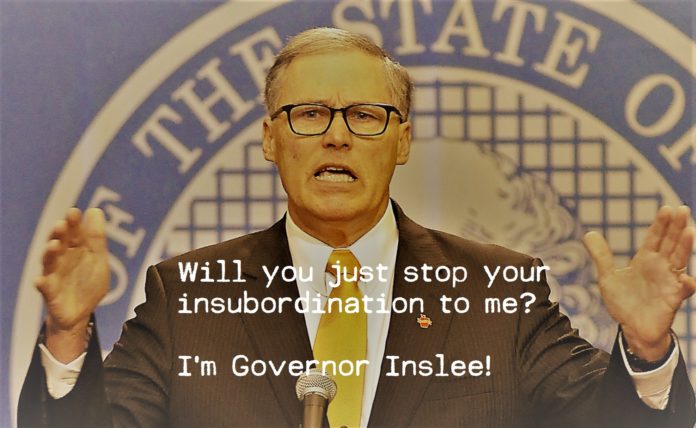 Governor Jay Inslee's "Snitch List" – the Second Batch
By Glen Morgan
Inslee isn't happy that he is getting caught making so many mistakes. He is angry at the people for being "insubordinate"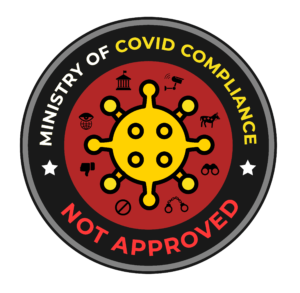 This article is definitely NOT approved by the Ministry of Covid Compliance and is clearly insubordinate to Inslee's Civilian Covid Compliance Plan (CCCP). A few weeks ago, we posted Washington State Governor Inslee's first "snitch list" of citizens he encouraged to report their neighbors, competitors, and employers for perceived, imagined, or even an occasional legitimate violation of Governor Inslee's endless emergency proclamation orders.  These reports are sent to Governor Inslee's Washington State Military Department (yeah, I didn't know that existed under the Governor either).  Fortunately for the citizens of Washington State, all these reports are public records.  It appears many people who reported their neighbors, competitors, or others for committing the great crime of not wearing a mask, failure to properly social distance, shaking hands, or some other egregious Covid compliance crime. All of which are evidence of "insubordination" according to Governor Inslee, of course.
Inslee once said Washington had a "secret sauce" for success, but it probably won't be found in the "snitch lists."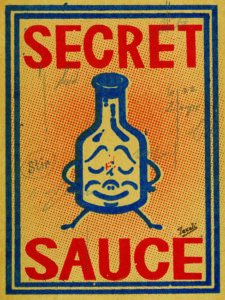 As of this writing, the original list was downloaded at least 7,500 times through our last article (many others distributed it, but that is the only number I can verify).  This batch is actually a little different.  It consists of eight Excel files.  They can be downloaded at this link (I didn't put in the color coding – they came that way – I'd be curious if someone knows the significance of the color coding).  I suggest, if you are interested, you download it immediately because we found the original links were removed last time, so we had to repost the documents in a variety of locations.  If this link goes dead, I will post up new links here as well, but please let me know.
One of these files is particularly large and appears to be titled "All Open Cases" (642 pages of spreadsheets).  This will take some time to sort.  One enterprising fellow migrated the last list to a searchable online database you can see here.  I suspect others will do the same this time.  There could be some duplicates in this batch.  The rest of the Excel files appear to be pre-sorted lists ("Reported for Social Distancing, etc).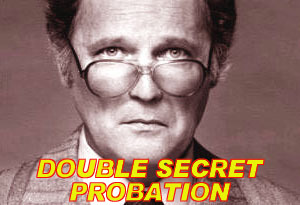 Oh, and in case anyone isn't intelligent enough to figure this out on their own, don't threaten anyone on the list. Seriously. Yes, I realize they are threatening the people and businesses they report to Inslee and Ferguson and the Covid police, but committing an idiotic crime yourself is on you. I understand the Stasi comparisons and all that, but fortunately we are still in the semi-free country of America, in the even less-free state of Washington. This is merely public information which is actually free for all to know. Use it to expose the truth, and the truth will set everyone free, eventually.
If you didn't read the first article about Governor Inslee's snitch list – go here.  Otherwise, let me know what you find.  I have not had a chance to review this one and crowdsourcing the information will be far more efficient for the curious and the research, but make it public.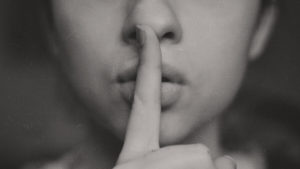 Enjoy the research, and see if you can spot any interesting trends.   There was a story reported by talk show host Jason Rantz about the Mayor of Mukilteo reporting on a business in her community, a lot of people reported Governor Inslee and other politicians, and I found a case where the Economic Development liaison employee for the City of Tukwila reported an Asian-owned business in his official capacity as an employee of Tukwila.  This was odd since the city just passed a resolution expressing their concerns over Covid related Asian discrimination in their city. That doesn't seem like a great way to improve business in your community.  These are strange days.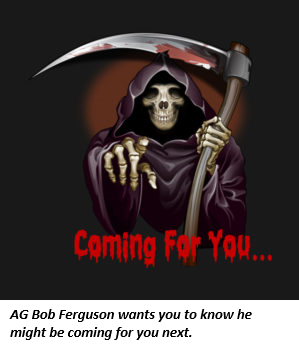 As an aside, Governor Inslee and Washington State Attorney General Bob Ferguson, while largely abandoning enforcement of the Governor's proclamations (which most people outside King County appear to be ignoring) , have recently decided to pick on random businesses and crucify them (See this video where a Federal bureaucrat explaining how this is done to ensure compliance and keep the peasants in line) as examples to others.  Presumably, Ferguson and Inslee believe destroying these people's lives will encourage the rest of us little people to stop being so uppity. They know they can't stop us all. Inslee has also been very testy lately when he was exposed for providing inflated and false Covid death statistics (see article here). It isn't yet clear if the AG is going to eventually force the entire department of 600 attorneys to start doing this, but he appears to have chosen these businesses based on complaints – maybe from these "snitch list" complaints.
These are ugly times in Washington State, and this administration is failing the people of this state, but if you are in King County – make sure to wear your masks.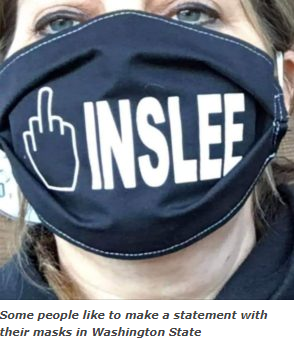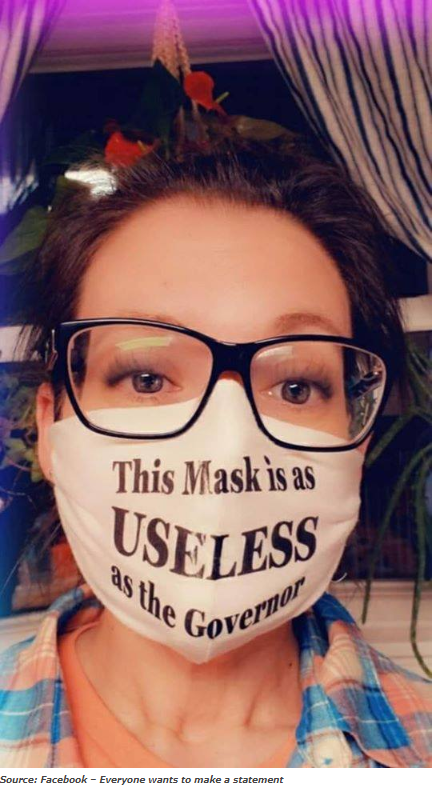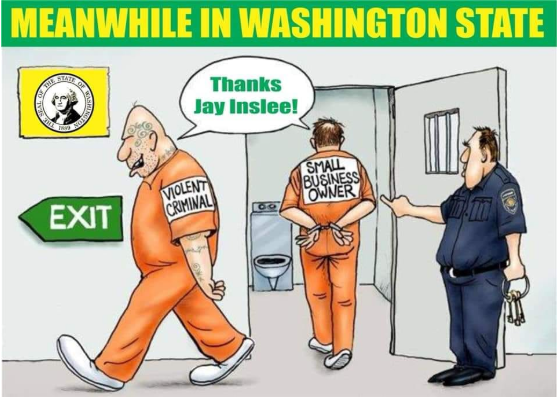 OUR CONSTITUTION BEGINS WITH THE PHRASE "WE THE PEOPLE."  IT WAS THE FOUNDER'S INTENT THAT GOVERNMENT BE CREATED BY THE PEOPLE, TO SERVE THE PEOPLE.  IT WASN'T THEIR INTENTION FOR THE PEOPLE TO SERVE THE GOVERNMENT.  IT WAS ALWAYS INTENDED THAT GOVERNMENT WHICH FAILED TO SERVE THE PEOPLE SHOULD BE "ALTERED OR ABOLISHED."  UNTIL WE RETURN TO THE FOUNDER'S INTENT, WE REMAIN WE THE GOVERNED…
Background articles and documents:
2nd batch of Excel files – Inslee's "Snitch List"
Governor Inslee's absurd Civilian Covid Compliance Plan (CCCP)
City of Tukwila – Statement Draft over Covid related Discrimination against Asians
Inslee Responds to the Freedom Foundation after analysis of Covid 19 deaths
The Federalist – May 18, 2020 – "The Covid19 Tracer Training Course is a guide to suspending rights"
May 12, 2020 – Letter from 11 Republican Legislators addressed to Attorney General William Barr asking for review of potentially unconstitutional enforcement of Washington State laws/rules
ACLU Letter to Governor Inslee – May 4, 2020
Interview with Rep. Jim Walsh (LD19) about budget cuts and Inslee's emergency powers overreach
PDF file (146 pages) of the first public records act request of the complete snitch list
Corona Virus lawsuits against Governor Inslee – the list.
Governor Inslee risks children by waiving background checks for childcare workers
Complete list of Governor Jay Inslee's emergency proclamations – official website
Proclamation #20-31 "suspend background checks for childcare workers"
Original Declaration of Emergency February 29, 2020
Rantz: Governor Inslee releasing sex offender, gang members from jail over Coronavirus
Tahoma schools childcare worker faces multiple molestation accusations
Do these politicians and bureaucrats even care? Washington State rebellion grows
A good day for a little rebellion against Governor Inslee
Federal Lawsuit filed by Josh Freed against Governor Inslee April 21, 2020
Federal Lawsuit filed by Clint Didier against Governor Inslee May 1, 2020
Federal Lawsuit filed by Drew MacEwen against Governor Inslee May 5, 2020
Lewis County Superior Court – Simper v. Inslee – May 5, 2020
Herman: Inslee reverses course, now against sanctuary counties
Dori: The wussification of our kids continues in Seattle schools
MyNorthwest: Washington Ferry Ridership Craters
Port Townsend Free Press "Snohomish County Sheriff Refuses to Enforce Governor Inslee's Shut Down Order"
Washington State Governor Inslee turned us all into armed homeschooling preppers
The top 6 Games Government bureaucrats play when faced with budget cuts – the video
The Top 6 Games Government bureaucrats play when faced with budget cuts
Herman: "Shared sacrifice" is the biggest lie Jay Inslee has ever told"
Published with Permission of wethegoverened.com