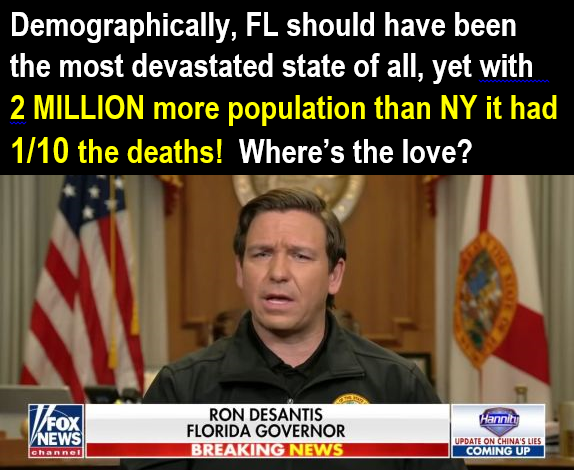 The Media Bias Against Florida's Conservative Governor Ron DeSantis
By CHQ Staff
While it is a proven fact that New York's liberal Democrat Governor Andrew Cuomo's policy of placing infectious COVID-19 patients in nursing homes killed thousands of elderly New Yorkers, the national media have been much rougher on Florida's conservative Governor Ron DeSantis than they have been on Cuomo.
According to a recent article in POLITICO, DeSantis is polling worse than Cuomo in their respective states, and the Florida press is wondering why. Part of that is style. Cuomo has a smooth delivery, a deep and calming voice and an attitude that projects he can answer any question. DeSantis sometimes comes across as peevish and defensive, has made a misstatement or two and was mocked for struggling to put on a mask. But most of the difference between DeSantis and Cuomo is due to politics. DeSantis governs a politically divided state. Cuomo is a scion of Democratic royalty in a deeply Democratic state.
But there's another influence that POLITICO has finally admitted – media bias.
Cuomo also has something else DeSantis doesn't: a press that defers to him, one that preferred to cover "Florida Morons" at the beach (where it's relatively hard to get infected) over New Yorkers riding cramped subway cars (where it's easy to get infected). In fact, people can still ride the subways for most hours of the day in New York, but Miami Beach's sands remain closed. Maybe things would be different if DeSantis had a brother who worked in cable news and interviewed him for a "sweet moment" in primetime.
The disparity in media coverage between DeSantis and Cuomo is even more amazing when one compares the overall COVID-19 case and death totals. Florida's population is about 22 million. That is 9 million more than Pennsylvania and Illinois, and 15 million more than Massachusetts. Yet those smaller states have 57,000, 78,000 and 78,000 positive cases, respectively, as of Sunday. Florida is nearing 40,000. The most important number, deaths, is even more surprising. Pennsylvania: 3,700 people have died of Covid-19. Massachusetts: almost 5,000. Illinois: around 3,400. And Florida? Fewer than 1,800.
And the state of New York? Florida overtook New York in population back in 2014 and has about 19.5 million people compared to over 21.3 million for Florida. As of this writing New York has 350,121 confirmed cases and 22,619 deaths – or more than 10 times the COVID-19 deaths than the larger state of Florida.
As Joe Nocera, writing for Bloomberg, pointed out – in the nation's third most populous state, fewer than 1,800 people have died of Covid-19. That is .008% of the population. That is extraordinary. The question is why? And what does it suggest about Florida's effort to reopen its economy?
At the most basic level, the reason it's hard to understand what is happening in Florida is because we simply don't understand enough about the virus and how it works. Observed Nocera, a second reason, though, is that DeSantis's response to the crisis has been so thoroughly politicized.
And as Mr. Nocera noted, Gov. DeSantis was rightly peeved about all the criticism he has been taking from the pro-Democrat media. A lot of people "from between D.C. and New York" said the Governor, had made it sound as if opening the beach was akin to the sky falling:
They did misleading pictures, acting like it was Lollapalooza on the beach or something like that. And this is what they were focused on. Not dirty subway cars. … And people here were mocked. … Has there been some type of major outbreak? No. In fact cases have declined. … Two weeks ago, the county reported 29 new cases. Out of a county of a million people, that is extremely low. That's like lunchtime in Queens.
"When you look at our demographics, we should have been the most devastated state of all," said Charles Lockwood, a scientist who heads the Morsani College of Medicine at the University of South Florida. "The median age nationally is 38; it's 42 in Florida. We have three times the national average in population over 65." There are other oddities, too: in most of the country, more men than women get infected. In Florida, it's 50-50. In many parts of the U.S., minorities are more vulnerable than white people; in Florida, white people account for at least 54% of the cases and 67% of the deaths. Hispanic people account for 21% of the deaths, compared with 70% for non-Hispanics, reported Mr. Nocera.
"DeSantis is extremely data-driven," Lockwood told Nocera. "He is very focused now on testing and tracing. He sees this process like it's a dial. He's going to dial up or dial down the restrictions, depending on what the data is showing him."
Nocera, who says he is "as anti-Trump as the next guy" says "the notion that there is a blue-state and a red-state way of attacking the virus is absurd" and we agree. We just wish the Leftwing media was not giving Cuomo a pass for his disastrous results while pillorying Ron DeSantis for his success, not only in saving lives, but getting Floridians back to work.
We urge CHQ readers and friends to read Grading Our Governors: A Report Card on Reopening States' Economies and if your Governor has not earned an "A" or a "B" to call him or her to demand that the economy of your state be reopened. To send a letter to your Senators and Representative and state elected officials go to www.ReOpenAmericaNow.org and use the "Send Letter" tool.
Published with Permission of chq.com