The Golden Letter: Marxist Conglomerate Exposed
Annual report by the Bonner County Human Rights Task Force proves coordination with national organizations targeting the REDOUBT
By Casey Whalen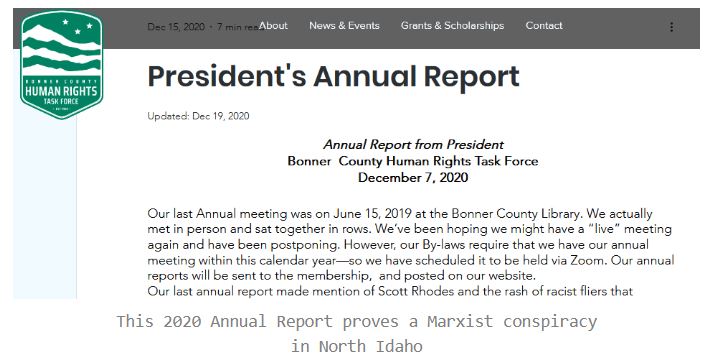 Marxist networks at a national, regional to local level are conspiring and purposefully targeting the REDOUBT, NORTH IDAHO to purge any opposed to their agenda, specifically: Christians and 'white nationalists.'
The Bonner County Human Rights Task Force (BCHRTF) is one of many cultural Marxist task forces in North Idaho and Eastern Washington promoting the LGBTQ+ ideology in communities. Forming relationships with businesses and leaders of various fields medical, judicial, education, etc to sway and sow seeds of transformation and change.
The mission of the BCHRTF according to the website is:
responsibility is to affirm the American principles and ideals of the inviolable dignity and worth of each human being. The mission of the BCHRTF is to promote and secure mutual understanding and respect among all people. BCHRTF recognizes that it is the racial, social, and cultural diversity of our people that makes Bonner County a rich and worthwhile place to live.
In 2020, a four page Annual Report from Brenda Hammond President of the Bonner County Human Rights Task Force shows cooperation between MAJOR national players orchestrating the implementation of Marxist ideals at a local level.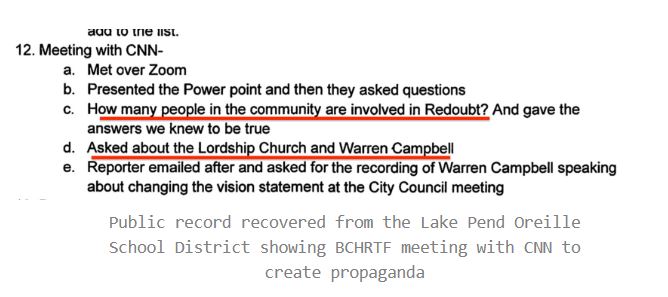 The report states in 2020 after the death of George Floyd, Sandpoint students organized a Black Lives Matter Rally. At the same time patriots organically organized in response to rumors of Antifa en route to the Sandpoint and Coeur d'Alene areas which prompted a LARGE, ARMED RESPONSE for a number of days to protect businesses and homes in early June 2020.
As reported on this platform numerous times, you may recognize these networks.

Mary McCord, Director of the Institute for Constitutional Advocacy and Protection (ICAP) Georgetown Law sent a letter to Bonner County offering pro-bono services to file ANY lawsuits in response to what ICAP deems paramilitary, militia activity per Idaho Code § 46-802.
No one in the State of Idaho has EVER been charged with this. The City of Coeur d'Alene was also sent a letter.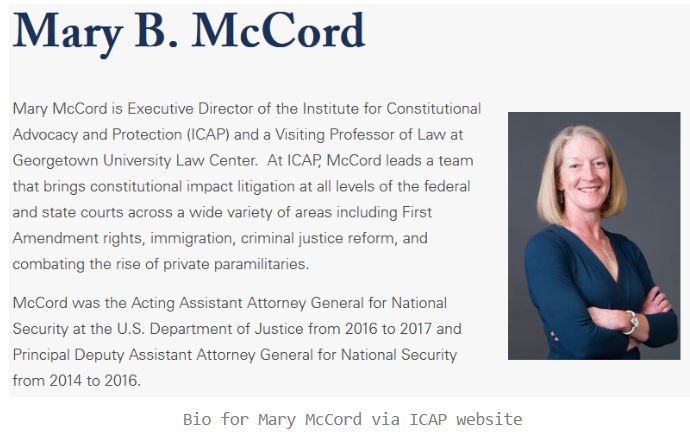 One of the purpose's of ICAP is to use law-fare and directly attack those engaged in Second Amendment protected activities. A full list of filings since ICAP's inception in 2017 as the occurrence of the Charlottesville rally.
The next portion of the report targets an event I created called Liberate America in 2020 as the result of the COVID mandates. Many patriots joined my cause to put on a great and successful event at the Kootenai County Fairgrounds with speakers and music in this FREE EVENT. Speakers included: Ammon Bundy, Joey Gibson Patriot Prayer, Tom DeWeese of The American Policy Center, former WA REP Matt Shea and many others.

The Kootenai County Democrat Party called the event undemocratic and damaging publicly. This admission shows a conspiracy between the Montana Human Rights Network, Travis McAdam and the Western States Center  (WSC) of Portland, Oregon as well Mary McCord of ICAP and others working collectively as a regional force to focus on issues and players that do not go along with their disgusting, immoral and un-American globalist agenda.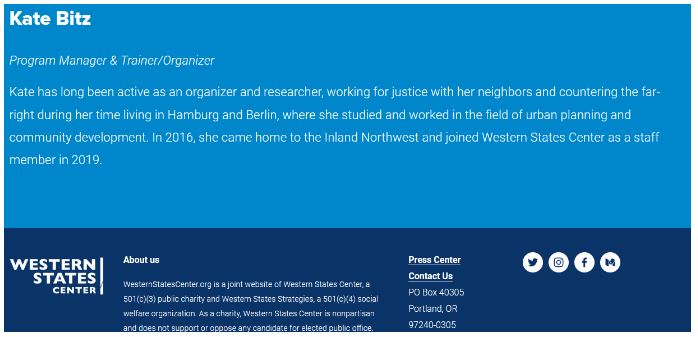 The Western States Center (2 )  uses it's 'fellows' as operatives to ensure the Marxist agenda is employed locally. The following public record request obtained shows Kate Bitz of WSC directly involved with the planning of the Drag Queen Story Hour with Spokane Police at the South Hill Library in Spokane, WA. on June 15, 2019.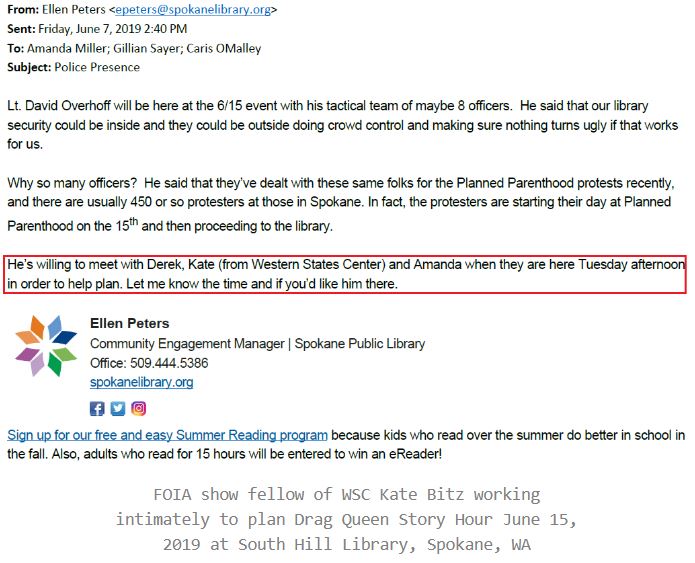 Next the report targets the pro-liberty network Peoples Rights due to patriots protesting mask mandates at libraries in Bonner County.

The Institute for Research Education on Human Rights (IREHR) openly admits working with the Montana Human Rights Network and vise versa. The IREHR creates articles and dossiers on patriots, pro-constitutional organizations (III%, Oath Keepers, Constitutional Sheriff and Police Officers Association (CSPOA), Peoples Rights, etc) which are used to defame and slander by law enforcement and lame stream media.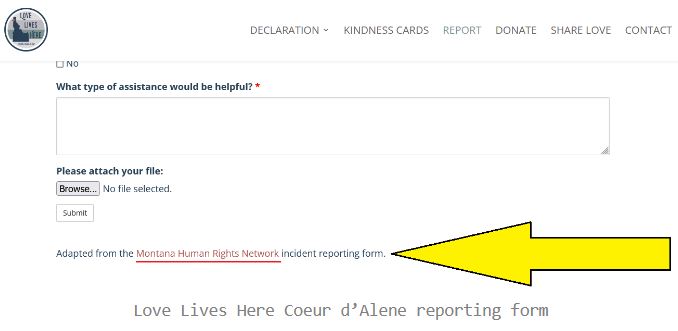 An example is Ammon's Army, the result of all named organizations in this article coordinating and sending information using reporting forms from LOCAL satellite groups which is then sent up the chain to organizations such as: the Institute for Research Education and Human Rights, Southern Poverty Law Center, Montana Human Rights Network among others.
Here is this author's bio via Institute for Research Education and Human Rights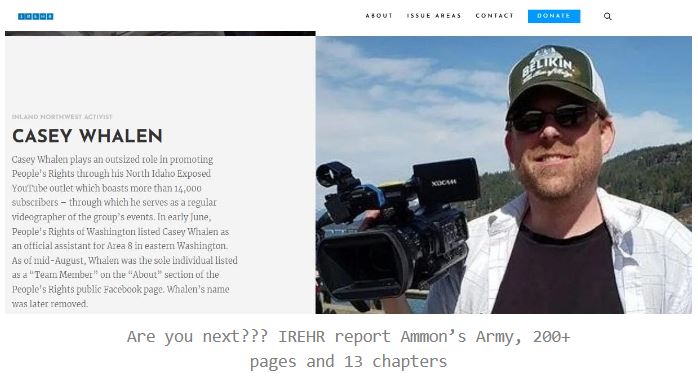 The sooner 'White Nationalists' and Christians wake up to the full front attack on our REDOUBT the better. Please share this information as our traditional American way of life as we know it is under threat.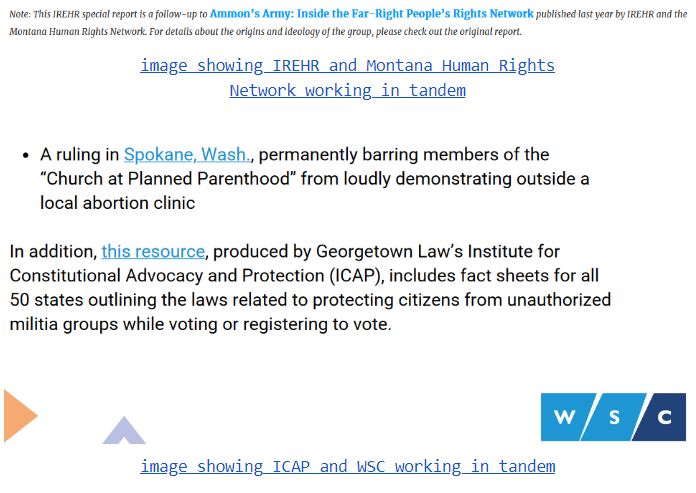 Published with permission of CaseyWhalen.substack.com