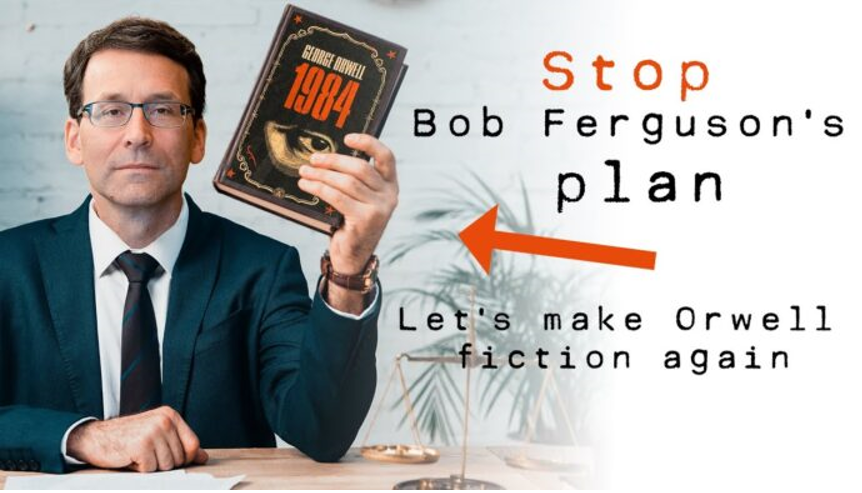 Stop Washington AG Bob Ferguson's Orwellian Plan – Let's Make Orwell Fiction Again
By Glen Morgan
Bob Ferguson appears to be attempting to create his own Ministry of Truth inspired by George Orwell's 1984 and a recent similarly stalled Biden administration effort.
Washington State's Attorney General Bob Ferguson appears determined to try to create his own Ministry of Truth to silence and destroy all independent thought, free speech, freedom of expression, independent thought of any kind, and any real or imagined threats to the political orthodoxy which he follows. He is doing this by drafting and endorsing House Bill 1333 in this year's Washington State legislative session. Sometimes I wonder if these guys are trying to parody themselves, but it does appear he is serious this time.
This recent effort by AG Ferguson and his fellow Extreme Leftie followers in the Washington State Legislature appears to be a watered-down version of a similar Federal Government effort launched by the Biden Administration to national ridicule last year. The Biden crew backed down and put the plan on ice for now, but there were many rumors that the Feds would try to get their minions to do the dirty work at the State level. It looks like Ferguson volunteered for the job in Washington State.
Here is the video we recently released about this (originally published on YouTube on February 1, 2023):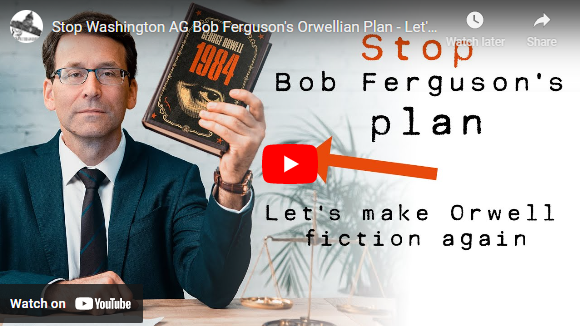 If you want to read the original bill you can go here. If you want to see what type of goofs sponsored this bill and where it is in the legislature go here. We've linked a variety of articles about this dumb idea down at the end of the article along with other helpful source links and background articles.
In the meantime, Ferguson has inspired us to provide some Meme fodder for our social media friends out there. Feel free to copy, paste and fill in your own Memes as you feel inspired. The first one is a blank one, and we've attached a few samples below which you are also free to share and post widely.
Please, let's stop guys like Ferguson so that we can at least try to make Orwell fiction, once again.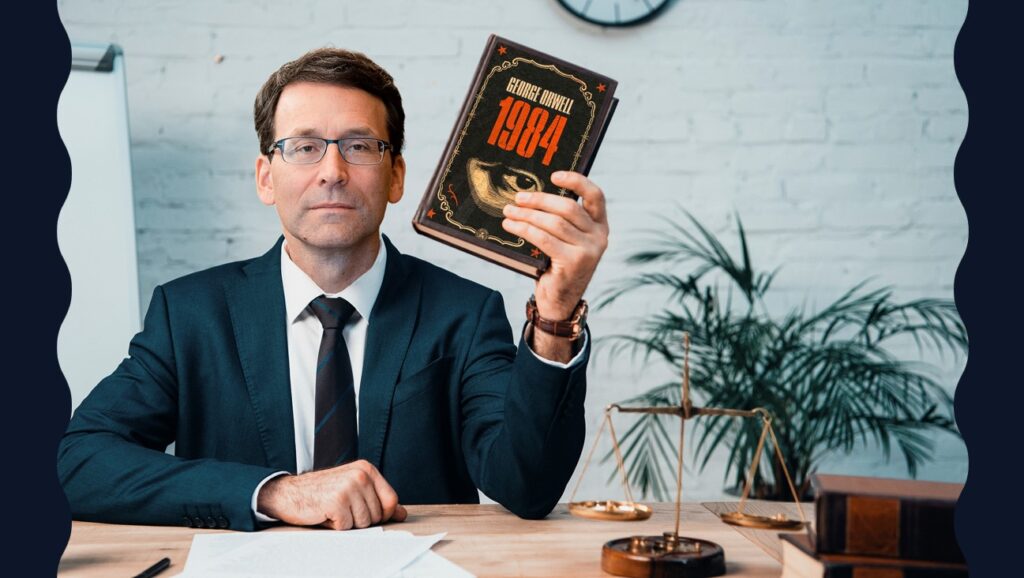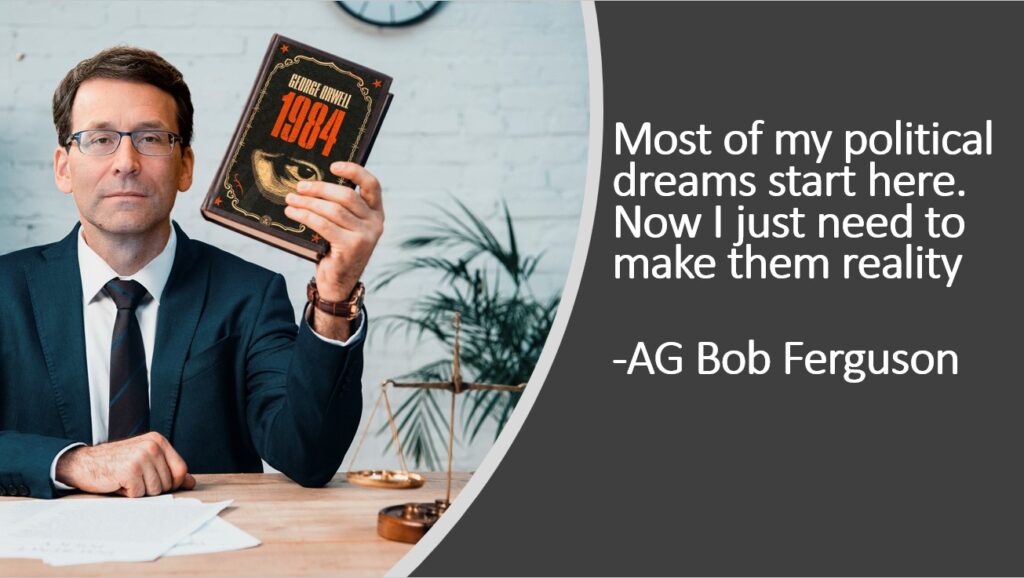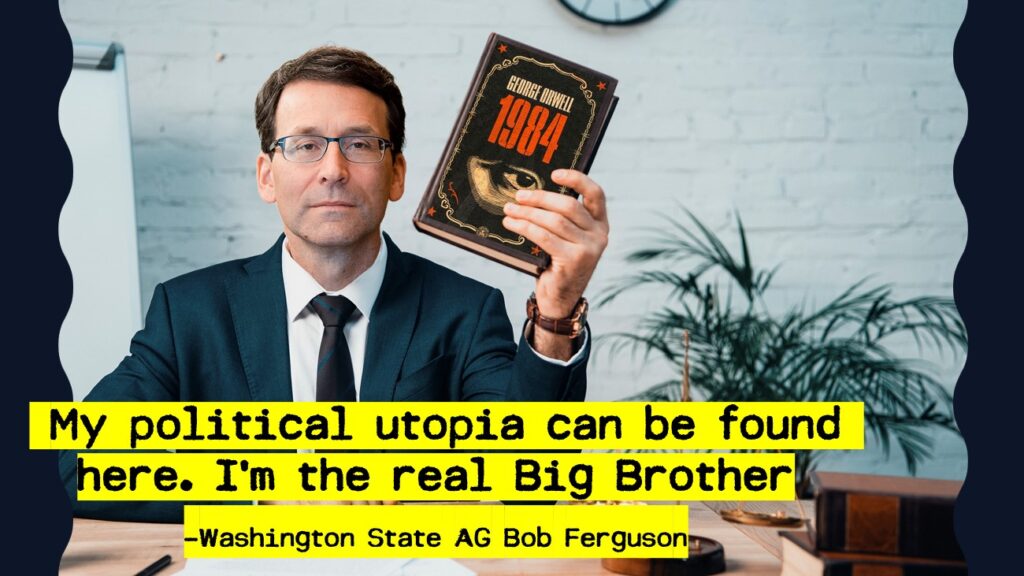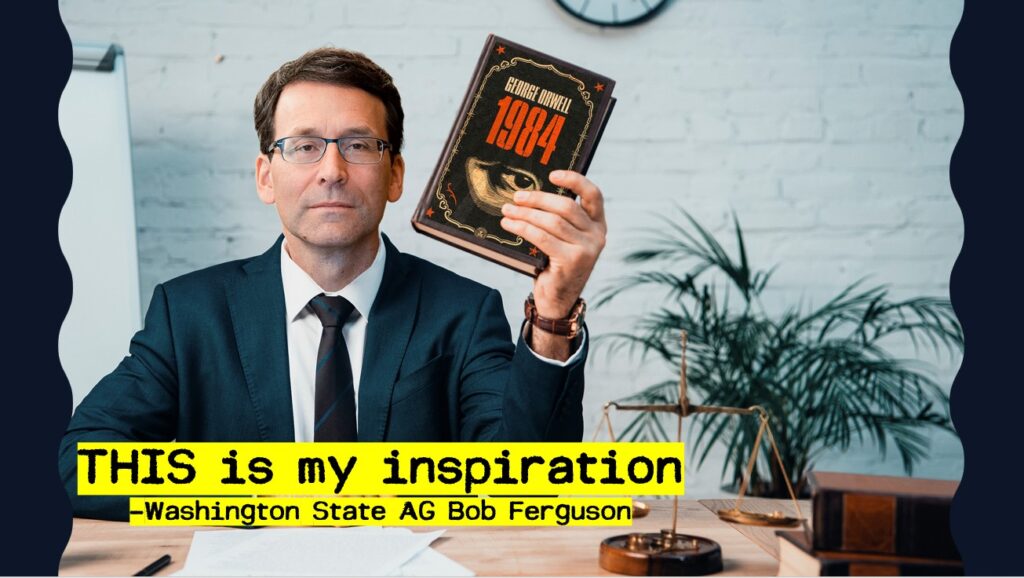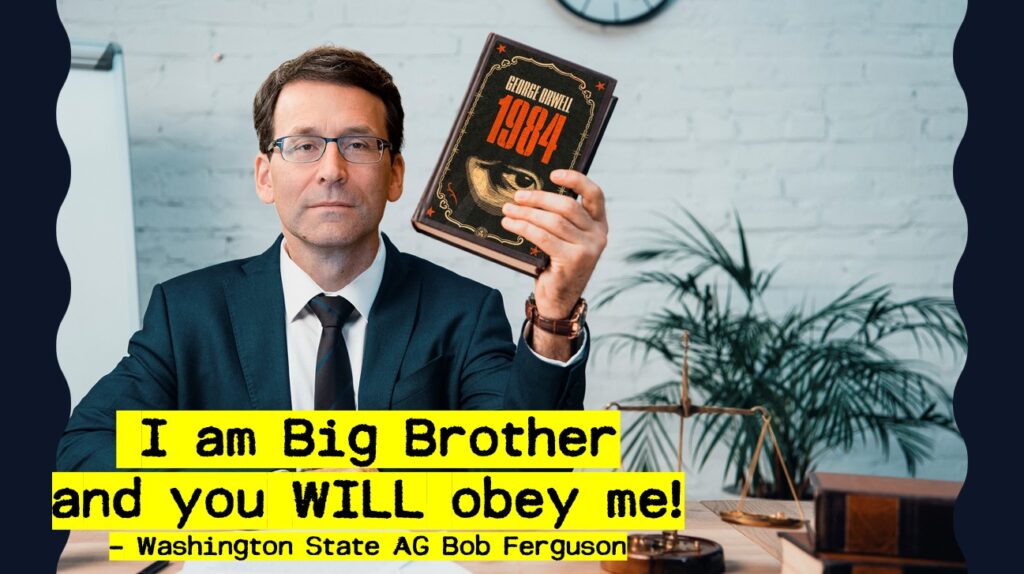 OUR CONSTITUTION BEGINS WITH THE PHRASE "WE THE PEOPLE."  IT WAS THE FOUNDERS' INTENT THAT GOVERNMENT BE CREATED BY THE PEOPLE, TO SERVE THE PEOPLE.  IT WASN'T THEIR INTENTION FOR THE PEOPLE TO SERVE THE GOVERNMENT.  IT WAS ALWAYS INTENDED THAT GOVERNMENT WHICH FAILED TO SERVE THE PEOPLE SHOULD BE "ALTERED OR ABOLISHED."  UNTIL WE RETURN TO THE FOUNDER'S INTENT, WE REMAIN WE THE GOVERNED…
Background articles and reference links:
Washington State Attorney General Bob Ferguson official website
(In Case they memory hole this embarrassment, I've copied it also here for you download)
Official Legislature page (2023) for tracking progress of HB1333
HB1333 – "An Obscene Gesture to our Constitution"
HB1333 – "The bill that creates Washington's Ministry of Truth"
Stop the Creation of the Disinformation Ministry
Free Speech and Conscience Rights under attack in WA State with HB1333
Federal Version from last year:
RealClearPolitics – "Biden's Ministry of Truth"
The Hill – "Biden's Ministry of Truth"
Washington Times – "Disinformation Governance Board – Biden's Ministry of Truth"
Biden's Ministry of Truth on Pause
Published with permission of wethegoverened.com