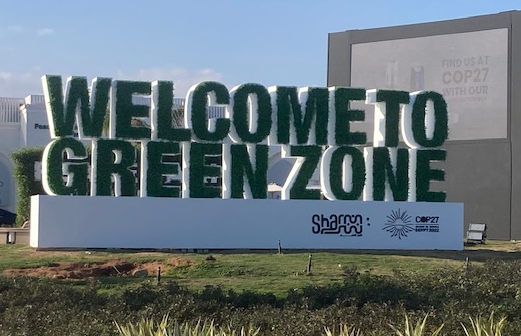 Sharm el-Sheikh, Egypt
Corporate takeover of the COP 27 'Green Zone'
By Peter Murphy
The "Blue Zone" of the United Nations 27th Climate Summit is the where the conference itself takes place and where most delegates spend each day.
During the latter half of the first week, CFACT took a half-day in the "Green Zone," which is typically where non-governmental climate organizations display their agendas and good works for all to see. This year, however, they were virtually absent. Rather, dominating the Green Zone was a growing number of corporate sponsors displaying their climate concern and cashing in as major contractors for UN and international organizations funding climate initiatives.
The Green Zone was an expensive and elaborate set up of buildings and outdoor sculptures, along with a fountain pool and bridge, yet the human traffic was sparse. In contrast to summits past, the displays were almost entirely of corporate sponsors, including Microsoft, Egyptian Air, Siemens and many private companies. Part of this low attendance is the absence of any planned protests for which the government of Egypt has no tolerance, in contrast to last year's climate march in Glasgow, Scotland.
Nowhere in the Green Zone did we find the NGO community, including some of our favorite radical groups, though a small sample of them set up in the Blue Zone, demanding "climate justice" and "climate reparations."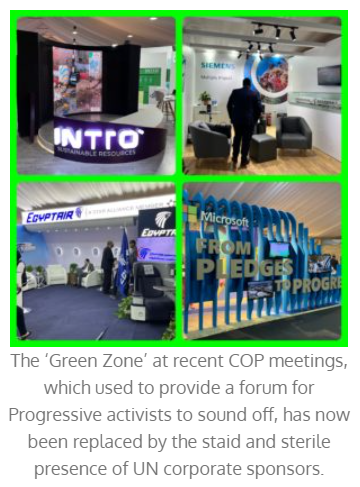 The sparsity of NGO displays is a not subtle indication of the corporate takeover of the climate change issue, which is the basic reason global climate activist Greta Thunberg boycotted the summit. This corporate presence also came at the consternation of some younger conference attendees and smattering of NGOs with whom we spoke.
Their attitude can be summed it this way: large corporations are large contributors to climate change, and now take a "capitalist colonial" approach to addressing climate change, including displacement of indigenous people, making huge profits and imposing debts on developing countries. One Gen Z panelist noted that COP27 summit is "underwritten by the same people who caused the problem."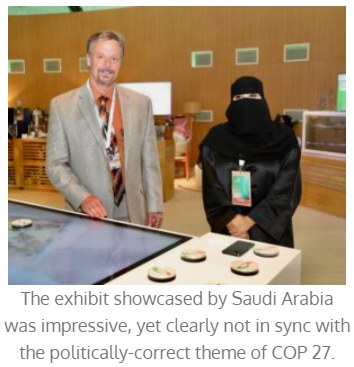 On the way to the Green Zone, we stopped at the "Saudi Green Initiative," a pair of makeshift domed buildings that were constructed just for the COP27 summit that showcased all the environmental and earth friendly initiatives underway in Saudi Arabia. It was a series of high-tech displays of the Kingdom's efforts to create literal green space in place of desert sands, which include vast irrigation systems to sustain them. Noticeably absent from the displays was the presence of "renewable" energy via wind and solar. When asked about this, the staff who showed us confirmed they were impractical and unnecessary, but for very limited circumstances. The Saudi "Green Initiative" really was about greening more of the country with trees and grass replacing desert.
Oddly, this is something at this conference CFACT could support.  Also oddly, we can't figure out how such a display got past the UN censors. It's clearly off-message, at least different from those presented at other venues here.
You could almost see Greta rolling her eyes.
Author
Peter Murphy is Senior Fellow at CFACT. He has researched and advocated for a variety of policy issues, including education reform and fiscal policy, both in the non-profit sector and in government in the administration of former New York Governor George Pataki. He previously wrote and edited The Chalkboard weblog for the NY Charter Schools Association, and has been published in numerous media outlets, including The Hill, New York Post, Washington Times and the Wall Street Journal. Twitter: @PeterMurphy26 Website: https://www.petermurphylgs.com/
From cfact.org