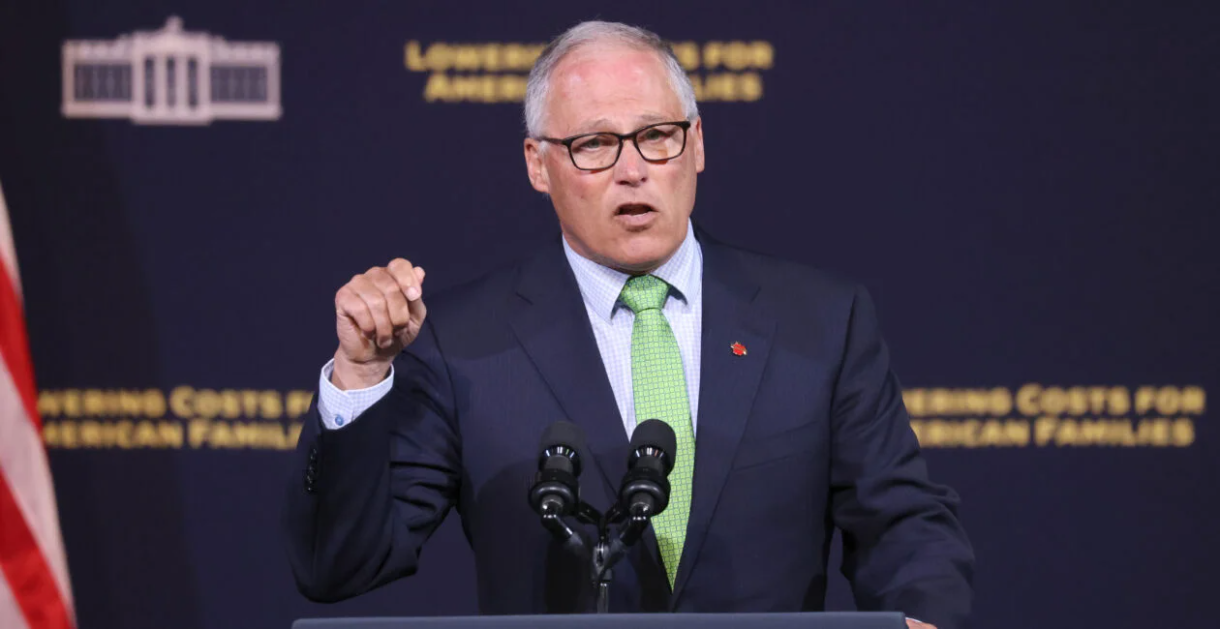 Washington state Gov. Jay Inslee—seen here on April 22 in Auburn, Washington—commended the Washington State Building Code Council's recent decision "to require all new buildings to use clean, healthy, efficient heat pumps for space and water heating" even though it will raise housing costs with little or no environmental benefit. (Photo: Karen Ducey/Getty Images) 
Washington State Ban on Natural Gas Heating Is All Cost, No Benefit
By Todd Myers 
The Washington State Building Code Council, an unelected board that governs construction standards, on Nov. 4 decided to effectively ban natural gas heating in new construction homes and office buildings.
Advocates of the new restrictions admitted reluctantly that their new requirements will increase the cost of housing, but perhaps even more notable is that the new rules will do nothing to advance the purported goal; namely, reducing the state's carbon dioxide emissions.
The combination of artificially high cost and no benefit makes the new regulations a textbook example of how some politicians drive climate policy to appear like they are climate warriors. The result is the worst of both worlds—higher housing and energy costs that will disproportionately affect lower-income Americans, but with few, if any, environmental benefits.
The Building Code Council requested an independent cost-benefit analysis from the Pacific Northwest National Lab. The results showed a significant cost increase to require heat pumps for space heating. The lab estimated the requirement would add nearly $6,000 on average to the cost of new construction.
For water heaters using a heat pump, rather than natural gas, it would add another $1,500.
Despite those estimates, the board went ahead with mandating the new requirements.
One of the board's justifications for ignoring those estimates was that banning natural gas heating would help the state reduce carbon dioxide emissions. One member claimed, "It's an exciting step forward toward meeting our goal to reduce greenhouse gases in our state."
That statement is flatly false.
Effective Jan. 1, Washington state will impose a carbon dioxide cap that strictly limits the use of natural gas and gasoline. The theoretical benefit of the statewide carbon dioxide cap is that it is neutral on how people and business owners reduce their emissions.
The Building Code Council's decision to ban natural gas heat pumps in new homes runs counter to that approach and adds nothing to total emissions reductions. The ban simply says that emissions reductions must occur in a particular—and very expensive—way. It does not, however, reduce carbon dioxide emissions any more than existing laws would.
Even in states without a similar statewide carbon cap, banning natural gas home heating is an extremely expensive way to cut carbon dioxide.
Several cities and states have considered similar policies. New York Gov. Kathy Hochul has proposed a statewide ban on natural gas hookups for new homes. California is looking to ban natural gas space and water heaters by 2030.
Environmental groups have appealed to the Environmental Protection Agency to adopt those rules nationally.
In Washington state, where electricity rates are some of the lowest in the country, switching to electric heating costs about $80-$100 per metric ton of carbon dioxide. That is far more than other available carbon dioxide-reduction strategies that cost about $10 per metric ton, and even more than the Biden administration's "social cost of carbon."
Advocates of the new rules frame the bans as an insurance policy to make sure the state meets its carbon dioxide reduction goals. Of course, any policy could be justified with such logic. If cost is no object, then any amount spent on "insurance" can be warranted.
The decision to ban natural gas heating is emblematic of the state of climate policy in the United States. Policies are chosen based on the desire of politicians to appear righteous when addressing the "climate crisis."
Whether those policies actually reduce emissions is ancillary, and the price for those ineffective and purely symbolic policies is paid by everyone.
The Daily Signal publishes a variety of perspectives. Nothing written here is to be construed as representing the views of The Heritage Foundation.
Todd Myers is the environmental director at the Washington Policy Center, a market-oriented think tank in Seattle.
From dailysignal.com