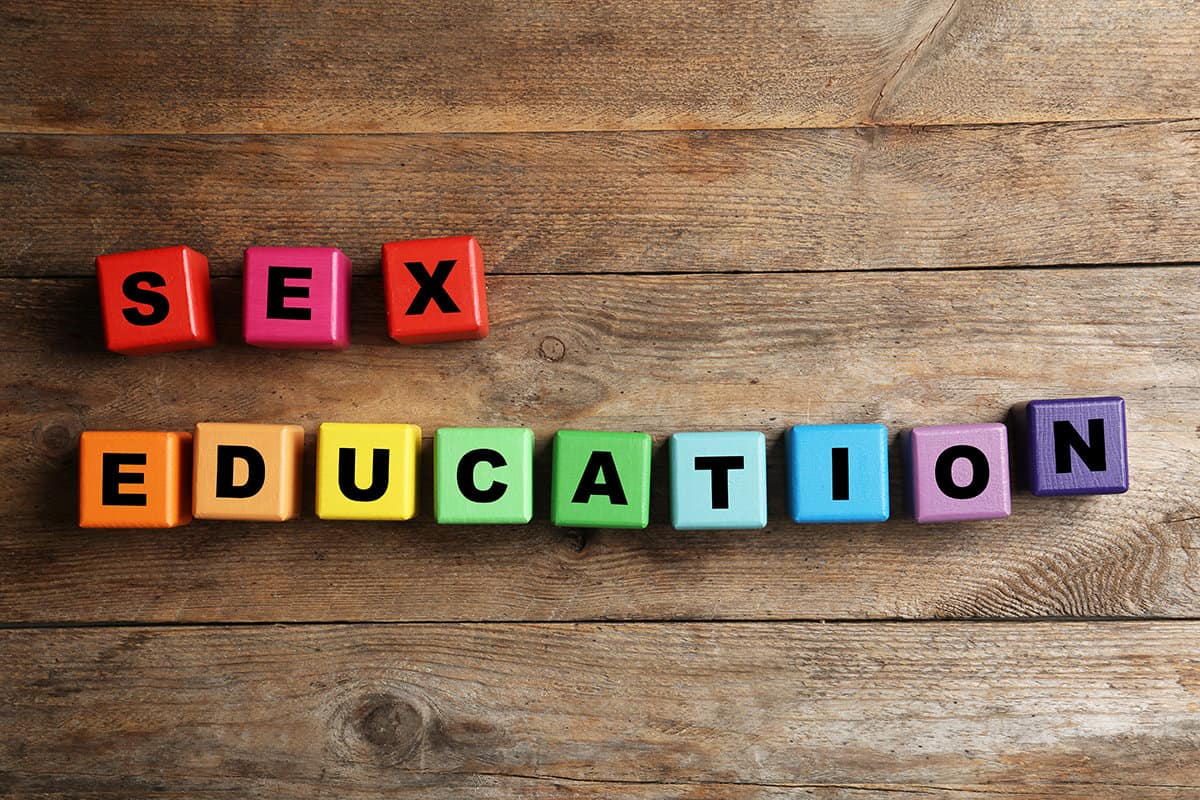 ANSWERS TO FREQUENTLY ASKED QUESTIONS ABOUT SEX ED IN IDAHO
By Anna Miller and Dr. Scott Yenor
Idaho's government promotes radical gender theories in schools and builds partnerships with interest groups pushing the sexualization of children, like Planned Parenthood.
How is this happening? Follow the money and the curriculum from the federal government through Idaho's Department of Health and Welfare (IDHW) to Idaho's health districts.
Federal grants adopted by IDHW are being used to purchase curriculum and training from an offshoot of Planned Parenthood known as Education, Training, and Research (ETR).
ETR has produced a curriculum called Reducing the Risk. IDHW recommends Reducing the Risk to Idaho's seven health districts, which then implement the Reducing the Risk (RTR) curriculum in their region's schools. Receipts show that the IDHW and health districts have been purchasing training services and educational supplies from ETR since 2016.
Is Reducing the Risk in your child's school? We do not know. Here is what we do know. All seven of Idaho's Health Districts recommend or implement RTR in local public schools. Greg Stahl, an IDHW spokesperson, told AP that "the curriculum is currently taught in 14 schools, between grades 8 and 12, in Idaho." He did not say which schools or school districts. The IDHW claimed that around 600 Idaho students completed the program in 2019 alone. In 2021, that number rose to 750 youth in grades 7-12 at 18 sites. The exact number may even be unknown to IDHW, as it sometimes says 14 and other times 18.
The Reducing the Risk program is designed for high school students, but the IDHW reported to the federal government that it is being taught to children as young as 12 in middle schools.
Idaho Freedom Foundation has submitted a records request to the IDHW, asking which schools have administered or taught Reducing the Risk. Local schools and districts are not required to announce their adoption of this curriculum, nor are school districts required to notify parents that they can opt their children out of the program under existing Idaho Code.
What is the relationship between Planned Parenthood and the RTR curriculum? Planned Parenthood not only endorses Reducing the Risk but offers it in schools across the country. They delivered ETR curricula in Idaho schools between 2015 and 2019. The IDHW may not have sought Planned Parenthood's endorsement (as they said in their statement), but the IDHW uses Planned Parenthood endorsed-material (as we correctly demonstrate in our report).
How radical is the Reducing the Risk curriculum? The IDHW claims that it teaches abstinence. Members of the media urge the public to "Look at the Table of Contents" in the RTR curriculum. This is because the RTR Table of Contents is publicly available on the internet. We have actually read the RTR curriculum and can report on what it teaches. (That is real reporting!)
The table of contents includes chapter titles such as "Abstinence." Abstinence used to mean abstaining from having sex. If people only look at Table of Contents and if they think abstinence means abstaining from sex, they might conclude that RTR refrains from offering radical ideologies. The RTR curriculum redefines abstinence to mean engaging in sexual activity while reducing the risk for pregnancy or STD/HIV.

RTR's idea of abstinence includes having anal sex. It includes having vaginal sex while using contraception. It includes having unprotected sex, becoming pregnant, and then getting an abortion. It includes having vaginal sex while using condoms. It includes instructions on how to put condoms on so as to reduce the risk. This is the New Abstinence.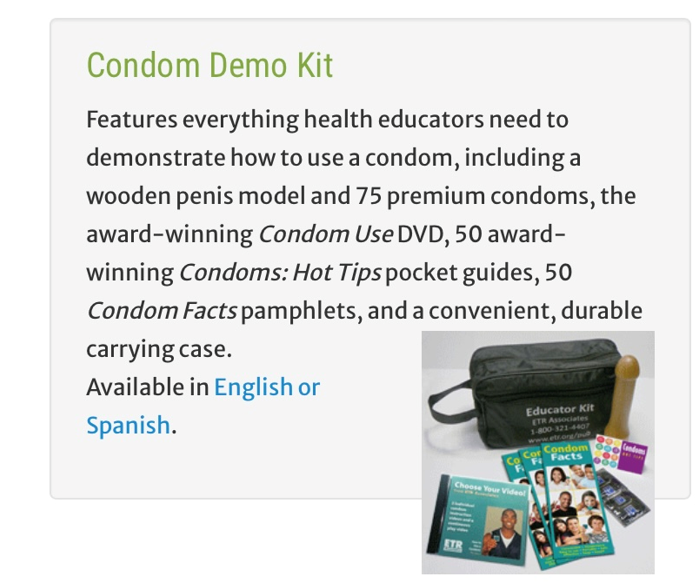 ETR's Condom Demo Kit for teachers delivering Reducing the Risk to students.
The IDHW program website directs students to Planned Parenthood clinics–this too is consistent with the New Abstinence. The updated RTR curriculum, released in 2020, is LGBTQ inclusive, instructing students in gender identity and sexual orientation. Same-sex sex is also an example of the New Abstinence, according to the RTR program, since it does not carry the risk of pregnancy.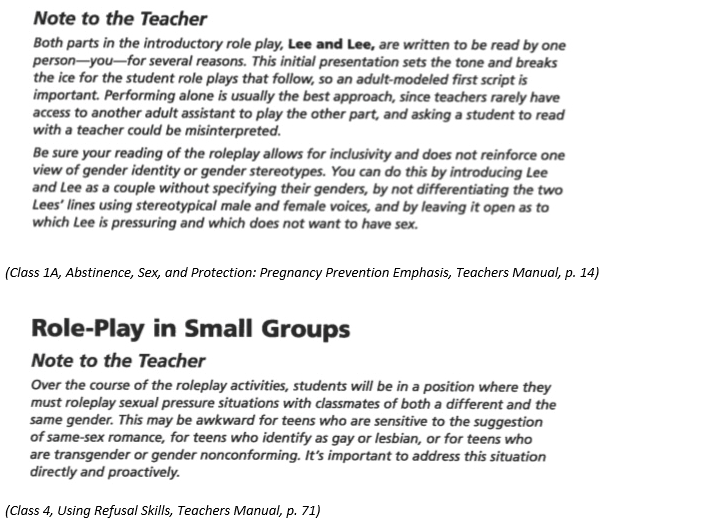 Promoting high-risk sexual behaviors, gender identity and encouraging children to use abortion clinics is not teaching abstinence as people have always understood the term. So Planned Parenthood changes the meaning of the term to make it acceptable to normal people.
Sex education facilitators delivering RTR to students are offered training in practices that are the opposite of traditional abstinence. IDHW spokesperson Greg Stahl told AP that ETR's training videos, which include "Porn Literacy in Sex Ed" and "Queering Sex Ed," are made available to health educators through the state's program. He added, "The videos are a resource for instructors — not students — and are intended to help teachers navigate sensitive questions posed by students." Indeed, teacher training on porn literacy intends to change what students are taught in the classroom.
Others have analyzed RTR. Family Watch International, for example, a non-profit seeking to defend religious and family values, identified 15 harmful ways Reducing the Risk influences children. These harms include normalizing child sex, desensitizing children to sexual things, and promoting abortion and transgender ideology.
Health districts pushed additional graphic material into the RTR program. Idaho North Central Health District's website, for instance, offered educators training on queering education and porn literacy. Another resource took kids to Power to Decide, showing kids where to get an abortion. Another resource, Love is Respect, showed kids how to hide their browsing history from parents and introduced topics like polyamory and gender transitions. The Sex, Etc. resource showed students articles such as Transgender Men Can Get Pregnant, Too, surveys about masturbation, and AMAZE.org videos featuring cartoon depictions of porn and abortion.
These types of sexually explicit resources, such as AMAZE.org videos, are recommended by ETR to sex education facilitators for teaching porn literacy.
The media and the IDHW have not acknowledged the existence of these graphic sexualized resources targeting children. KTVB claimed that "none of this content is present," but this is because heath districts have removed the objectionable promotions from their websites (as we have shown).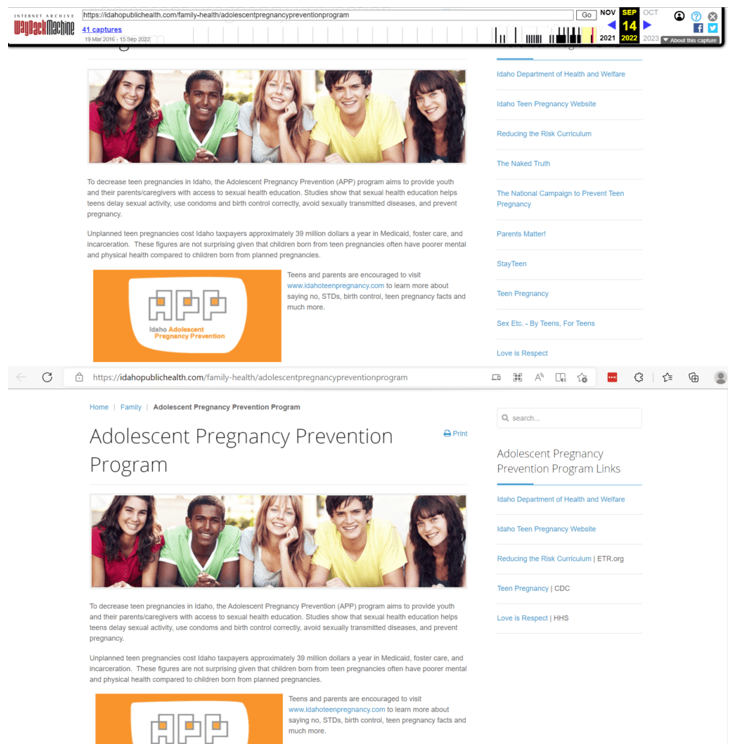 The IDHW claimed not to "support or fund any porn literacy" or "seek the endorsement of Planned Parenthood." The IDHW did not and cannot deny that porn literacy links were available on websites associated with the IDHW's sex education program. Putting such links on their websites amounts to supporting such websites as valid and legitimate outlets for information and guidance. The IDHW has never denied that such resources existed on the health district's website. No media have asked, as far as we can tell.
What standards guide Idaho schools in the adoption of sex education curriculum? As the IDHW has said in its statement, Idaho's program adheres to the National Health Education Standards. IDHW left out a key word. These standards are actually called the National Sexuality Education Standards. The first edition of the standards is listed on the IDHW's program website. None of the standards limit themselves to traditional abstinence-only education or exclusively point students to marriage and monogamy.
The second edition of the standards requires teaching kindergarteners about gender identity and third graders about hormone blockers. The old standards require teaching gender identity to students beginning in sixth grade, among other things. The IDHW does not mention which set of standards it adheres to, but neither the first nor the second edition of the National Sexuality Education Standards are consistent with Idaho Code, which requires sexuality instruction to be scientific and promote family life.
Both the first and the second edition of the standards are written and endorsed by radical interest groups including Planned Parenthood, the Transgender Training Institute, Sexuality Information and Education Council of the United States (SIECUS), GLSEN, and Advocates for Youth.
Pornographic material is being marketed as "abstinence education," when it's actually showing kids everything from anal sex and polyamory to gender transition and abortion. This must stop. A good starting point for policymakers would be to reject the funding of the federal government and the corrupt values that go along with it.
Anna Miller is education policy director at the Idaho Freedom Foundation's Center for American Education. Follow her on Twitter at @annakate_miller. Scott Yenor is a Washington Fellow at the Claremont Institute's Center for the American Way of Life. Follow him on Twitter at @scottyenor.
From idahofreedom.org