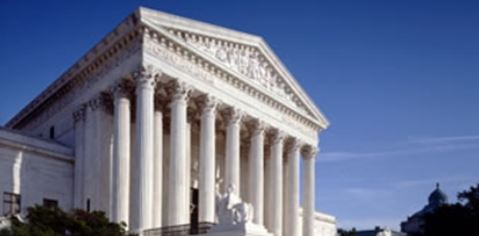 Montana mountain man takes on feds before Supreme Court
In many respects, Wil Wilkins, a 72-year-old blacksmith, stone mason, restorer of log cabins and self-professed mountain man, may have been a better fit in an earlier time, but his property rights case before the U.S. Supreme Court has implications that will affect landowners for generations to come.
A native of West Virginia, Wil once traveled to Scotland, where his skills were put to use helping reconstruct a trebuchet – a catapult that wreaked havoc on enemy positions in medieval times.
Today, he is taking aim at the U.S. Forest Service, which he accuses of breaching an agreement it made with him and his neighbors on property they own near the Bitterroot Mountains National Forest in Montana.
Bait-and-Switch
When Wil and his neighbors bought their land on Robbins Gulch Road decades ago, they entered into an agreement with the Forest Service allowing specific use holders (such as loggers and ranchers) to use the road winding through their properties to access the national forest. This "easement," as it is known, never posed a problem, either to the property owners or to the specific permit holders. But in 2006, the Forest Service unilaterally rewrote the rules and began posting signs saying the road was now open to the general public. This was done even though there is another road just a few miles away that the public can use to enter the forest.
Before long, bad actors took advantage of the Forest Service's move, resulting in illegal hunting, road damage, increased risk of fire, theft of property, and even the shooting of landowners' dogs and cats.
"The easement agreement that had been in place since the 1960s was clear and concise as to who could use the road," The Pacific Legal Foundation's (PLF) Brittany Hunter writes. "This sudden change, which was done without consulting Wil first, felt like a bait-and-switch."
Wil's complaints to the Forest Service that its actions constituted a breach of contract fell on deaf ears, with the Forest Service refusing to honor its agreement.
What did Wil do? He sued the bastards.
Wil and a neighbor, Jane, filed what is known as a "quiet title claim." "The Quiet Title Act gives property owners the right to sue the government for changing the terms of an agreement and claiming more right to the title of a property than was initially agreed upon," PLF's Hunter explains. But there was a catch. The Quiet Title Act requires that property owners file lawsuits no more than 12 years "after they knew or should have known of the claim of the United States." Saying that the statute of limitations had expired, the Ninth Circuit Court refused to hear the case.
Getting Their Day in Court
"The Quiet Title Act's statute of limitations is nothing more than a claim-processing rule – a rule meant to ensure that a court processing claim is filed in a timely fashion," Hunter explains. "The Supreme Court has previously said that this rule is 'important and mandatory,' but it shouldn't automatically prevent a court from considering the facts in a case."
"The Supreme Court has decided to hear this case to answer this question: Does the Quiet Title Act's statute of limitations prevent Wil and Jane's lawsuit from being considered, or is it a claim-processing rule to which there can be exceptions?" Hunter explains.
Both Wil and PLF are confident they will prevail before the Supreme Court, thereby setting a legal precedent that will help landowners fight an overreaching government agency.
"The government can't unilaterally change the terms of a public access agreement with private property owners to take more of their property than was agreed to," Hunter says. The case will be heard this fall.
Author
Bonner R. Cohen, Ph. D., is a senior policy analyst with CFACT, where he focuses on natural resources, energy, property rights, and geopolitical developments. Articles by Dr. Cohen have appeared in The Wall Street Journal, Forbes, Investor's Busines Daily, The New York Post, The Washington Examiner, The Washington Times, The Hill, The Epoch Times, The Philadelphia Inquirer, The Atlanta Journal-Constitution, The Miami Herald, and dozens of other newspapers around the country. He has been interviewed on Fox News, Fox Business Network, CNN, NBC News, NPR, BBC, BBC Worldwide Television, N24 (German-language news network), and scores of radio stations in the U.S. and Canada. He has testified before the U.S. Senate Energy and Natural Resources Committee, the U.S. Senate Environment and Public Works Committee, the U.S. House Judiciary Committee, and the U.S. House Natural Resources Committee. Dr. Cohen has addressed conferences in the United States, United Kingdom, Germany, and Bangladesh. He has a B.A. from the University of Georgia and a Ph. D. – summa cum laude – from the University of Munich.
From cfact.org