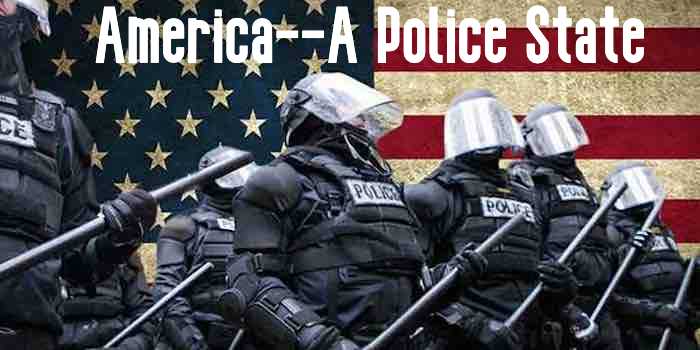 Sadly, I must report that evidence demonstrates that, yes, America is now a police state
America Is A Police State
In a recent CFP article I posed the question "Is America A Police State?"  We now have the answer.  Yes, the Biden administration is behaving like America is a police state.  Every American with a brain should be ashamed about what the federal government did in Mar-a-Lago on Monday morning August 8.  Not only should Americans be ashamed, they should be scared witless! If the government can do what they did to the 45th President of the United States, they can do it to any other American they chose, including you.  If it looks like a duck, walks like a duck, and quacks like a duck, the evidence is overwhelming that it is a duck.
If a looks like a police state, behaves like a police state, and executes white collar warrants with excessive force like a police state
If a looks like a police state, behaves like a police state, and executes white collar warrants with excessive force like a police state, that is overwhelming evidence that America is now a police state.  Compare what has been happening under the Marxist controlled Biden administration with what was happening in the 1930s in Germany.  There is an uncanny resemblance to what is happening in the United States of America in 2022.
The U.S. Congress has sent forward to the President a multi-trillion dollar Bill that will more than double the size of the Internal Revenue Service. Are you so foolish as to think these people will be answering the telephone?  It seems far more likely these people will be looking into the bank account records of anyone opposing the Marxist regime of Boss Joe Biden and his handlers. The Marxist ruling class said that they intend to do exactly that.  I believe them!  Who would you expect the targets to be, supporters of the Marxist Democrats or those American patriots trying to defend and re-establish the constitutional rule of law in America?
When the federal government has at least 169 identifiable law enforcement agencies, these law enforcement agencies use excessive force against American citizens in the dark of night, and these law enforcement agencies invite the media to actions against the government's political enemies, that pretty much defines a police state.  The Marxist, dark, Deep State has become the enemy of We the People, in America, by exceeding the enumerated powers granted the state in the United States Constitution.
There was one piece I hadn't quite put together.  We've seen no overt signs of a federal secret police unit.  This morning it finally came to me, the Marxist Governments secret police are the hidden Dark Deep State people in the known police agencies.
Sadly, I must report that evidence demonstrates that, yes, America is now a police state.
After a 55-year career as a professional pilot in the military, in law enforcement, in the private sector, and in federal civil service, I am now retired.
In many of these positions I repeatedly took an oath to defend the United States Constitution against all enemies foreign and domestic.
From canadafreepress.com