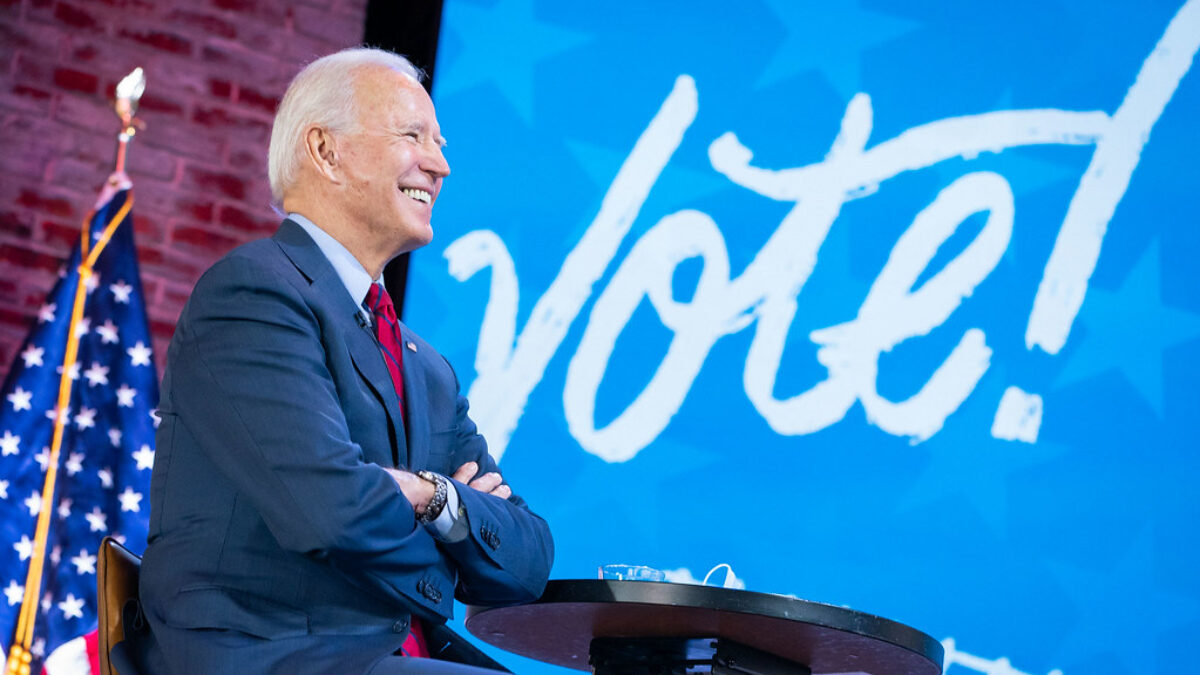 Yes, Biden Is Hiding His Plan To Rig The 2022 Midterm Elections
The White House is refusing to share details about its coordinated efforts to engage in a federal takeover of election administration.
President Biden really does not want the public to know about his federal takeover of election administration. Dozens of members of Congress have repeatedly asked for details, to no avail. Good government groups, members of the media, and private citizens have filed requests under the Freedom of Information Act. Not a single one has been responded to. All signs indicate a concerted effort to keep the public in the dark until at least after the November midterm elections. The lack of transparency and responsiveness is so bad that the Department of Justice and some of its agencies have been repeatedly sued for the information.
When President Biden ordered all 600 federal agencies to "expand citizens' opportunities to register to vote and to obtain information about, and participate in, the electoral process" on March 7, 2021, Republican politicians, Constitutional scholars, and election integrity specialists began to worry exactly what was up his sleeve.
They had good reason. The 2020 election had suffered from widespread and coordinated efforts by Democrat activists and donors to run "Get Out The Vote" operations from inside state and local government election offices, predominantly in the Democrat-leaning areas of swing states. Independent researchers have shown the effect of this takeover of government election offices was extremely partisan and favored Democrats overwhelmingly.
At the time the order was issued, Democrats were also hoping to pass H.R. 1, a continuation of the effort to destabilize elections throughout the country via a federalized takeover of state election administrations.
Biden gave each agency 200 days to file their plans for approval by none other than Susan Rice, his hyperpartisan domestic policy advisor. Yet fully nine months after those plans were due, they are all being hidden from the public, even as evidence is emerging that the election operation is in full swing.
Mobilizing Voters Is Always A Political Act
There are several major problems with Biden's secret plan, critics say. It's unethical to tie federal benefits to election activity. It's unconstitutional to have the federal government take authority that belongs to the states and which Congress has not granted. And, given that all 50 states have different laws and processes governing election administration, it's a recipe for chaos, confusion, and fraud at a time when election security concerns are particularly fraught.
Mobilizing voters is always a political act. Choosing which groups to target for Get Out The Vote efforts is one of the most important activities done by political campaigns. Federal agencies that interact with the public by doling out benefits can easily pressure recipients to vote for particular candidates and positions. Congress passed the Hatch Act in 1939, which bans bureaucrats and bureaucracies from being involved in election activities after Democrats used Works Progress Administration programs and personnel for partisan political advantage.
Executive Order 14019 ignores that the Constitution does not give the executive branch authority over elections. That power is reserved for the states, with a smaller role for Congress. With H.R. 1 and other Democrat Party efforts to grab more control over elections have thus far failed, Congress hasn't authorized such an expansion.
As with previous efforts to destabilize elections, the chaos and confusion that would occur are part of the plan. The Executive Order copied much of a white paper put out by left-wing dark money group Demos, which advocates for left-wing changes to the country and which brags on its website that it moves "bold progressive ideas from cutting-edge concept to practical reality." Not coincidentally, Biden put former Demos President K. Sabeel Rahman and former Demos Legal Strategies Director Chiraag Bains in key White House posts to oversee election-related initiatives.
Rahman serves as senior counsel at the White House office that oversees regulatory changes, meaning he approves every federal agency's regulations and provides legal review of executive orders before they're released. If you were looking to rush out constitutionally and ethically questionable orders, this post would be key to fill. Bains had been Demos' director of legal strategies, helping write the paper that was turned into an executive order. He reports directly to Susan Rice, the hyperpartisan head of the Domestic Policy Council.
Rice has served in political positions in Democrat White Houses and the scandal-ridden Brookings Institution. She played a role in the spying-on-Trump scandal, blatantly lying about the same, lying about the Benghazi terrorist attack, and lying about Bowe Bergdahl's military record.
Rice is described as President Obama's "right-hand woman," and it's been said she was "like a sister" to the former president. She was his National Security Advisor at the same time Hunter Biden was hitching rides on official White House aircraft to other countries for meetings with oligarchs and corrupt government officials. She spread conspiracy theories about the law enforcement officers in Portland during the violent BLM riots that besieged the city. Most worrisome, she was briefed on the Clinton campaign's Russia collusion hoax, which was used to destabilize the 2020 election and question its illegitimacy.
Leftist Groups Know Exactly What's Going On
Conservatives may be in the dark, but left-wing activist groups are fully involved in the plot. The left-wing dark money group Demos put out press releases immediately after the executive order was issued, saying it would be happy to work with federal agencies on the project.
And then the group admitted publicly that it "organized agency-based working groups and met with the staff in these agencies to provide technical expertise as they developed their initial voter registration plans, to ensure those plans reflect the knowledge and priorities of various agency stakeholders." It also admits it "developed research and resources to assist and advance agency efforts to implement robust voter registration opportunities, including a slide deck explainer of the agencies' potential for impact, best practices for conducting voter registration at federal agencies, and recommendations for modernizing and improving the accessibility of Vote.gov."
All of that information should be available to oversight authorities in Congress and the American taxpayers paying for its implementation, not just the left-wing groups that produced it. Yet as of this publication date, none of it has been shared.
Biden's plan "raises serious ethical, legal, and constitutional concerns," wrote Rep. Ted Budd, R-N.C., along with three dozen Republican members of Congress on January 19, in a letter to the head of the Office of Management and Budget (OMB), demanding more information by February 28 about the secret plot. It went unanswered.
The top Republican members of nine House committees and subcommittees likewise demanded information from Rice and the head of OMB in a letter they sent on March 29. They noted that election activity goes well beyond "the scope of each agency's authorizing statute and mission."
One of the concerns shared by the members was that Biden was directing agencies to work with third-party organizations. Nobody knows which third-party organizations have been approved by Rice for her political efforts, nor which are being used. They also asked how much money is being spent on the effort, which statutory authorities justify the election activities, and what steps are being taken to avoid Hatch Act violations. They received no response.
The Foundation for Government Accountability filed a lawsuit on April 20th to compel the Department of Justice to respond to the FOIA request for information. And the American Accountability Foundation (AAF) filed suit on June 16 to compel Justice to comply. Those suits are ongoing.
What We Know
While the White House and agencies are steadfastly refusing to share details about how they're complying with the executive order, who they met with to develop their plans, or how they're justifying their involvement in something Congress has not authorized them to participate in, some details are trickling out. Here are a few examples of the widespread and coordinated effort by Biden's political appointees to meddle in the state administration of elections.
In the midst of a labor crisis, the Department of Labor boasted that it was turning 2,300 American Job Centers previously focused on helping displaced workers find jobs into hubs of political activism. These new federally funded voter registration agencies were given guidance about how to bring in organizations to conduct "voter outreach."
The Centers for Medicare and Medicaid Services likewise announced plans to turn community health centers into voter registration agencies, using thousands of health care facilities to focus on voter registration and turnout.
The Housing and Urban Development Department sent notice to public housing authorities that they should begin voter registration drives and participation activities. Previously, officials had been barred from electoral activities because they receive federal funding.
"It is presumed residents of public housing might disproportionately vote Democrat. … The executive order targets people receiving government benefits who might think their benefits depend on one party in power," Stewart Whitson, legal director for the Foundation for Government Accountability, told the Daily Signal.
The Department of Education sent "dear colleague" letters to universities, telling them that Federal Work Study funds could now be used to support voter registration activities, contrary to previous guidance. The change was made without having gone through any rulemaking process to allow the change.
The U.S. Department of Agriculture said it's using its child nutrition programs to push voter registration and enlisting state, local, and federally funded employees to implement voter registration drives in local schools.
The Commerce Department produced a massive, 113-page report which likely took four agency officials many hours to generate. It directs local voting board members about polling stations and poll worker training.
The tactics being used by these agencies were almost certainly contained in the plans submitted to Rice that have been withheld from investigators and overseers who had hoped to have some transparency about what the plans were. Frequently, the agencies claim the tactics are in response to the executive order, yet information about how they were developed has been withheld from the public for much of the year.
It is unclear why Biden and his political appointees are being so secretive about the work that went into their plan to engage in a federal takeover of election administration.
Whatever the case, Americans have a right to know whether these bureaucracies that are meddling in elections have experts in for each state's election laws, what type of training is going on to ensure that state laws are being followed, whether they are allowing inspections and oversight to ensure no illegal activity, how they are determining whether a third-party group is genuinely non-partisan, whether they are allowing state investigators to approve money, and how much is being spent on this federal takeover of elections.
Mollie Ziegler Hemingway is the Editor-in-Chief of The Federalist. She is Senior Journalism Fellow at Hillsdale College. A Fox News contributor, she is a regular member of the Fox News All-Stars panel on "Special Report with Bret Baier." Her work has appeared in the Wall Street Journal, USA Today, the Los Angeles Times, the Guardian, the Washington Post, CNN, National Review, GetReligion, Ricochet, Christianity Today, Federal Times, Radio & Records, and many other publications. Mollie was a 2004 recipient of a Robert Novak Journalism Fellowship at The Fund for American Studies and a 2014 Lincoln Fellow of the Claremont Institute. She is the co-author of Justice on Trial: The Kavanaugh Confirmation and the Future of the Supreme Court. She is the author of "Rigged: How the Media, Big Tech, and the Democrats Seized Our Elections." Reach her at mzhemingway@thefederalist.com
From thefederalist.com