Image representing cultural diversity
Human rights groups' national push to implement 'domestic terrorism' comes to North Idaho
White Nationalists, you're next.
By Casey Whalen
A recent newspaper article entitled, 'Human rights groups call for action to address domestic terrorism' caught my eye.
As a country, we have witnessed since the inception of Political Correctness by Harvard Professor Derrick Bell in the early 1990's spurred on by Marxist propaganda of the Frankfurt School of Critical Theory, now find ourselves on the extreme end of this gradual Marxist brainwashing over the last 30 plus years.
In the article brought to you by the Kootenai, Bonner, Spokane & Boundary County Human Rights Task Force of the inland northwest, these groups use LOVE as their mantra but only as a means to get the foot in the door to implement future hate crimes laws and their idea of an inclusive society.
Dun & Bradstreet report that THE BONNER DAILY BEE is the home address to the BONNER COUNTY HUMAN RIGHTS TASK FORCE, one of many optics arms.

These are RADICAL MARXIST NETWORKS working in tandem with other organizations such as: Western States Center (Portland, OR.) and the Southern Poverty Law Center (Montgomery, AL.), the Institute for Education and Human Rights (IREHR) writes articles which are disseminated to major media outlets and is one of the optics arms. The Institute for Constitutional Advocacy (ICAP) of Georgetown Law is one law-fare arm for these radicals.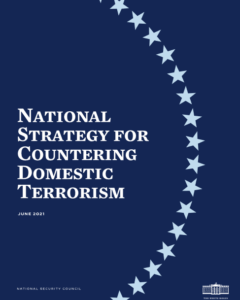 The article states:
On June 21, 2021, the National Security Council published the National Security Countering Domestic Terrorism Plan to focus attention on threats from violent extremists, white nationalism, white supremacists and anti-government activists.
The article urges passage of the 2021 proposed U.S. Domestic Terrorism Prevention Act that would provide and extend efforts of government to prevent, report on, respond to and investigate acts of domestic terrorism by authorizing offices dedicated to combating this threat; requiring these offices to regularly assess this threat; and provide training and resources including funds, to assist state, local and tribal law enforcement in addressing the threats.
Jeanette Laster Director of the Human Rights Education Institute is leading the charge locally to help make that a reality in North Idaho and specifically Coeur d'Alene, Idaho where the institute is located. The HREI promotes Marxist ideals and promotes the United Nations Declaration of Human Rights which is contrary to the United States Constitution.
Recent public records requests show Laster operating a Human Rights Consortium Steering Committee consisting of the following entities: Kootenai County Sheriff, Idaho State Police, Federal Bureau of Investigations, Coeur d'Alene Police, Kootenai Health, City of Coeur d'Alene City Council members, Coeur d'Alene Tribe, University of Idaho, North Idaho College and more.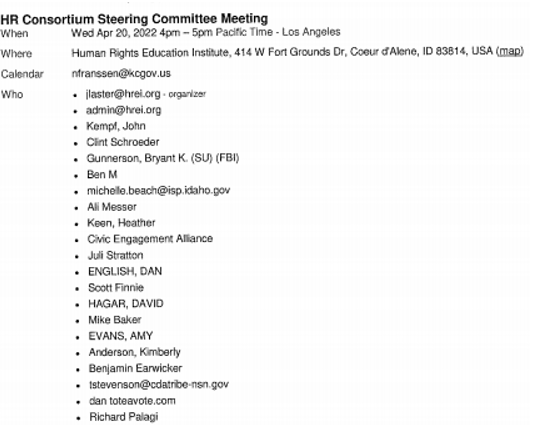 Some similar tactics are being employed to create optics favorable to the organizations, they are essentially using the Hegelian Dialectic (problem, reaction, solution) to achieve the end goal of forcing law enforcement to crack down on any which can be put into the white nationalist/supremacist category and do not agree with the LGBTQ agenda being forced on society.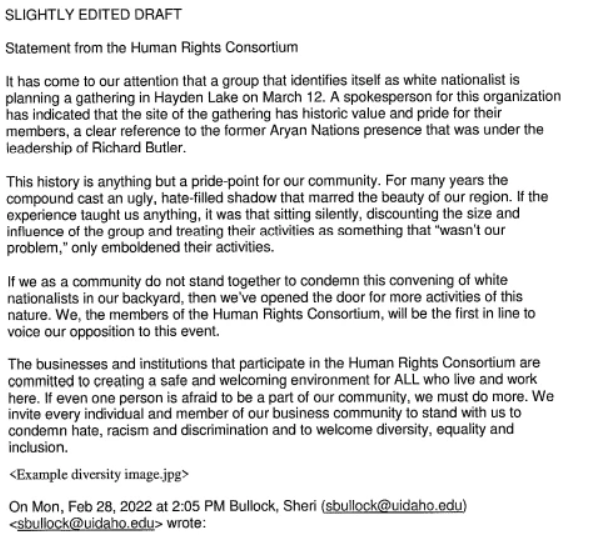 While the National Security Countering Domestic Terrorism Plan failed to pass congress in 2021 every effort is being made locally and nationally to push for renewed hate crime law and infringe on American's civil liberties.
Resources for National Security Countering Domestic Terrorism Plan 2021:
National-Strategy-for-Countering-Domestic-Terrorism.pdf
National Defense Industrial Association 
Domestic National Terrorism Act
Help independent journalism thrive and help me continue to expose corruption in North Idaho: VENMO @northidahoexposed or PAYPAL: @northidaho
If you have a lead/tip please submit it to: northidahoexposed@protonmail.com
Supportive related in depth info from Karen Schumacher: