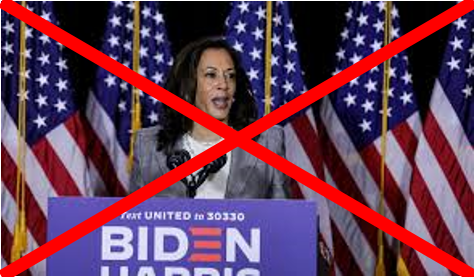 KAMALA HARRIS IS INELIGIBLE!!! – "No person constitutionally ineligible to the office of President shall be eligible to that of the Vice President of the United States." – 12th Amendment
By Steve Dunham
The Article posted on Inland NW Report for the third time  'Kamala Harris Is Not Qualified to Be (Vice) President' should be read and acted upon by everyone.
As the article says according to the Constitution, Article 2, she is not qualified to be President because she is not a natural born citizen!  Over the last 8 months the only news about this I have heard has been this article from the New American magazine by Joe Wolverton.
Why?  Why did the Democrats choose someone to run that was clearly unqualified?  Why did not the Trump campaign make an issue out of this during the election campaign?  Why was not Fox news and all the other "conservative" talk show hosts reporting on this and making it clear she was not qualified under the Constitution?   Why would 70 million people vote for an unqualified person?
Why would county auditors, State Secretaries of State, and State Legislatures certify an election and accept the votes of electors when she is not even qualified to run? Why have the Supreme Courts of every state and the US Supreme Court been silent about this?
On January 6th according to the 12th Amendment Vice President Pence will open the certificates and the electoral votes will be counted from all 50 states.  The question is will the electoral votes for Biden Harris be accepted because of the election fraud and will the votes for Harris be accepted in light of the clear wording of Amendment 12.   "No person constitutionally ineligible to the office of President shall be eligible to that of the Vice President of the United States."
Before Wednesday we all should ask our Senators and Representatives to do the right thing and reject the votes for Harris based on Article 2 and Amendment 12 of the Constitution.  After all they all took an oath to support and defend the Constitution.  Hopefully if they hear from enough people they will read it and apply it in this case.