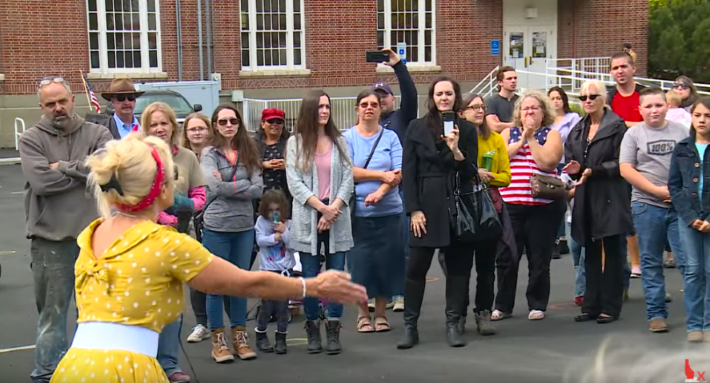 The PEOPLE begin to stand for liberty in Moscow, Idaho
 By Casey Whalen
On Thursday September 24, 2020 three people were arrested and charged with a misdemeanor at Moscow City Hall for violating the city's ordinance 20.03 an emergency order to enforce masks, social distancing and prohibiting assembling in large groups.  Over two hundred people gathered for an event called 'Psalm Sing' hosted by Christ Church of Moscow in which the group sang songs of worship and praise.  One of the three arrested was Gabriel Rench who is currently running for Latah County Commissioner.
Rench commented in a statement courtesy of KTVB 7:  "The government cannot dictate to us where we can worship, what time we can worship.  So that was kind of our protest of extending the resolution through January 5th through a wonderful psalm sing."
On September 2, 2020 Moscow City Hall voted unanimously to extend the emergency resolution until the first week of January.
The people immediately created an event Friday, over 400 in attendance & Saturday, over 150 people joined to assemble for redress of grievances at Moscow City Hall parking lot.
Of course, the right for the people to assemble is protected under the 1st Amendment of The United States Constitution as well as the Idaho Constitution Art 1 Sec 4 which specifically states:  'Guaranty of religious liberty.  The exercise and enjoyment of religious faith and worship shall forever be guaranteed; and no person shall be denied any civil or political right, privilege, or capacity on account of his religious opinions; but the liberty of conscience hereby secured shall not be construed to dispense with oaths or affirmations.'
And Idaho Constitution Art 1 Sec 10:   'Right of assembly.  The people shall have the right to assemble in a peaceable manner, to consult for their common good; to instruct their representatives, and to petition the legislature for the redress of grievances. '
We traveled to Moscow for the events on Friday and Saturday, here is our on the ground interview and documentaries with those who decided to stand for freedom, liberty and preserving the Constitution and the Rule of Law.
If you appreciated this content help citizen journalism thrive with an affordable donation via:
Cashapp – $northidahoexposed
Venmo – @ northidahoexposed
Bitcoin – 3QM7QfHsUpY5n6raQvd8M3UKUt65kYwiMN
Address: Casey Whalen, PO BOX 3041; Coeur d'Alene, Idaho 83816
Casey Whalen is an independent journalist and activist who runs the YouTube channel: North Idaho Exposed.