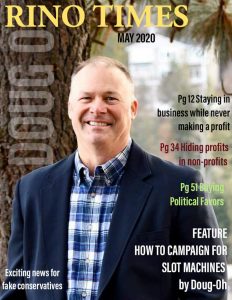 Doug O Stoops to a New Low
By Chuckleberriesonline.com
Our email has been full lately. We're trying our very best to get to each tip we've received. This one we felt needed immediate attention, so we rushed it to the top of the list. The implications are far reaching and affect future races in Kootenai County.
Doug Okuniewicz, you know that tall guy that is all gambling all the time? THIS GUY, the one that hands out fat wads of money to every law maker he can for his gambling interests. Well folks, he's pulled a political stunt that is likely the lowest we've seen in this county. He's trying to change to landscape of the Kootenai County Republican Central Committee (KCRCC) to be his personal group of cheerleaders.  You know the type that do nothing but stroke his ego and say dumb things like, "YaY! DoUg, yOu'RE ouR HeRO!!!"
The Back Story
What happened, was John Green was forced from House Seat 2B by King Bedke. This created an open seat. In January 2020, the PC's in District 2 had to submit three names to our guv, Herr Chicken Little. Dougie was at that meeting, along with his campaign helper Becky Funk. His goal was to get to be one of those names. He was confident that if he was on the list, Little would pick him.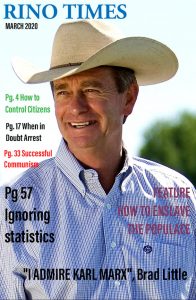 One thing that made him so confident, was the large amount of money his employers had given Little.
In 2017 Doug's employers gave $25,000 to Little's campaign. From four donations, they gave 11% of the funds received by Little that year. That kinda money talks in Idaho, and swings heavy political favor. Doug was likely banking that this would make him a shoe in to be picked by the guv.
Here is a list of those donors, along with the page they can be found in Little's Sunshine Report. Each person or group has been mentioned in previous posts.
Scott Phelps- $5,000 on Page 17. Principal of The Greene Group, Doug's employer
Paul Bryant, Jr.- $5,000 Page 17. Principal of The Greene Group, Doug's employer
Greg Lamantia- $5,000 Page 21. Beer distributor and prior Biz partner of above two.
Winning for Idaho- $10,000 Page 19. PAC Funded by Greene Group and Lamantia
Doug and the KCRCC Part Ways
But Doug O wasn't one of the three names picked by the KCRCC District 2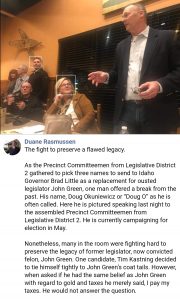 peeps. Of the 15 that showed to the meeting, 2 recused themselves, and only 2 voted for him. Doo-ane was one of those people, and aired his disdain on Facebook. Rumor is his fellow partner in the Commie-corner of the KCRCC Little Debbie Rose was the other Doug-No supporter.
Now fast forward a bit. The KCRCC begin investigating Doug using documents published on this site, and on Boise Leaks. They voted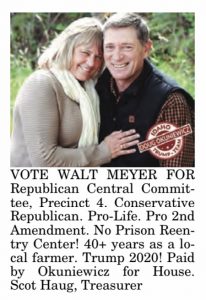 unanimously that Doug had a conflict of interest with his gambling interests, which might make him not adhere to the House rules.
This was the second big blow the KCRCC had thrown at Doug, and he wasn't happy. It was time to take matters into his own hands. If he couldn't earn the support of the KCRCC, he'd just buy new members. Problem solved in his mind. He already had the support of Commie Corner, so he just needed more supporters.
Buying Members
To date we've found Doug has sponsored three Precinct Committee races with ads in the Nickles Worth, all in district 2. And he has a fourth that he's supporting financially through the employment of their spouse. Becky Funk is helping Doug run his campaign, as well as getting paid to design his campaign literature. Her husband Terry is running against Roger Garlock in Precinct 45. (Roger is a great guy, and has been instrumental in helping educate people on URDS, and in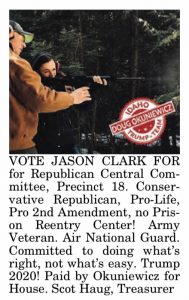 fighting abortion. Peeps in 45, vote Roger!) If he can get them on the committee, he's hoping it'll be 4 more votes in his favor.
Even more surprising, and lowest of all. Doug has thrown money at a PC running against the wife of his opponent. In Precinct 18, Karen Kastning has been a positive and very conservative member for the committee.  Doug has stooped to the level of trying to unseat her in his fit of rage. Even for you this is low Doug. Have you been taking queues from Arrogant Alex Barron?
Here is the tally of who Doug is trying to unseat. Each of the three current KCRCC members are stellar people, and are hardworking, eager participants.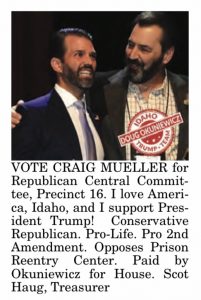 They aren't just seat holders that do nothing. They attend meetings, help with KCRCC events, have a friendly demeanor, and vote conservatively for their precincts. These three precinct members would be sorely missed on the committee.
4: Michael Jehnichen.
16: General Bob Brooke
18: Karen Kastning
45: Empty (Vote Roger Garlock)
Rack Cards, Oh My!
And we found some have received a slick looking mailer that Doug sent out too!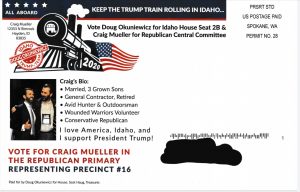 Go team Doug! Your vote for all things Doug will be greatly appreciated to expand his financial portfolio.
But back to reality. Notice Doug has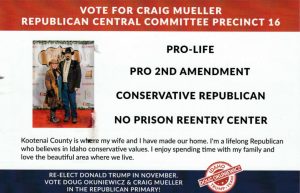 the Trump Train center stage on this mailer. He wants uniformed voters to think he's just like them…one of the good guys. But he leaves out the important details of his employment and what he stands to gain if he can push gambling legislation through.
Analysis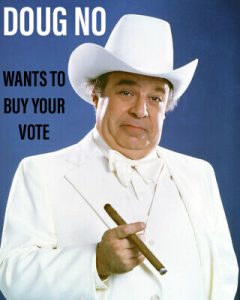 The beauty of Sunshine laws in Idaho, is campaign money is usually easy to trace. But also important, get to know your precinct committee person. They are the first step in representing a political party to their precinct. They should be able to connect you with your elected officials, and help you understand important matters in your district. And if they don't have an answer, they can point you in the right direction.
As such, a PC isn't just something cool to put on your resume, as Pete Riggs thinks it is. It's a rewarding position that needs to be filled by a hard worker. Someone eager to put forth the effort needed. But also someone who always votes conservative. While the candidates Doug has backed might be good people. Most likely they are placeholders to fill the position with yes votes for his causes. The KCRCC doesn't need bought politicians on it. But instead eager members happy to serve their precincts.
Vote responsibly and shake your head in disgust at Doug O and his dirty politics.
Chester, who has been enjoying the sunshine today.
Photo Credit- Doo-ane, eat your heart out bud, we used a screenshot of your post.