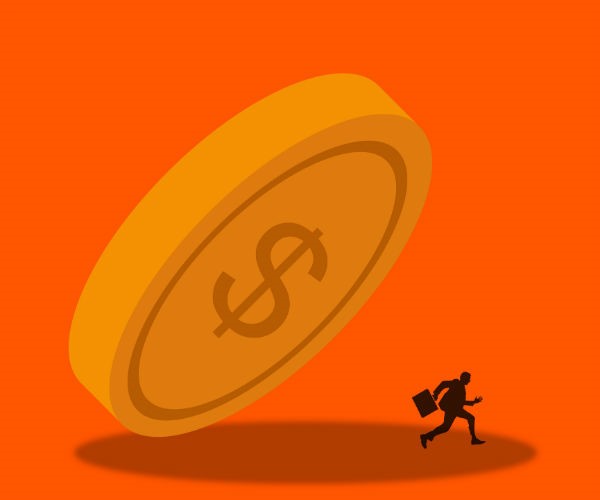 (Alain Lacroix/Dreamstime)
No to Leveraging Coronavirus for Old State Debts
By Larry Bell
Thanks to Trump administration leadership and bi-partisan congressional support, U.S. taxpayers have urgently ponied up trillions of dollars to save desperate unemployed workers, small businesses, and vital industries from viral victimhood.
Hundreds of billions of relief funds have been pumped into the healthcare system, unemployment insurance and small business loan programs, and federal reimbursements to state and local governments earmarked specifically for coronavirus-related expenses.
And most assuredly, there must and will be more financial help on the way.
We all have a huge stake in supporting this national recovery effort.
But as U.S. Sen. Rick Scott, R-Fla. avows in an Apr. 28 Wall Street Journal piece, the one thing Congress absolutely shouldn't do, is shield states from the consequences of their own bad budgetary decisions over past decades.
Most particularly, Sen. Scott argues that citizens of his state should not be responsible to bail out underwater public pension plans several Democratic governors are requesting. Whereas Florida's pension system was recently funded at about 84%, those of Illinois (38%), California (70%), and New Jersey (36%) are in a bad way despite imposing significantly higher taxes.
Scott points out that just as American families are required to make responsible budgetary decisions every day, poorly-run state and local government administrations must be held to the same requirements they legally impose upon their citizens.
But this being primarily a blue state issue, Democrats have predictably expressed outrage. Speaking on the House floor, Rep. Max Rose D-NY, equated refusals to attach billions of federal taxpayer dollars of coronavirus aid to state and local pension bailouts amounted to telling police officers, firefighters and schoolteachers to "drop dead."
The budgetary crossfire began last month, when Senate Majority Leader Mitch McConnell, R-Ky., pointedly observed, "There's not going to be any desire on the Republican side to bail out state pensions by borrowing money from future generations."
New York Gov. Andrew Cuomo was quick to respond, charging that it is "irresponsible" and "reckless" not to bail out states like his.
The opposite is true. It's irresponsible and reckless to take money from America's taxpayers and use it to save generations of liberal politicians from consequences of reckless spending.
There is nothing new in this economic disaster-in-waiting. Chicago, for example, was dropped by Moody to junk bond status five years ago, long before the virus.
As I wrote in a Dec. 18, 2012 Forbes interview with then-Illinois Cook County Treasurer Maria Pappas, her district's homeowners and retirees faced dire hazards even before then, (which have since, only grown worse).
County Treasurer Pappas told me that while much public attention is directed to national, state and large-city debt issues, she warns homeowners and taxpayers to also pay careful attention to mounting local public debt in their communities.
To put the magnitude of the problem in perspective, consider that Cook County, the second most populous county with the 19th largest government in the United States, at that time collected $11 billion from annual property taxes.
In May, 2012, the collective debt reported by the local primary taxing agencies in Cook County was more than $140 billion!
To put that in context, the total debt-per-household in the City of Chicago was $87,720, and $35,774 in the suburbs. Since local governments cannot print money, they rely on property taxes as their main revenue source to operate.
Pappas warned, "Homeowners might be able to give their homes to their children, but that future generation won't be able to afford to keep them because of the property taxes, which have doubled over a 10-year period."
At the time of the interview, the City of Evanston, a population of 74,486, reported total debts of more than $331 million. Evanston's pension obligations added another $388 million, funded at only 47 percent.
The City of Berwyn reported $143 million in debt for a population of 56,657. Its pension liability was nearly $160 million, funded at even a worse ratio of 40 percent.
The Gail Borden Library in suburban Elgin alone was $23.7 million in debt, owing $11 million in pension liability.
Cook County taxpayers were then paying 60-70 percent of their individual property tax bills to education. So, on top of the debt incurred by their village or town, they also had debt from schools, libraries, fire districts and more.
Simply put, constantly increasing property tax burdens couldn't keep pace with rising costs, including debt interest, required to service generous and ever-accumulating retirement pension plans awarded to government workers.
The consequence? More and more increasingly overtaxed citizens pulled up stakes, moving to states that afforded warmer weather and tax policy climate, such as Florida and Texas.
Rather than learn from this, state and local government leaders responded by raising taxes even more in hopes that the inevitable free-fall economic death spiral wouldn't occur during their terms in office — or before their personal pensions miraculously got bailed out by some remarkably naïve benevolent benefactor.
They must be counting on a wonderfully unified American spirit of COVID-19 crisis generosity as a timely federal hand-out opportunity not to be wasted.
LARRY BELL
Larry Bell is an endowed professor of space architecture at the University of Houston where he founded the Sasakawa International Center for Space Architecture (SICSA) and the graduate program in space architecture. He is the author of several books, including "Cyberwarfare: Targeting America, Our Infrastructure, and Our Future" (2020), "The Weaponization of AI and the Internet: How Global Networks of Infotech Overlords are Expanding Their Control Over Our Lives" (2019), "Reinventing Ourselves: How Technology is Rapidly and Radically Transforming Humanity" (2019), "Thinking Whole: Rejecting Half-Witted Left & Right Brain Limitations" (2018), "Reflections on Oceans and Puddles: One Hundred Reasons to be Enthusiastic, Grateful and Hopeful" (2017), "Cosmic Musings: Contemplating Life Beyond Self" (2016), "Scared Witless: Prophets and Profits of Climate Doom" (2015) and "Climate of Corruption: Politics and Power Behind the Global Warming Hoax" (2011). He is currently working on a new book with Buzz Aldrin, "Beyond Footprints and Flagpoles." Read Larry Bell's Reports — More Here.
From newsmax.com