Report from Olympia | June 4, 2019
Taxpayers on the hook for 88% jump in cost of Inslee security
Dear friends and neighbors,
Its hard to shock me these days, but the ability of some in Olympia to take the taxpayers to the cleaners just managed to do it. Recently, Governor Jay Inslee signed legislation resulting in more than a billion dollars of unnecessary new taxes, putting the cherry on top of what has been called a Taxapalooza. In doing so, he put his approval on a budget that grew 18% and is unsustainable.
As the Tri-City Herald put it in an editorial, The lack of transparency, the numerous new taxes, the dismantling of the state school equity plan puts the 2019 session on the bottom rung. And the way Dems purposely by-passed the public process on the road to new revenue was, frankly, offensive.
To make matters worse, the governor rejected calls from lawmakers, journalists and taxpayers to veto an increase in the budget for his security detail, given that many suspected the increase is due mainly to governor's presidential travels. Why should Washington state taxpayers be on the hook for Inslee's elaborate job interview to go back to the other Washington? The governor should have his campaign cover the cost.
A new monthly report shows expenses for the executive-branch security detail. March 2019 expenses came in at $344,703; thats up 88% over 3 years ago, a difference that is clearly attributable to Inslee's presidential campaign expenses.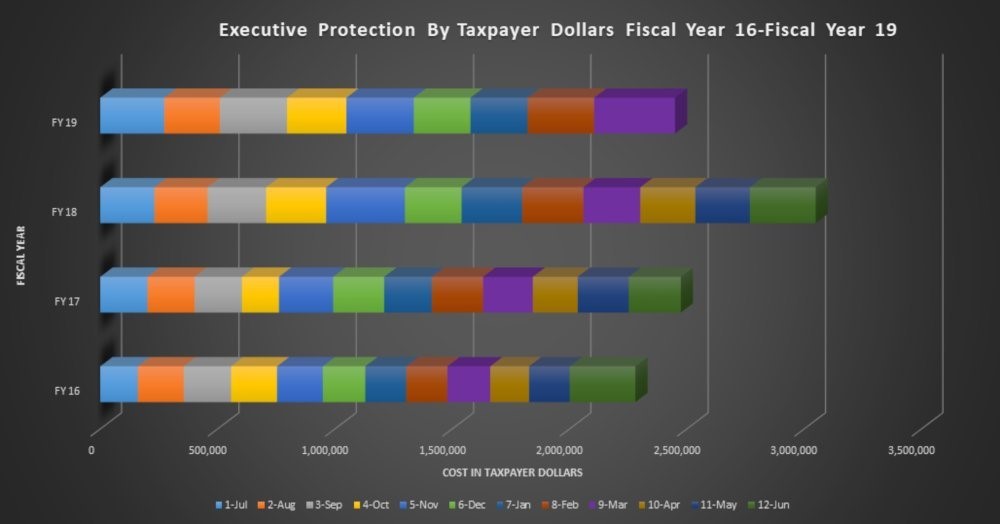 Its not all bad news these days, and you can read more about some of the good news coming out of Olympia and D.C. in the following Report from Olympia.
Please remember that we are now back in our district office at 408 N. Mullan Road in Spokane Valley. Our phone number is (509) 921-2460. My legislative assistant, Janet, will be here Monday through Friday, 8:30 a.m. to 4:30 p.m. So please stop by or call if you would like to share your thoughts on the 2019 session or if you have any questions about this e-newsletter.
Fighting for you and the other taxpayers of this state is both an honor and a privilege, and our office stands ready to serve!
Sincerely,

Senator Mike Padden
New law will require mediation between elected officials before lawsuits begin
Measure will save taxpayers money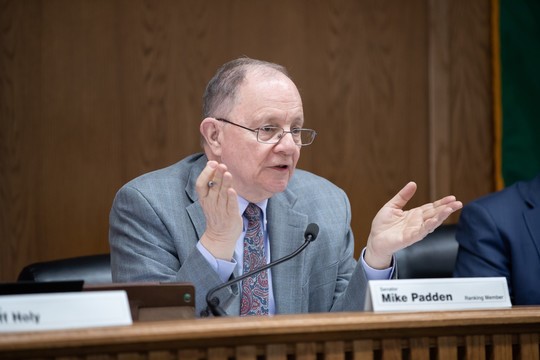 Our legislation to avoid costly litigation between elected officials was signed into law.
This new law is a common-sense way to deal with disputes between elected officials before they escalate into lawsuits that cost taxpayers money. I am pleased to see that all of my colleagues agreed that we needed a solution to this problem, and that local governments will soon have a new tool to help resolve disagreements.
Substitute Senate Bill 5560 cleared the Legislature on April 25 with unanimous support. Under the measure, county officials engaged in a dispute while acting in their official capacities must participate in mediation before resorting to a lawsuit.
The law created by SSB 5560 will go into effect July 28.
Congratulations to Congresswoman Herrera Beutler on birth of baby girl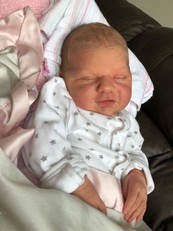 IsanaLast month, U.S. Rep. Jaime Herrera Beutler of southwest Washington gave birth to her third child.
In a Twitter post, she announced: Our little girl, Isana Mae Beutler, was born Tuesday morning. It made me smile when I realized that Isana, which means strong-willed woman, was born on the Womens' Suffrage Centennial. We are healthy and doing well. Abigail & Ethan are over the moon.
In fact, right before giving birth, Herrera Beutler filmed a video celebrating the 100th anniversary of women gaining the right to vote.
As The Columbian newspaper points out, Isana is the Congresswoman's third child since she was elected in 2010, and she has been an outspoken leader on issues related to childbirth and helping pregnant mothers and their babies.
With the birth of Isana, Herrera Beutler now shares a distinction with our local Congresswoman, Cathy McMorris Rodgers of Spokane, who is the only other woman to give birth three times while serving in Congress.
Congratulations, Congresswoman Herrera Beutler, on the birth of your new daughter, and best of luck to little Isana!
Lawmaker's retirement could give majority votes it needs for income tax.

My colleagues and I in the minority fought the good fight to kill any talk of an income tax this session. Those efforts were bolstered by the help of four members of the majority who bucked their party in order to side with taxpayers. With the recent resignation of State Senator Guy Palumbo, that coalition may now be at risk.
Rep. Derek Stanford, D-Bothell, announced late last month that he hopes to replace Palumbo in the Senate. If he does get the job, it would mean a "no" vote on the capital gains income tax scheme would be replaced with a "yes vote. As the Everett Herald points out, Stanford would become the 25th vote for the new tax.
Our work next session to protect your wallet will be more important than ever.
Anti-trafficking law takes effect in July
Work to protect victims continues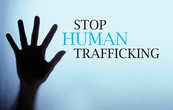 According to a new report by the Associated Press, despite laws cracking down on human trafficking being on the books in all 50 states, state prosecutors are struggling to win trafficking cases. Records requested from all 50 states by The Associated Press indicate a low conviction rate since Washington became the first state to enact a human trafficking law in 2003. A previous study suggested a 45% conviction rate through roughly the first decade of the laws. In contrast, the conviction rate for prosecutions under the federal Trafficking Victims Protection Act, enacted in 2000, is about 80%, according to Justice Department data.
Not only was Washington the first state to pass a human trafficking law; we continue to work each session to give law enforcement, prosecutors, and advocates new tools to protect victims and punish those who exploit women and children.
In the 2019 session, the Legislature passed Senate Bill 5885, which allows courts to accept out-of-court statements from children under age 16 in cases involving human trafficking. This legislation will spare children the trauma of having to testify in open court. Many have suffered extreme sexual abuse and injury. In some cases, they have been sold into sexual slavery by their own relatives. In addition, many have no fixed address and are difficult to locate when court hearings occur.
To force these children to testify in open court is to reopen the wound.
This new human trafficking law, which will go into effect on July 28, will help make it easier to prosecute those who exploit the vulnerable.
In The News: $415,000 in state funds will help Newman Lake water quality
By Nina Culver, Spokesman-Review | May 16, 2019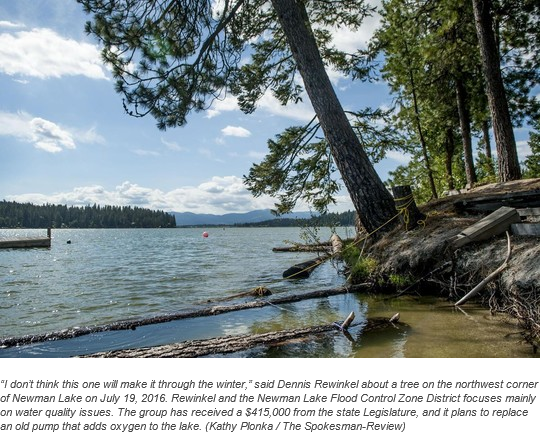 Efforts to keep algae blooms from taking over Newman Lake took a big leap forward when the state Legislature approved $415,000 in the capital budget for the Newman Lake Flood Control Zone District.
The district, which does do flood control, is largely focused on water quality these days. The money will pay to upgrade, replace and repair decades-old equipment that pumps oxygen into the bottom of the lake.
It allows us to bring our equipment up to standards," said advisory board chair Karen Stebbins. "It allows the water to be clearer."
The district operates two aeration units that pump oxygen into the water. Until recently only one was functioning, Stebbins said.
Fellow advisory board member Dennis Rewinkel, a retired mechanical engineer, could teach a class on how the aeration units function and help keep the phosphorus that causes algae blooms at the bottom of the lake.
The need for the units dates back decades, Rewinkel said.
Rewinkel said he's been working with Spokane County Commissioner Josh Kerns and state Sen. Mike Padden to get money to pay for equipment repairs and upgrades.
Click here to read the full article
SAVE THE DATE:
Government Action Program at the Spokane Valley Chamber
Come hear my full take on the 2019 Legislative session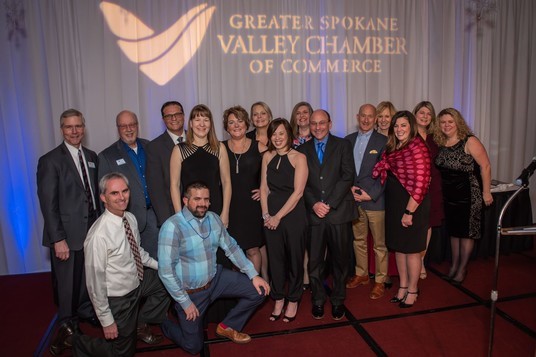 The 2019 Greater Spokane Valley Chamber of Commerce Board of Directors
Next Monday, I will be joining our good friends at the Greater Spokane Valley Chamber of Commerce for their annual Government Action Program. I will be providing the Chamber with a full Legislative update. I'll be joined by Melanie Rose, Regional Business Manager – Avista Utilities, who will be chairing the meeting.
You are welcome to attend, and registration is free! Snacks will be provided by MultiCare. Hope to see you there! The details and registration link are below.
2019 Government Action Program
Date and Time: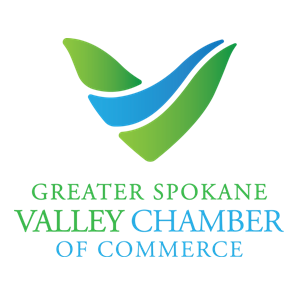 Monday Jun 10, 2019
11:30 AM – 1:00 PM PDT
Location:
MultiCare Valley Hospital – Room 39
12606 E. Mission Ave.
Spokane Valley, WA 99216
Register now:
https://bit.ly/2Mk7Nu3