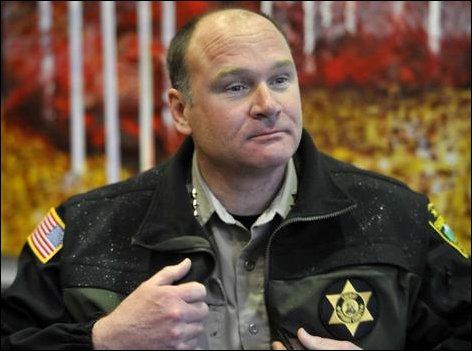 Spokane County Emergency 911 Bond Issues
By Rob Chase
As I mentioned in my last article, 'Spokane County Bond Issues?' when I ran for the Office of Spokane County Treasurer I promised to bring transparency to my office and anywhere else I had the ability to do so.
Shortly after I took office in 2011 I was approached by a constituent who had recently been appointed to the Citizens Emergency Management Board. She said she would like to meet with me as she was worried that proceeds from the impending Emergency Management Bond Issue might be misdirected to other accounts. She told me that Sheriff Knezovich shared her concern. I told her that I was Chair of the Finance Committee, and that the Debt Committee reported to the Finance Committee, so we could both attend the next Debt Committee meeting and ask about controls to funds.
At the next Finance Committee Meeting I mentioned to CEO Marshall Farnell, Chair of the Debt Committee, that I would like to attend the Debt Committee Meeting with a guest who sat on the Emergency Management Citizens Advisory Board. I was told I would be notified before there was a meeting so I could attend with her. I reported back to her a few times over the ensuing weeks that I would notify her of the date of the meeting when it was scheduled.
A few weeks later I had heard Marshall had gone to New York with Bond Counsel Roy Koegen, and Chief Budget Officer Bob Wrigley, to close the deal on the Emergency Management Bonds. I sent him an email again asking for a date for the Debt Committee meeting.
On their return I was asked by our office to sign the "Receipt for Proceeds" for the Emergency Management Bond Issue. I was surprised that the Bonds were issued without a meeting of the Debt Committee, and I said I wanted to talk with Marshall before I signed (RCW 39.46.110 reads that I should be given a 30 day notice before the issuance of bonds).  I looked at the Proceeds and there was not much detail, so I told staff I would like to see a more in depth summary of the costs. I was given the Cost of Issuance Report, where I noticed that Bond Counsel Roy Koegen's fees were $225,000. That seemed to be a large amount of money, so I called a previous elected official who had told me that I could always call him if I had any questions. I asked him if that was a normal fee for a Bond Issuance of that size and he replied, "Well, you can bet someone is making a lot of money."
I asked staff if other bonds issued had similar costs, and was told there had been another previous issue where the costs were about the same. I was given a copy and I noticed that the Bond Counsel fees were exactly the same $225,000, although the Emergency Management System Bond Issue was for $30 million – the previous bond issue in August 2010 had been for nearly $80 million. I had thought due to the disparity in issuance amounts the Bond Counsel fees would vary with the funding volume difference and different complexity of the two bond issuances.
I emailed Marshall Farnell asking for an itemization of expenses and he emailed me back on Tuesday August 2nd telling me to call him to discuss Roy's fee. Shortly thereafter I ran into Marshall on Campus and he was upset that I would question Roy's charges. In the meantime I was told by BOCC Attorney Jim Emacio that an itemization would not be forthcoming due to the nature of the contract with the Bond Counsel that the County had with Roy. According to the Resolution by the BOCC the contract language for Bond Counsel was left up to CEO Marshall Farnell, who drew up a non-competitive contract with Roy Koegen. The contract did not require any itemization of hours, or other expenses charged to the County. Marshall and Roy had been friends for 30 years.
The Bond Counsel Contract renews every two years. In 2012, 2014, 2016, and 2018 I asked the Board of County Commissioners to make the bidding process competitive as a best practice. I furnished them with the excellent competitively bid Clark County Bond Counsel Contract that requires the Bond Counsel to itemize hours and expenses before receiving payment. I have never received a reply from the BOCC (even though I presented them with the same request every two years, and each time the BOCC renewed the same uncompetitive and opaque contract).
I then asked staff for an Executive Summary of the Project to read and I was told there was nothing like that in the paperwork. In accordance with my practice of understanding everything I signed, I made further inquiries to Chief Budget Officer Bob Wrigley, and I was told Sheriff Knezovich should have something like that. An Executive Summary is a 5 – 15 page statement that is a standard in business and government with major projects. An Executive Summary would include background information, purpose, scope, assignments, cash flow, budget statements, timelines, and major components to be purchased. It is easier for Management to read a synopsis of a project, rather than to take an exhaustive study by looking at all the blueprints and technical language. Besides, I felt I was justified in asking for the information because I had a fiduciary duty as Treasurer to do so.
Bob Wrigley advised me that there was no purpose in delaying signing, since the Bond Proceeds had already been banked, and my role in signing was just a formality.
I could see nothing else to do but sign for the proceeds, since bills had to be paid, but I still went searching for an Executive Summary type document. I was sure there was just a communication problem. I remembered the public vote that was taken to issue the bonds was controversial because it was so confusing. Were the funds for Crime Check, 911, or Emergency Management Equipment, or all three? Also thrown into the mix was combining the bonds with another $5 million to be used for repairs to the Hot Dog Stand at Avista Stadium.
I was told the Citizen's Board that oversees the Emergency Management System Project had just met and would meet again on September 12th 2011 and I could probably get what I needed from them.
I attended the Citizen's Committee on September 12th. The members did not recall anything that was like an Executive Summary as I described it. They suggested I visit with Emergency Management Coordinator Bob Lincoln and he would probably have it. I had arrived late to the meeting, and looking back at the minutes, I saw there had been a conversation where the Board had discussed their concerns that the funds from the 2004 sales tax increase for Crime Check had been misappropriated, because they had gone into the General Fund and disappeared.
I made an appointment with Emergency Management Coordinator Bob Lincoln for Thursday September 15th. I asked him for an Executive Summary of the Project and he said he didn't have anything like that, but the Sheriff probably would. I asked him how he knew what and when to order, and he pointed to several large Motorola binders behind him, and said this is what he used. I explained that was too technical for me and that is why I was searching for an Executive Summary.
I made an appointment with Sheriff Knezovich for September 21st.  At that meeting he said that a comprehensive report for the Emergency 911 Equipment did exist, and that he would send it to me. I did not receive anything by October 12th so I wrote him again and he replied that Bob Lincoln would be contacting me with the Master Plan.
On October 17th I received a 192 page PowerPoint and several other files that were parts of the whole but not the summary I had asked for.
On October 20th I received a PowerPoint Presentation from Bob Lincoln. It was from 2007 and was simply a marketing presentation to get a buy in from elected officials to increase the sales tax to fund the Project.
After complaining to Sheriff Knezovich he had Bob Lincoln email me files of voluminous materials that they hoped would contain what I was I was looking for. After printing it out it was several inches thick. It was very detailed and hard for a non-technical person to sort through. Even so, I highlighted everything I thought was pertinent, and had my Deputy Treasurer, Mike Volz, read it too.
I had asked the Sheriff, the Emergency Management Coordinator, The Budget Coordinator, and in a separate conversation I asked Jim Emacio – the attorney for the BOCC, who told me they didn't have anything like an Executive Summary. Nobody had an Executive Summary on a Project that would cost County Taxpayers $75 million over the next ten years. It would only have taken an accountant from the Budget Office a day or two to give me what I wanted. I wondered how the BOCC could place the issue on the ballot without knowing more about it.
On October 26, 2011, I asked the Emergency Management Secretary for previous Meeting Minutes and she sent me minutes from the Citizens Advisory Board of 7/27/2011 which was previous to the September 12th meeting I had attended asking for an Executive Summary, and was at that time told by the Board there was nothing resembling that.
Strangely enough, On December 12th I received a report from Citizen's Advisory Board Chair Michael Lemburger that was called "Citizens Advisory Report to the Board of County Commissioners of Spokane County." It was dated August 23rd, 2011. It was very close to including what I considered an Executive Summary to have, and included many of the components of what I had been asking for. It is odd that the report was written before the September 12th meeting I attended where no one could think of having anything like an Executive Summary, and yet this was not produced it until December 12th. I suspected it had been backdated to appease me.
Previously, at the September 12th meeting of the Citizens Advisory Board I asked how many other Counties were putting in Emergency Management Systems like ours to comply with the FCC. I was told all Counties had to do so since future systems were going from Analog to Digital. Pursuant to that I sent out a request to the other 39 County Treasurers in the State and asked: "Are any other Counties issuing bonds to fund an updating of Emergency Management Equipment like towers, radios, stations, etc.? The purpose is to comply with the transition from Analog to Digital and must be completed by December 31, 2013, or get fined by the FCC. If so, I have a few questions." I received responses from only 6 Treasurers of whom the highest cost was a few million dollars.
There had already been a 1/10 of 1% Sales Tax increase in 2004 which was supposed to have been used for Crime Check and Emergency Management Systems, but the funding seemed to have disappeared elsewhere. In 2008 and 2009 most articles in the Spokesman Review referred to the ballot measure as bringing back Crime Check. Despite opposition from previous County Commissioners, John Roskelly and Kate McCaslin, the tax measure passed in August of 2009.
When I attended the Citizen Advisory Council on December 12, 2011 Council Member Chuck Hafner volunteered that "If we hadn't made this about restoring Crime Check it never would have passed." Afterward I told the Sheriff there was a lot of confusion in the County whether this was about Crime Check or about the 911 Emergency Management System. The Sheriff said "Anyone who thought this was just about Crime Check was ignorant." I told him most of us are ignorant, that is why we depend on transparency from our officials who represent us. I mentioned I had talked to a few people who were worried that the system, with its Microwave Dishes, could be used for surveillance. He replied that those who thought that were "the whacko tin foil hat types".
One of the reasons for the huge cost was that the previous radios averaged $1000 each, but that the new Motorola radios averaged $5,000 each, and we were ordering 4,000 of them. I was concerned about the number of responders we had in the County aligning with the number of radios ordered, and if we really needed to spend 5 times as much per radio. Subsequently, I spoke to a Police Chief in another jurisdiction and he said we had bought the "Cadillac Model."  I also spoke to an expert in Army Communications and he independently said we had bought the "Platinum Edition." Both of them said separately, "Whatever you do, don't tell Ozzie I said that, I don't need him breathing down my neck." I also spoke to a radio supplier who said he wanted to bid on the contract but no one would return his calls or answer his requests. I subsequently learned that the radios had a five year life, did that mean we had to replace them again during the next ten years?
When the Ballot Measure to extend the funding came up again in 2017, to be renewed for another ten years for $130 Million, the radios had gone up in average cost to $7,000 ea. I told the assembled Council of Local Government Officials in September of 2016 I would not support the tax unless I was given an Executive Summary this time. I thought it was crucial since I had spoken to a retired bank examiner who had worked in Washington DC. He told me if you are being stonewalled there is probably a good reason for it. The costs didn't seem like much at 1/10th of 1% sales tax to the average voter, but if you add $75 million for the first ten years, and $130 Million for the next ten years, then you almost have a new jail.
I asked Sheriff Knezovich before the vote in 2017 to support me in the ten year extension in obtaining an Executive Summary, but he contended he had no control over it (even though he is the Director of Emergency Management). He claimed he had tried for a year to get the 911 Board to send me an Executive Summary, but Shelley O'Quinn (Commissioner), Dave Condon (Mayor), and Teresa Sanders (City of Spokane CEO) were running the show.
Back to 2010. I had won a surprise election for County Treasurer. The Spokesman Review called me and asked me what I hoped to do in office. I said "my primary goal was to be remembered as a good Treasurer". At my very last meeting of the Finance Committee before I left office I introduced a policy amendment to publish an Executive Summary online for the public to view before any future county bond issue and it passed.
When I ran for Commissioner in 2018 I thought I would be a good Commissioner, and I championed transparency in the campaign, but the body politic of Spokane County thought otherwise. I doorbelled 605 miles and raised $24,000, but my opponent raised $97,000 plus another $100,000 from Avista Utilities because I was the only elected official to publicly oppose the purchase of Avista by Hydro One of Ontario. Sheriff Knezovich endorsed my opponent, and recorded a radio ad for her saying she was the only candidate in the race he could trust. I guess he meant, trust not to ask him any hard questions. I do believe Public Safety is the first priority of government, but I also believe the taxes that support public safety should be spent wisely. Even though I lost the Commissioner race last year I think I fulfilled my original promise to be a good Treasurer.