Report from Olympia |  May 2, 2019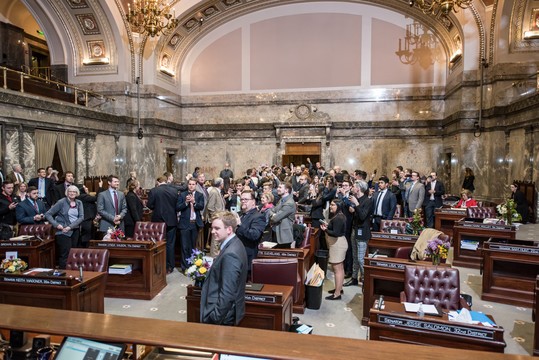 At midnight Sunday in the Senate, crowds await the final gavel ending the 2019 legislative session.
New taxes and bigger government headed your way
Session ends, and long-ranging problems can be expected in its wake
Dear friends and neighbors,
We've finally wrapped up our legislative session, and not a moment too soon. Legislation passed this year will make it more expensive to live and work in Washington, and will challenge our state's ability to remain competitive. There was a bright side – a number of bills on a host of subjects ranging from human trafficking to the rights of the developmentally disabled. But if we are to take a broad, general view, it must be acknowledged this was one of the most difficult sessions on record for the people of Washington.
The reason was one-party control of the Legislature. Democratic majorities in the House and Senate had the votes to pass anything they wished. Their members reflected the interests of the urban Puget Sound area, from which most of their members come. They showed little interest in the fact that most people outside King County feel differently. No matter how we argued on the Senate floor, we were unable to shake their belief that Washington just isn't taxed enough. The result was enormous taxes the state doesn't need, approved mainly because our colleagues had the opportunity.
It didn't end with that. Much legislation introduced this year reflected a hardline viewpoint. Many of these bad ideas did not pass, but the proposals that went through were awful enough. We watched in dismay as our colleagues undid years of work on an equitable school-financing plan and passed measures that increase the power and reach of government.
I'll tell you about it this week, both the good and the bad. The lesson of the session is that an unbalanced Legislature can do great damage when it ignores a significant portion of the state. We can be sure we will hear more about this issue in the months to come, as the effect of this year's legislation becomes apparent.

Senator Mike Padden
A few bright spots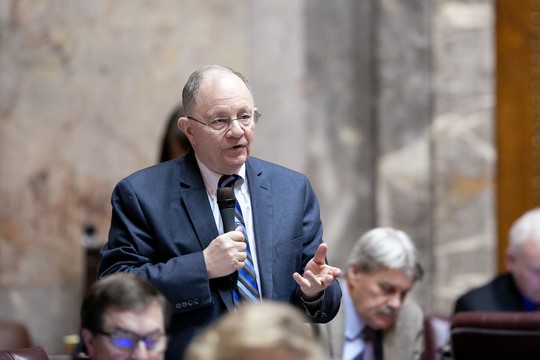 On the Senate floor.
Let's start with the good things that happened this year.
No income tax. Our colleagues have been pushing an income tax on capital gains for several years now – a "starter" income tax that almost certainly would be expanded to a general income tax if the courts give their OK. Wildly unpopular with Washington voters, an income tax is the holy grail for interests dependent on state spending, because it would allow the state to reach deeper into people's pockets. Proposals for an income tax were heard early in session, but the idea proved too big even for the majority party to swallow.
Agenda-driven proposals are defeated. Several of the worst pieces of agenda-driven legislation did not make it through. Among them: A measure that would have launched a mandatory Olympia-directed sex-education curriculum, starting in kindergarten. Banning booth rentals by hairdressers and barbers, essentially requiring them to work as employees. Requiring Washington farmers to file reports indicating whether they employ slave labor. Creating a body composed of state-agency heads and activist groups to dictate new regulations in the name of "environmental justice." And low-carbon fuel standards, an idea that is already proving unworkable in California, driving gas prices way up to pay for carbon-reduction programs, much like the carbon tax rejected by voters last fall.
Capital and transportation projects for the 4th District. Our delegation scored several wins this year, including funding for the Barker-to-Harvard interchanges on I-90 and a new overpass on Henry Road, improvements at Mt. Spokane State Park, water quality efforts at Newman Lake, clock tower restoration at Felts Field, and expanding recreational opportunities at Dishman Hills and Mica Peak. For more information, click here.
Second Amendment rights. Many proposals affecting Second Amendment rights were introduced this session. What passed was a bill allowing police to temporarily confiscate weapons without due process. The bright side is that other proposals were defeated, including a restriction on magazine size and an unnecessary requirement that concealed pistol license holders undergo costly periodic gun-training courses. We need to remember that laws like these affect only those who are inclined to obey the law, and have no impact on those for whom the law has no meaning. One other bright spot — I was involved in a successful effort to pass a bill preventing disclosure of the names of those who participated in the state's bump-stock buy-back program.
Criminal justice legislation. Despite our conflicts on high-level issues, there was support on both sides of the aisle for several bills I sponsored. Bills that made it all the way through include a measure that will make it easier to prosecute human-trafficking crimes against children. Another bill requires law enforcement authorities to notify public and private schools when a violent situation warrants lockdowns or evacuations. I also was a co-sponsor of a bill that allows courts to impose community supervision in auto theft cases, for the first time in decades, which could help reduce the serious property-crime problem we have experienced in Spokane County.Other bills I sponsored that passed were a measure prohibiting discrimination against the developmentally disabled in organ transplants, requiring mediation between elected county officials before they take their disputes to court, and giving county coroners authority to subpoena records in death investigations.
Now the bad news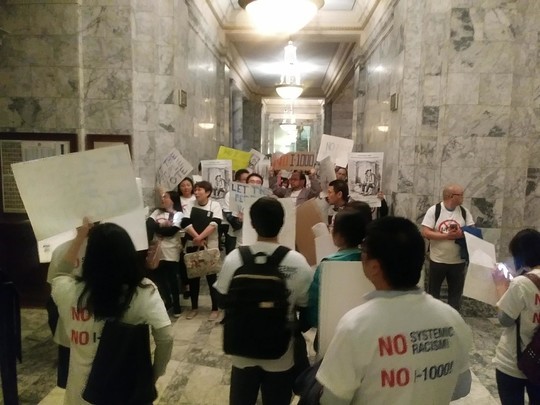 Raucous protest breaks out Sunday night as the Senate passes Initiative 1000. Protestors, many of Asian descent, are concerned the measure will permit racial discrimination in college admissions and other programs. Uproar began as the vote was announced, and the visitor galleries were ordered cleared. The demonstrators moved to the Democratic entrances to the House and Senate, and their shouts of "Shame on you!" and "Vote them out!" shut down business in the Senate for half an hour.
Closing the book on the 2019 session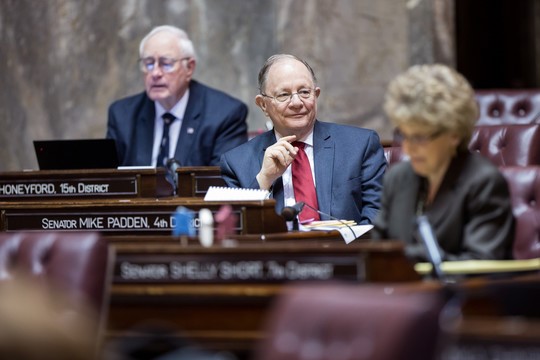 The final gavel Sunday night brought a close to one of the most trying legislative sessions any of us can remember. As we pack our bags and prepare to turn home, let us give our thanks to the many who made our work possible. Special thanks are due to those who staffed our office and worked long hours under often-difficult circumstances — my legislative assistant, Janet Voye, session aide John Jourdan and session intern Dagny Ahrend.
On Monday, May 6, we will be reopening our district office at 408 Mullan Road in Spokane Valley. Our phone number is (509) 921-2460.
REMINDER: We have published a new edition of our Government Guide, a handy directory of contact information for government offices and service providers in the 4th Legislative District. If you did not receive a copy in the mail, please contact us and we will be glad to send you a copy. This directory also is available online here.
We hope you will contact us with your comments and concerns about state government. It was an honor to represent you this session, and we look forward to hearing from you.