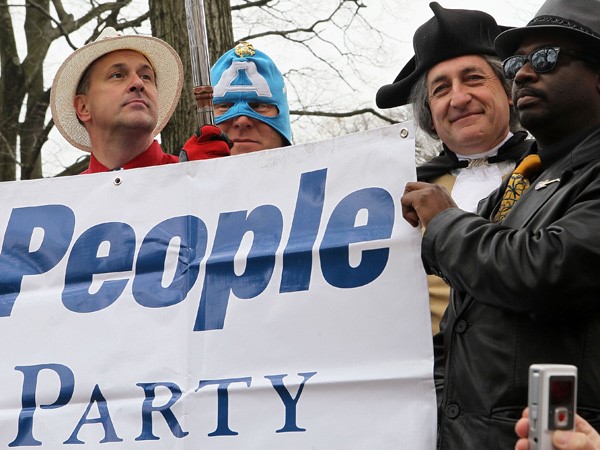 Working Across the Political Spectrum
By Rob Chase
Around four years ago I was working the Spokane County Republican Party Booth at Pig Out in the Park in downtown Spokane. Next to our canopy there was a booth that was called "Spokane Moves to Amend the Constitution." I spoke to a very nice lady named Mary there who told me their goal was to overturn the "Citizens United Supreme Court Decision" with an Amendment. She complained that our elections had been taken out of the hands of the enfranchised voters by allowing Corporations personhood, who then outspent everyone else to buy politicians. The idea was that Citizens United allowed artificial persons like Corporations, Unions, NGO's etc. had freedom of speech too – in the form of money donations to favored candidates.
I could see the sense of not allowing that. Can a Corporation die for their Country? Can a Corporation ever really die? Does a Corporation love its Country?
I had run as a Libertarian in 2000 and 2002. I knew I didn't stand a chance but only wanted to have my concerns heard. In 2002 I ran for Congress against Rep. George Nethercutt and raised not quite $5000. My Democrat opponent Bart Haggin raised something north of $30,000, but George had raised over $800,000. In our debate
2002 5th District WA debate part 1
I questioned the wisdom of invading Afghanistan and Iraq since no Iraqi's or Afghans had been on the planes that flew into the Twin Towers, and the invasion had been precipitated by the 911 attack. I knew if we invaded we would spend Trillions, get a lot of our people killed (nearly six thousand), not to mention at least a million other people (mostly civilians) who had never harmed us. In retrospect I believe I was right. So was Democrat Bart Haggin who was also against the Undeclared War.  Even so, the Nethercutt machine rolled over us and the War began anyway, and still rages on after 17 years.
Mary from Spokane Moves to Amend had invited me to attend a lecture to learn more so I went to it. I think it was former Green Party Candidate David Cobb who spoke at the Unitarian Church in Spokane. After he had spoken he turned it over to comments and questions. I offered it up to the gathering that everything he had said would have resonated with a TEA Party member, except that we were afraid that a new Amendment could spark a Constitutional Convention (Con Con). He did say that a Con-Con could be a possibility, but the whole issue of overturning Citizens United had a large number of TEA Party members joining with the Greens. After the meeting several Greens talked to me and welcomed me to join them in the effort.
I didn't join Spokane Moves to Amend but I did address their gathering in January 2014 in front of the Federal Courthouse in Spokane. I told them that other than the Con-Con aspect I was very sympathetic to their Cause of getting the big money out of campaigns. It makes sense that only a living, breathing, enfranchised human being should be able to vote and make campaign donations to a candidate. Crony Capitalism takes it out of the hands of We the People. I discussed the issue with my legislator Rep. Matt Shea, and he suggested that perhaps Nullification could allow us to support the Amendment, and defuse the Con-Con threat.
I was running for re-election for County Treasurer in 2014. I was elected in 2010 as the first Republican Treasurer since 1956, even though I didn't enter the race until the Primary when votes were being counted. I was able to get elected in 2010 despite the fact I had almost no help from the Republican Party.
In my re-election Campaign of 2014 I was not surprised that the Democrats challenged me with Amy Biviano, but I was surprised I had drawn a Republican opponent in Mary Kuney. I met her for the first time at a Ponderosa Women's Club Meeting. After the meeting I asked her why she was challenging an incumbent from her own Party. Was there something I had done she objected to? She stuck to the story that ever since she had been a little girl she had wanted to be Spokane County Treasurer, and now was the time to do so. I thanked her for her honesty and said I hoped for a friendly contest. I had never heard of her or met her before that. I recalled that In 2010 I had put up signs and doorbell for Republican candidate Michael Baumgartner. At the same time Mary Kuney had supported Democrat Incumbent Chris Marr over Baumgartner, but she had the nerve to put on her signs in 2014, "The Republican Choice." I am not sure where or when that title had been bestowed on her, but I read that she had also been Commissioner Al French's Treasurer for his non-partisan Spokane City Council Campaigns.
Shortly after I met Mary Kuney Representative Jeff Holy invited me out for a beer in Cheney. As I arrived I saw Commissioner Al French sitting at his table. I took a chance and asked Al why he had recruited Mary Kuney to run against me. I expected him to deny it but instead he told me that he had recruited Mary to run against me because I had spoken to Spokane Moves to Amend the Constitution. I told him they had invited me to speak and as constituents I had a responsibility to speak to them. I went on to say that the Sheriff speaks to any and every group and with Al's logic was he going to recruit someone to run against the Sheriff too? He then said it was also because his Democrat opponent, Bonnie Mager, had been in the crowd when I spoke. I told him Bonnie was a friend and I had voted for her over him because she was an honest person, and had voted against the boondoggle race track the Republican Commissioners had voted for. It started getting hot and Rep. Holy broke us up. Later on Mary Kuney put on her Campaign Facebook page that as soon as she had heard I had spoken to Spokane Moves to Amend she knew she had to run against me. And I had thought it was because of her childhood dream to be County Treasurer, which was long before I ever spoke to Spokane Moves to Amend. I guess you could say Mary had fibbed to me.
I won my re-election and in 2015 I went on to join with Progressive/ Green liberals to try and stop the Trans Pacific Partnership (TPP) which would have destroyed American sovereignty, and livable wage jobs. The conservative John Birch Society also opposed TPP. Despite our joint lobbying our Republican Congresswoman voted to give Democrat President Obama fast track authority to push TPP through. Thankfully Trump ended American participation in TPP the day after he was elected.
We joined together again last year to battle the purchase of Avista Utilities to sell out to a foreign entity. Our local version of Crony Capitalism came to bite me in my County Commissioner race last year, again with Mary Kuney as my opponent, when Avista indirectly donated $100K to Mary to supplement the $97K she had already raised. Even though I only raised $24K, it all came from human beings.
I like my Progressive friends I have worked with. They have been civil to me on those issues we disagree on, unlike many of the Republicans I know. I enjoy the one on one discussions with them over coffee and I think we have learned from each other, which is the point of debate after all isn't it? To find solutions.