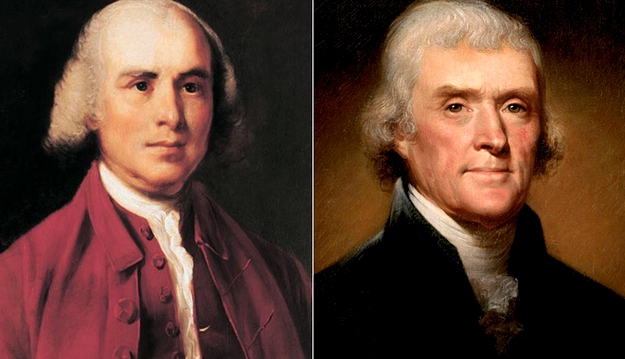 Benewah County, ID's Jefferson-Madison Day Brunch
By Rich Loudenback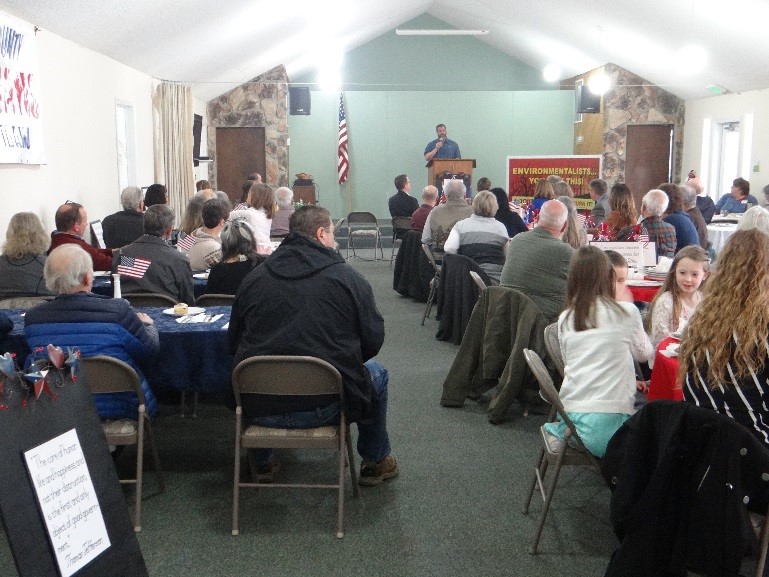 Dale Hawkins chairman of the Benewah County Central Committee for the Republican Party opened the first annual Jefferson Madison Day by answering the oft asked question 'Isn't that supposed to be Lincoln Day, and what's wrong with Lincoln Day?' To which he said "Nothing.  We wanted to do something a little bit different because we're Benewah County.  So we're doing Jefferson Madison in the spirit of reclaiming the original Republic, of which we belong to and which we seem to be losing day by day.  We're here in the name of liberty and to return to the roots of our Republic."
After a superb breakfast brunch, GOP State Committeeman for Benewah County Hari Heath, explained that the country has a long history of republicanism, saying that there was actually two Republican Party's.  Heath stated, "When we never had parties, Alexander Hamilton wanted to kind of go back to the oligarchy that he was used to. He started working with bankers and merchants and it eventually became known as the Federalist Party.  Remember that Jefferson and Madison were the people that got us our Declaration of Independence and the Constitution.  They saw how things were going and didn't exactly like doing all that work and having it turn back into what we were fighting against.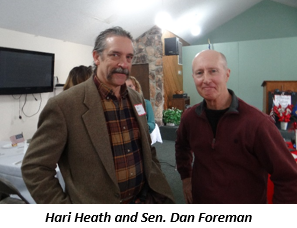 "They started organizing and became known as 'the party' and it was the Jeffersonian Republicans and the Democratic Republicans. They called themselves republicans and they were the original Republican Party. They were the ones that fought for and eventually won for a time, holding onto our republican values.
"So we are doing the Jefferson Madison Day to celebrate them, to bring them back to the front of what we're about and what we're trying to be as a Republican Party to get back to our roots. So it's a roots republican thing. We're hoping that this grows.  We really would like to see this move into the school system because I think you all understand what a problem this is.
"Article 9 section 1 of our State Constitution is what brings the funding mandate for public schools. But it has an interesting purpose. It says right up front, 'In order to maintain our republican form of government the intelligence of the people is necessary. Therefore we need a system of free common public schools…'  That's what we are about. We're trying to get us back on track."
Former District 5, State Senator for Benewah and Latah Counties Dan Foreman reported on his unsuccessful re-election campaign last year where he won all the precincts in Latah County but the Moscow precincts.  He said when all was said and done, even considering the dirty politics, he was only about 300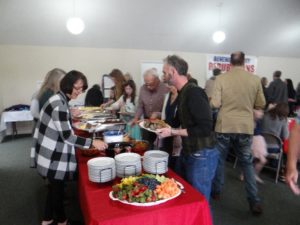 votes behind.  Then the absentee ballots came in with a 4 to 1 ratio for Latah County Democrats, which was stunning.  Forman said "Now, I'm not saying anybody's breaking the rules or anything but I'm not saying they're not. It's a statistical aberration and it seems to happen over and over and over.  We need to focus on that. We need to start winning those absentee votes and I don't know why we are not. We spent a lot of money on that and we got a thousand votes and they got almost 4000. Something's not right there."
Forman said he was told that professors were promising students a higher grade if they voted against him. "They also threw a free party for students if they voted against me with free busing to the polling place. In the last 30 minutes of the polling session they stormed the polls with hundreds of college students. How many of those students were legal to vote in that district? Who knows? This concept of same-day registration is wrong and we need to stop that. There is no way to vet those people. Pretty much anybody with an ID can walk in and say 'Hey, I want to register to vote,' and that is what was going on. It's unprecedented, they were lined up around the building.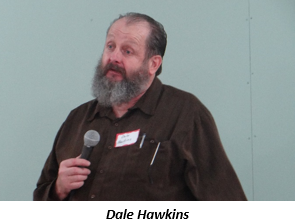 Dale Hawkins returned to point out that in the state of Idaho it only takes one person to kill a bill because if the governor doesn't want to see a bill it doesn't come out of a committee drawer. "That means legislators are representing the Governor, the executive branch," stated Hawkins. "There are no separation of powers.  It's a wrong thing and we must put a stop to it. Former Idaho state representative Ron Nate who is an economics professor for BYU and I and others have all searched the rules and we can't find the rule that allows them to do this. But it happens. If the governor doesn't want to see a bill come forward, the answer is always 'Well if he is not going to sign it, what's the use?'  The use is to publicly make a declaration for or against. Every bill that comes forward in our capital should pass through by an up or down vote. If you want to kill a bill then you should convince the people in the room to vote against it. But it shouldn't be because it got stuck in a drawer. It's got to stop."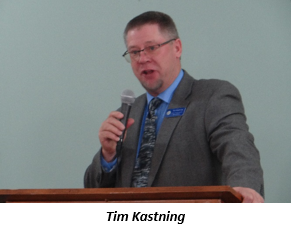 Tim Kastning, North Idaho Regional Dir. for Congressman Russ Fulcher announced a sign-up sheet for receiving Congressman Fulton's weekly newsletter.  To sign up for the newsletter click on this link:  Fulcher Newsletter Signup.  Kastning mentioned that Congressman Fulcher unfortunately could not attend the event due to a schedule conflict and always enjoys being with the like-minded people in the St. Mary's area.  He mentioned that Fulcher has been assigned to the Natural Resource Committee and Education and Labor committees. "As you know the house is controlled by the Democrat's agenda so their spending most of their time, on issues Congressman Fulcher does not enjoy such as global warming and the Green New Deal and things like that. That's just the way it is when the opposing party is the majority. He is working hard trying to work with agencies trying to get things done as he can in the minority. We appreciate your prayers, continue to pray for him, and continue to support him as he represents us conservatives there inthe house."
Benewah County's new Commissioner, Bob Short and Senator Crapo's and Senator Risch's representatives: Karen Roetter and Sid Smith were present and acknowledged.
Freshman District 2 State Representative John Green reported that this first session in the Idaho legislature has been an eye-opening experience for him. He said he had very high expectations.  "There were some people that we have had in the past who were advocates for issues that were near and dear to my heart.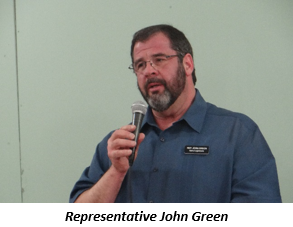 Sen. Foreman was an advocate for pre-born Idahoans and former representative Ron Nate for so many great issues. So I thought when I got down there and I was going to team up with all those like-minded, liberty loving people who honor their oath of office. But my biggest frustration is that I found in my first session, even people with an R after their name can lean toward socialism. Just a word of caution to you, I know your current Senator and he is a socialist. He told me that to my face, not by using the word socialist, but by the policies he promotes.
"One of the most important issues that face the legislature was this notion that the government could force parents to allow a doctor or someone to stick a needle in a child's arm and put a substance into their body that could kill them or paralyze them or cause all kinds of horrific maladies. Your Senator told me well we don't have to tell the parents about that because it's in their own best interests to force these kids to have these vaccinations. That kind of sealed the deal for me so I knew exactly where he stood. And unfortunately, because that's in the Senate, it's also prevalent in the House of Representatives.
"Socialism is rampant in our party and people who claim to be part of our party. So I started judging people based on their adherence to our party platform and have been an outspoken advocate against socialism on the floor.  I've also testified with regard to the Medicaid expansion, a form of socialism in one degree or another. A large part of our party supports socialism.  It's something we have to be on watch for.
See the continuation of John Green's speech in his full article in this issue: 'Idaho Rep. John Green Comments on Legislative Experience as Freshman Representative'
Dale Hawkins returned to support John Green's comments about Northwest Liberty Academy stating that for its founders, Alan and Elizabeth Hodges, this is their life. "They pour everything they have into this. It's actually from age 12 to 99. It is a wonderful opportunity, I encourage you, even if you don't have kids, to go. It's a wonderful 3 ½ days. Mark Herr with Center for Self-Governance will be the primary speaker throughout the event this year.
"The youth that will go there will learn things from Mark that the adults in this room have a hard time understanding and that is how our government is supposed to work. When we hear language out of people saying 'I don't like the government' or 'The government this' or 'The government that,'  that's like calling an airplane a personality. The government is just the system.  If you don't like the way a plane is being flown you have to do something about the pilots, the mechanics or the stewardesses.  All an airplane is, is the system, with people at the helm. So if there's something wrong, it's with the people not the system.
"Our founding fathers gave us a great system, a near perfect system, other than it would be run by men and women. And that's where the imperfections enter in. So keeping people in check, spending more than 30 seconds in a voting booth is primary in our lives. Because, if that's all we participate, we didn't. If we just send people down there and turn our backs and walk the other way, we will be in more trouble than we are in trouble now.
"Also, part of the Liberty Academy is coming up to north Idaho this year. Their coming to camp Sanders. There will be a primitive skills training for four days on August 7th thru the 10th."  For information on this event contact Hari Heath at hariheath@gmail.com.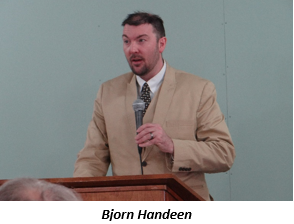 GOP Region 1 Chairman of the Idaho Executive Committee of the Republican State Party Bjorn Handeen opened his remarks by telling the attendees that they are not shackled to Latah County.  "Latah is shackled to you," he said.  "You're going to drag Latah kicking and screaming into the heart of conservatism. Region one has been taking the lead in returning the Idaho Republican Party into conservative principles. We're doing that by networking. Dale and Hari and the rest of the state committee representatives from the county party here in Benewah meet with activists all over the state. Particularly their working with Marilyn Giddings who is the Chairman of Idaho County.
"Benewah County is really having a big impact punching out the philosophy of the state's party. Around the region we've really had a lot of electoral success this last year. Of course, we got representative green elected, in district 3 we got representative Wisniewski elected also in district 3 and in district 4 Jim Addison has been pleasantly surprising in some of his courageous votes.  Commissioner Short won within 200 votes.  That's incredible! Yes we had a heartbreaking loss with Senator Foreman, but what I've been telling the state party is that there are dozens of committed far right ultraconservatives in Kootenai County that are going to ride down here and help Senator Foreman next time around if he wishes.
"In fact some of the moderates who lost their seats around the state want to sign up for some far right conservatives to come help them. So we'll see.
"There are some challenges however. For one thing liberal activists from around the nation have targeted our area and are moving here for no other reason than to engage us in ideological battle. I was just in the Bonner County Central Committee meeting where there is a brewery up there that was started by a community organizer from Bozeman, Montana. Her strategy is to only hire people from around the nation who are not good at restaurant work but are good community organizers. It's important to know that we have a fight on our hands.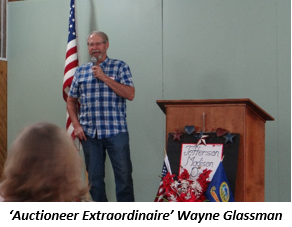 "We have a lot of vacancies in other counties.  I was just at the Shoshone Lincoln Day last night and there is no precinct committeeman representing Calder. Part of that is because it takes so long to get from Calder to Wallace. My idea is, let's get a Calder Precinct Committeeman, even if he's from Shoshone, show up at the Benewah meetings.
"That's kind of the state of the party. We're doing well, but there are challenges on the horizon. We need to keep our eyes open and always be willing to give our all."
Benewah Committeeman Wayne Glassman conducted a stellar auction effort and fun was had by all.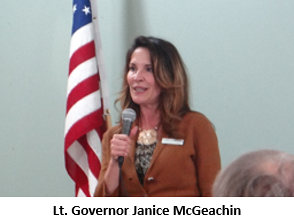 Idaho Lt. Governor Janice McGeachin acknowledged that her run for Lieut. Gov. started with this group as The Republican Liberty Caucus in St. Mary's two years ago and thanked everyone for that great kickoff support.  She then chose to read one of the many Thomas Jefferson quotes that were displayed on storyboards around the hall, which is one of her favorites, and she said it really kind of sums it up about government, "I predict future happiness for Americans if they can prevent the government from wasting the labors of the people under the pretense of taking care of them."
McGeachin said she wished to speak about a few principles.  "Two of them are enshrined in our First Amendment rights in our Constitution. Those two are the freedom of speech and the freedom of religion. Attacks on these essential rights are increasing but are not always obvious in their source or strategy. Social media today has been engaging in censorship through de-platforming people who express controversial viewpoints. They aren't stopping there however. In a recent editorial Facebook founder and CEO Mark Zuckerberg has called for the government to implement new regulations on harmful content.
See the continuation of her speech in her full article in this issue: 'Idaho's Lt. Governor Janice McGeachin on Our Founders' Principles'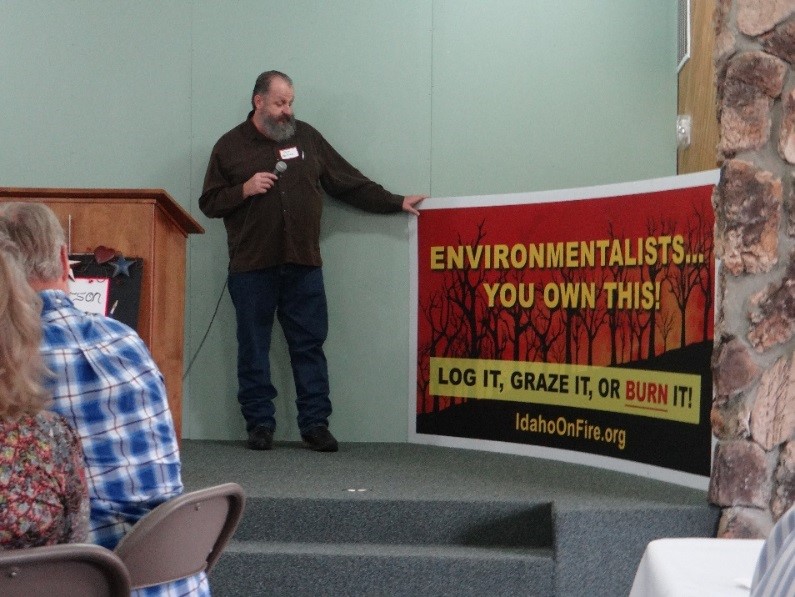 Dale Hawkins called attention to the 4' x 8' plastic corrugated sign captioned 'ENVIRONMENTALISTS… YOU OWN THIS!  LOG IT, GRAZE IT, OR BURN IT!  This was produced by Darr Moon and his Idaho Representative wife, Dorothy and sold for $75 on their website IdahoOnFire.org.  He reported that Darr and Dorothy recently sold enough of them to warrant a trip by them personally delivering them to central locations for buyers around the state culminating in north Idaho at Sandpoint.
Hawkins stated that Idaho loses millions of dollars each year from fires due to poor forestry management.  Literally the sign says it all.
He said we must protect our healthy forests from the environmentalist nonsense. God put us here and he put us here as Stewards.  Stewards don't ignore things, and they take care of them and tend to them like a crop just like any other crop.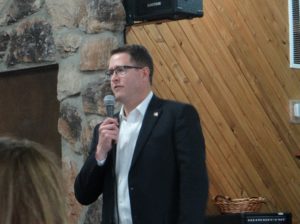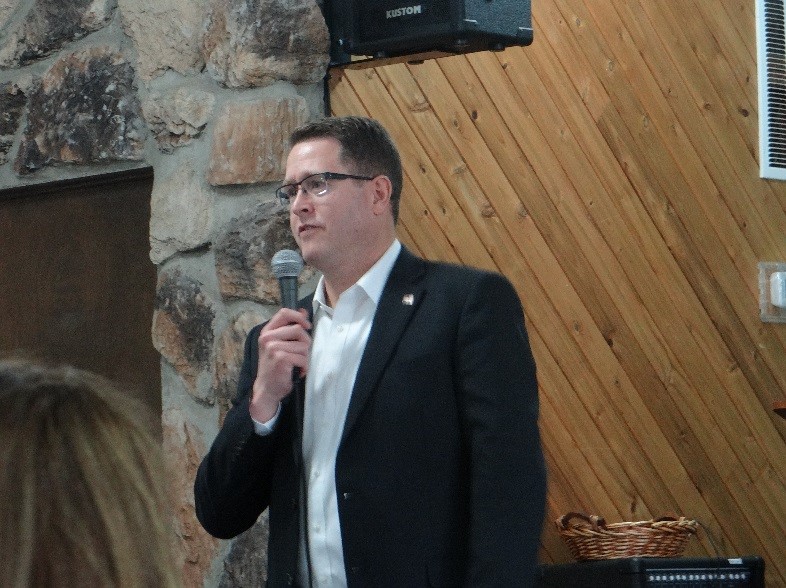 Washington State Representative Matt Shea was the keynote speaker for the event.  He opened with mentioning that the Washington state Lieut. Gov. banned firearms on the floor of the Senate and at the first opportunity during a joint session Shea said he walked over to the security people, as he said, "packing, of course," and asked them if they were good with it, and they said it is his right, which drew an applause from the meeting attendees.
"If you run for office you're going to be labeled extremists and a racist," Shea reported.  "Quit pretending that's going to be a surprise. They took the Bible verse from a Bible study I gave and turned it into a manifesto. They didn't mention the other documents about Jesus Christ or even the class I gave on it."
He said at the church he was going to, the associate pastor is black and the speaker they brought from downtown Chicago is also black. "We don't think of it that way, we just think of ourselves as Americans who love freedom.
"I want to be very personal today.  The day after the election, I flew to Ethiopia with the ministry I work with in November and my wife is there right now going through a men's prison in Ethiopia and working in the orphanages helping people.  It doesn't need to be public about what we're doing, but it almost seems like it has to be known because if you don't let it out, suddenly you get tarred and feathered by the smear machine at the Southern Poverty Law Center.
"We should stand and do what's right because it's the right thing to do. I had somebody who is a longtime supporter email me and then they put a post-up on Facebook and he said 'Matt, why are you running this bill to abolish abortion in Washington State? It's not going to go anywhere, it's totally ineffective.'  I gave a one sentence response: 'Because we need to see what's right looks like.'
"We need to do that across all of eastern Washington, north Idaho and western Montana. If we do that, things are going to begin to change in a way we can't even fathom and they already are.
See the continuation of Matt Shea's speech in his full article in this issue: 'Matt Shea on Liberty and the 51st State of Liberty at St. Maries Jefferson Madison Day Brunch'