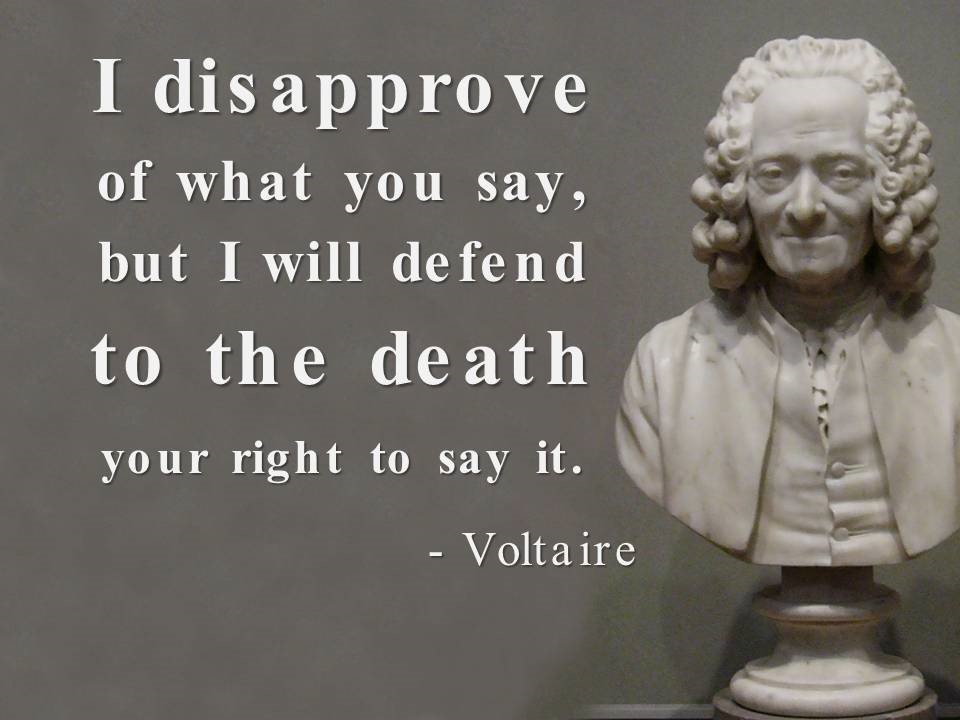 Free Speech in Spokane County
By Rob Chase
Well said Voltaire. That was a quote the Left especially used to celebrate free speech with, and rightly so. Noam Chomsky, Gore Vidal, and Martin Luther King Jr. would have echoed that freedom of speech is sacrosanct. In fact, Abbie Hoffman once said it was permissible to shout "fire" in a crowded theatre.
Earlier this week the local conservative, activist group "Northwest Grass Roots" (NWGR) was again attacked for exercising their right to free speech. Several callers orchestrated a "call in" campaign to the owners of the venue where NWGR had planned their monthly open meeting. The calls accused NWGR of being a racist organization. The owners asked them to consider canceling their scheduled event which NWGR obligingly did.
Attendees are largely conservative and NWGR usually show a conservative minded documentary as part of the usual program, but everyone is invited to speak their thoughts at the open mic portion of the events, sort of like "Speakers Corner" in Hyde Park. I have known Organizers Cecily Wright and John Charleston for 10 years and there is not a "racist" bone in their bodies. For anyone to say different is a blatant lie. But for some people the end justifies the means as long as it is effective, but it is very un-American.
Several notable Democrats have attended and shared their perspectives and were received at the very least politely. I wish the local Leftists had a similar program like NWGR but there is none that I know of. The canceled program was to be about the "Homelessness Situation in Spokane." Guest speakers were to include several luminaries in City of Spokane politics. This would have been an important meeting as "homelessness" is becoming the most important issue in the City of Spokane's current political races.
The same tactic of pulling the "race card" was used last summer by people calling themselves "the Indivisibles". This time I was actually a victim of their blatant lies.
One day towards the end of July I received a call from Chad Sokol of the Spokesman Review. He asked me if I had attended the NWGR meeting of July 10th. I told him I had. I usually did since as County Treasurer I had tried to communicate with the Public wherever I have been invited. Chad then asked me what I thought of James Allsup. I told Chad I didn't know who that was. He said James Allsup was a young man who had just graduated from WSU and had spoken at the last NWGR meeting. Chad said Allsup was the creator of many racist videos and podcasts. I told him when I walked into the meeting that night there was a young man speaking but I didn't hear him say anything racist. I vaguely remembered a WSU student who got into trouble for "Building a "Wall" on campus during the 2016 Trump Campaign and wondered if that was the same guy. Chad said that was the same guy. I told Chad I would be interested in any of those videos or podcasts he could send me. Chad said he would.
I took a bit of time to search the Internet but all I could find was a video of Allsup at the Charlottesville demonstration interviewing participants. Of course, there were Confederate flags flying around but unless I missed something I didn't hear Allsup say anything racist. Chad Sokol called a few days later as a follow up and I asked him when he was going to send me the racist you tube's and podcasts he had referred to. Chad replied I was going to have to do my own research. I didn't have the time with my ongoing campaign for County Commissioner but other people I knew had researched the Internet and couldn't find anything particularly damning.
Chad printed his article in the Spokesman Review and it followed that Cecily Wright was pressured by the GOP to resign as Chair of the Spokane County GOP after just a few months as Chair.
Spokane County Sheriff Ozzie Knezovich and the Spokane Indivisibles group then organized a rally on the Courthouse lawn to ask that Spokane Valley Mayor Rod Higgins, and myself as County Treasurer, apologize for our presence at the NWGR meeting of July 10th, or resign our positions. Neither of us attended the Rally but several Republican officials did. Knezovich had told the Spokesman "Rob Chase and Matt Shea are basically the creators and controllers of this group" (NWGR). That is a false statement, and just part of the Sheriff's ongoing attack against the Conservative wing of the local GOP.
I did not attend because I had nothing to apologize for. I do not need to tell anyone I am not a racist. How I have lived my life and my words prove I am not a racist, nor was I raised that way. There was nothing that James Allsup or Cecily Wright said at that meeting that was racist. That is because I don't believe either of them are racist. The irony was that the subject of that July evening's NWGR meeting was the problem of mis-labeling people.
The Indivisibles did show up at the next Spokane Valley City Council meeting with another rally asking Mayor Higgins to resign. I did attend that meeting because there was an open forum to make statements that night. Spokane Valley political luminary Sally Jackson said she remembered as a child in the Valley that there were Ku Klux Klan rallies then. Although one cannot address another speaker in such a Forum, I would have asked Sally if she remembered the witch hunt for Communists under Senator McCarthy. Innocent people were labeled as Communists and their lives ruined by such unfounded accusations. (McCarthy was right about Alger Hiss in the State Department though so at least there was some truth in those accusations, unlike the NWGR episode last summer).  What the Indivisibles did to NWGR was no different than the witch-hunting of the '50's.
Scott McClay who was running against Ozzie Knezovich for Sheriff was killed in a motorcycle accident shortly after. Chad Sokol also wrote a column about Scott's funeral and somehow worked NWGR and me into the funeral report saying I was a member of NWGR. There is no membership in NWGR.
I had a Campaign Booth for my County Commissioner race at Pig out in the Park over Labor Day. Close to my booth was the Democrat Booth. I would wander over from time to time and visit with the Democrats. They all told me they were voting for my opponent because I was racist. I told one volunteer at their booth that I didn't even know who James Allsup was. She told me, "Well you should have." The Blue Wave didn't roll over Cathy McMorris Rogers but it did roll over me.
Racism and hate used to have different meanings when I was young. Racism was ethnic cleansing, lynchings, and separate drinking fountains. Today it can simply be being in the wrong place at the wrong time.
I don't know who made those calls against NWGR earlier this week. It may have been the Indivisibles, or even another faction in the Republican Party. It was a dirty cowardly thing to do. If we start to play that way we will all suffer for it.