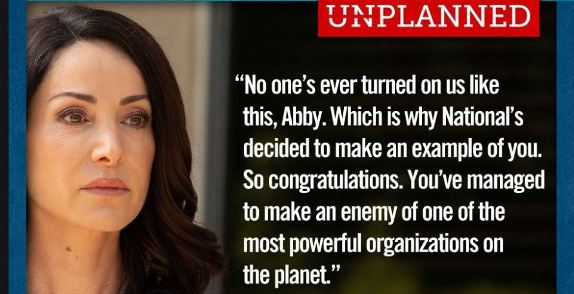 Plan To See Unplanned
 By CHQ Staff

If you have not already seen the recently released movie "Unplanned," We encourage you to find it at a theater near you.
https://www.unplannedfilm.com  Unplanned is the dramatic true story of a former Planned Parenthood leader's eye-opening journey across the "Life Line."
Abby Johnson quit her job in October 2009. That simple act became a national news story because Ms. Johnson was the director of a Planned Parenthood clinic in Texas who, after participating in an actual abortion procedure for the first time, walked down the street to join the Coalition for Life.
Unplanned is a heart-stopping personal drama of life-and-death encounters, a courtroom battle, and spiritual transformation that speaks hope and compassion into the political controversy that surrounds this issue.
As Dwight Widaman of MetroVoice News put it, Unplanned had unplanned success at the box office over the weekend. The results come even after the best efforts of some to keep movie goers from learning about it.
Twitter suspended the official account for the anti-abortion drama the day after its theatrical debut last weekend. "I think we all know why," the movie's account tweeted after it was reinstated. "Perhaps it's because we are moving the needle, making a difference and changing hearts and minds."
The film ended the weekend at number 5 behind high budget Dumbo, Us, Captain Marvel and Five Feet Apart.It actually outperformed Captain Marvel in per-theater revenue reported Mr. Widaman.
It beat How to Train Your Dragon and the newly released and highly anticipated Hotel Mumbai, which came in at number 8. These are amazing numbers considering it was playing at only one-quarter to one-half the number of theaters as the top four movies.
Unplanned earned $6.1 million dollars to become the second-best opening for a movie from PureFlix. The faith-based movie company's top opening performer is God's Not Dead 2 which made $7.6 million in its first weekend.
The film was the number 1 film in hundreds of markets across the nation, primarily in more conservative states.
Even the Leftwing writers at Slate admitted that the "R-rated Christian drama performed surprisingly well in its opening weekend, taking in more than $6 million and coming in fourth at the box office. The movie also received a rare A+ rating from CinemaScore, which tracks audience reactions. This suggests the movie either changed a whole lot of 'hearts and minds,' or that it is preaching to the choir."
In any case, it's a hit, said Slate.
Our friend Catharine Trauernicht saw Unplanned over the weekend and posted a lengthy review to The Bull Elephant, among her observations were these that we thought we particularly compelling:
Unplanned complements the movie "Gosnell," which was released last October.  The true stories behind both films are what give them genuine power and inescapable conviction.
"Unplanned" is a story of personal redemption, which goes beyond the protagonist Abby Johnson to envelop all who have experienced or condoned abortion. It complements the "Gosnell" movie, which exposed the particular horrors of late-term abortionist Kermit Gosnell, now serving life in prison without parole.
For these two movies to emerge within five months of each other, speaks to cultural currents that are stirring.
You can read Cathy's entire column on Unplanned through this link.
The reviewers for Focus on the Family's PluggedIn website said of Unplanned:
Every now and then, a movie comes along that's not just merely "good." Or merely "must see" water-cooler fare. I'm talking about films that are genuinely important because they force us to see something clearly that perhaps we've never really seen before. Oftentimes, these can be gritty, graphic, difficult-to-sit-through films.
I'd put Schindler's List in that category. And Saving Private Ryan. And Mel Gibson's The Passion of the Christ. Not surprisingly, perhaps, all of those movies are rated R. They pull no punches in their detailed depiction of difficult, violent realities.
I'd put Unplanned in the same category as these films in terms of the emotional wallop it packs. Like them, Unplanned forces us to look at an awful reality that we might be tempted to minimize. The film's depiction of a fetus being sucked, limb by limb, from its mother's womb cannot be unseen.
But unlike so much of our culture's fascination and infatuation with gore and violence, that scene depicts something that really happens. Since 1973, an estimated 56 million abortions have been performed in the United States. Sixty million souls knit together in God's image. Sixty million souls that never drew a breath. It's a moral travesty that's incomprehensible in its scope.
Unplanned is an important film because it makes us consider the moral weight of this otherwise mind-numbing statistic. Through the eyes of one woman who once believed she was doing good, we see the horror of abortion for what it truly is.
Published with Permission of ConservativeHQ.com