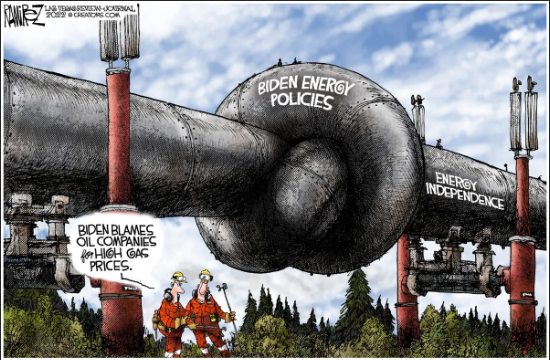 Biden Administration to Halt Atlantic, Pacific Offshore Drilling Despite Energy Crisis
The Biden administration announced Friday its plan to eliminate new offshore oil drilling in the Atlantic and Pacific oceans.
The proposed plan will eliminate all lease sales in those locations, according to the Interior Department while only permitting ten offshore leases in the Gulf of Mexico and one in the Cook Inlet off of the south-central Alaska coast over the course of the next five years.
"From Day One, President Biden and I have made clear our commitment to transition to a clean energy economy,"  said Department of the Interior (DOI) Secretary Deb Haaland.
In fact, Biden promised in 2019 to end the American oil industry if he was elected.
"I want you to look at my eyes," Biden said at a stop in New Hampshire during his campaign. "I guarantee you we're going to end fossil fuels."
And, at a debate in 2020, he said, "No more drilling including offshore. No ability for the oil industry to continue to drill period. It ends."
The proposal comes amid rising gas prices and inflation and calls for increasing oil production as well as President Joe Biden's commitment to tackling climate change.
It often takes years after a sale is completed for companies to begin drilling. So any new offshore leases are unlikely to have a short-term impact on fuel prices. But, the Biden administration's failure to sell enough leases over the last 16 months and this new restriction will have an effect on the price of energy for years to come. The longer the restrictive policies continue, the longer and tougher the pain will be.
The DOI last held an offshore oil and gas auction in November, located in the Gulf of Mexico; however, a court order later stopped the sale on the grounds that the administration had failed to properly account for its impact on the climate.
Rich Mitchell is the editor-in-chief of Conservative Daily News and the president of Bald Eagle Media, LLC. His posts may contain opinions that are his own and are not necessarily shared by Bald Eagle Media, CDN, staff or .. much of anyone else. Find him on twitter, facebook and GETTR