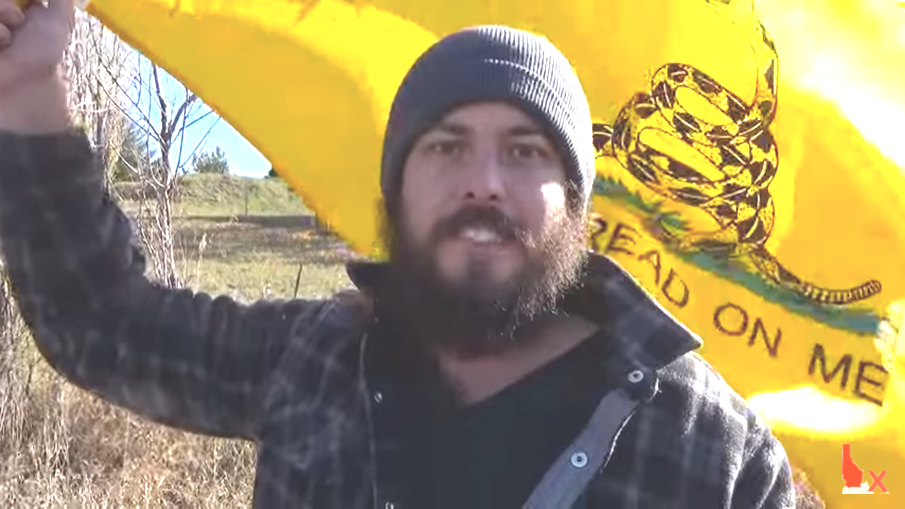 Interview with PJ Immordino who was denied entry to the Kootenai County Courthouse and later arrested on a bench warrant for failure to appear.
Rally at First District Judge Christensen Residence over Mandating Masks in North Idaho
By Casey Whalen
This story became personal after I was arrested on a bench warrant for removing two A-frame signs from Honeysuckle Beach in Hayden, Idaho last year which stated any person from out-of-state must self-quarantine for 14 days, return to their home state or possibly be charged with a misdemeanor. This was brought to my attention by Kelli Burton notifying me that the Kootenai County Sheriff's Department had erected signage on the Canfield Trailhead stating the same. I was perplexed by this because in the Idaho State Code the definition of 'quarantine' is: "there must be a hazardous material or infectious agent" at said site.  This was very tyrannical.
After interviewing Mr. Burton (video), I attempted to notify the Sheriff's Department that the signs were unlawful and eventually returned the two signs from Honeysuckle Beach back to the KCSO at the entry/exit way of the department (video).
Later I was charged by the City of Coeur d'Alene for falsifying public records. I went to the courthouse for arraignment in July of 2020, refused to wear a mask. Six weeks later, on the way downtown CDA for an event I created called 'Open Carry If You Care' I was pulled out of my vehicle and arrested on a bench warrant for failure to appear.  I later plead guilty, judgment was withheld and I was given one year unsupervised probation.
First District Administrative Judge Richard Christensen had passed administrative order H21-DW.23 on September 2, 2021 which mandated masks and stayed some jury trials for courthouses in Kootenai, Bonner & Boundary Counties. I had notified the public and some of us submitted emails to the judge's aide, informing him that the public is allowed access to the courthouse under the Idaho Constitution Article 1, Section 18 which states: COURTS OF JUSTICE TO BE FREELY AND SPEEDILY ADMINISTERED – Courts of justice shall be open to every person, and a speedy remedy afforded for every injury of person, property or character, and right and justice shall be administered without sale, denial, delay, or prejudice.
The emails were ignored. After informing the Kootenai County Sheriff's Office they declined to enforce the rule of law stating, 'the courthouse has its own jurisdiction.'  This was the position of Under-sheriff Mattos also, in multiple emails. I decided to start drawing attention to this matter by asking local friends to show up at Judge Christensen's Residence with Gadsden flags to inform his neighbors of his unlawful activities and that his actions are getting people arrested for attending to their business at courthouses in North Idaho.
Please see the following video of a handful of people protesting at Judge Christensen's Residence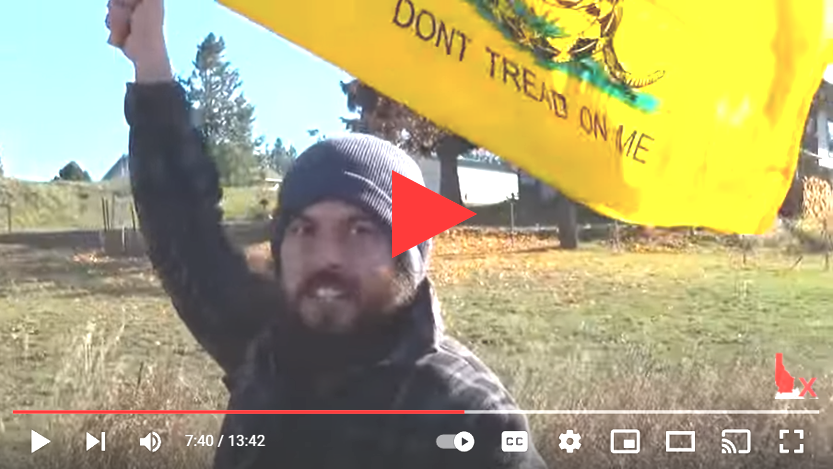 From Casey Whalen's North Idaho Exposed
18.2K subscribers
I'm happy to announce partnership with Hero Soap Company which a portion of proceeds goes to veterans and first responders.  Their products are all natural and fragrance free.  Help support my work and this great company by purchasing using the following link: http://www.herosoapcompany.com/northi…
Follow me on twitter: https://twitter.com/casey_whalen?s=09
Text RIGHTS to 80123 to join the People's Rights Movement, this is national.  We are creating a communications network to dispatch people to assist local business owners or families being oppressed by a tyrannical government.  Text the word RIGHTS to 80123 and visit https://www.peoplesrights.org
Help me get my own gear!  Amazon wish list:  https://www.amazon.com/hz/wishlist/ls…
This channel is demonetized, help support independent journalism via Cashapp: $NorthIdahoExposed, Venmo: @northidahoexposed, Paypal: https://paypal.me/northidaho or send bitcoin to: 3QM7QfHsUpY5n6raQvd8M3UKUt65kYwiMN
Casey Whalen
PO BOX 3041
Coeur d'Alene, Idaho 83816
Other platforms:
Bitchute: https://www.bitchute.com/channel/nort…
Rumble: https://rumble.com/user/northidahoexp…
DLIVE: https://dlive.tv/NorthIdahoExposed
LBRY: https://lbry.tv/@NorthIdahoExposed:e
Spreaker: https://www.spreaker.com/user/13667185
Pexel (my b-roll) https://www.pexels.com/@casey-20197262
Public record board Inland NW: https://northidahoexposed.wordpress.com/
Copyright Disclaimer Under Section 107 of the Copyright Act 1976, allowance is made for "fair use" for purposes such as criticism, comment, news reporting, teaching, scholarship, and research. Fair use is a use permitted by copyright statute that might otherwise be infringing. Non-profit, educational or personal use tips the balance in favor of fair use.