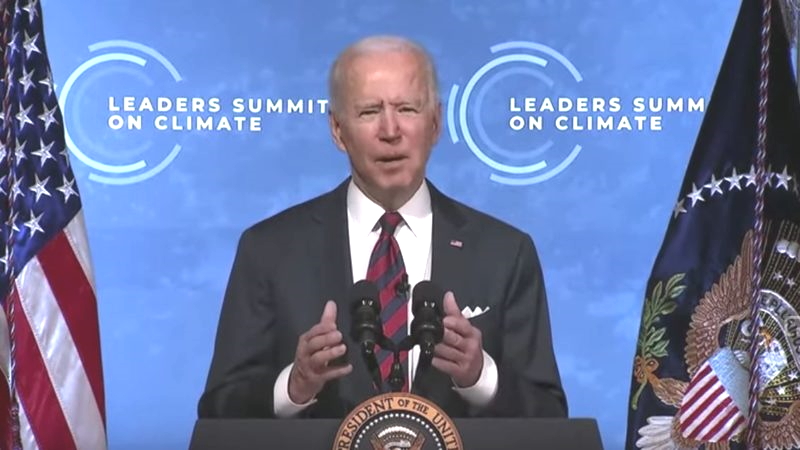 UN climate road trip! (and $hakedown)
By Peter Murphy
Everyone who matters from the Biden administration wants to be seen as 'caring about the planet and doing something about climate change. They are now tripping all over themselves to head to the upcoming United Nations climate conference.
Nearly everyone else attending this conference will be looking for—actually, demanding—a handout from the U.S. and the other more economically advanced nations in the European Union (EU) and elsewhere.
President Joe Biden and at least 13 senior officials from his administration will be traveling to Glasgow, Scotland for the United Nation's 26th Conference of the Parties to the Framework Convention on Climate Change ("UNFCC/COP26"). Conference attendees will be gathering, interestingly, on Halloween, with formal sessions starting the following day.
Accompanying the president will be Special Climate Envoy, John Kerry; Secretary of State, Anthony Blinken; the EPA administrator, the USAID administrator, secretaries of Energy, Interior and Transportation (fresh off of his paternity leave); White House senior staff and cabinet level honchos. Vice President Kamala Harris and her entourage will also get in on the fun when the president is not there.
These senior officials will have a bevy of deputy secretaries, undersecretaries, assistant deputy secretaries, and perhaps deputy assistant under secretaries, plus baggage handlers and assorted hangers-on. Since such a sizable group cannot even fit on Air Force One; The U.S. government's air fleet will be deployed akin to an air raid over Scotland, including the Secret Service agents, ammo and gas-quaffing SUVs.
Let's not forget the most important person from the U.S. delegation, at least symbolically: Secretary of the Treasury, Janet Yellin (not the president). To the rest of the world's conference attendees, she matters the most; Though, she does not preside over energy supply, emission regulations or U.S. diplomacy. Rather, Treasury Secretary Yellin has a key to the vault containing U.S. taxpayer cash and Treasury bonds, which is ultimately what this masquerade ball in Glasgow is about; In one word: redistribution.
Climate, as CFACT has regularly documented, is always changing. "Climate change" in the vernacular is a political issue and a colossal ruse. It is an artifice in place of the real objective of the global climate community, that is, to shakedown wealthy nations for the developing world. They are not subtle about their money-grab agenda.
Dr. Jay Lehr, CFACT's Senior Science Analyst, described a new report released in July for the UN conference that outlined several climate-related demands; One demand in particular calls for wealthy countries to "pay up" to developing countries a minimum of $100 billion annually through 2025 and more afterward to combat climate change. The report, entitled COP26 A Five-Point Plan for Solidarity, Fairness and Prosperity, was produced by a Kenya-based think-tank (Power Shift Africa), and heartily endorsed by leaders of developing nations throughout the globe.
The report also demanded the United States to pay $80 billion, with lesser amounts from the EU, Canada, Great Britain, Australia and Japan. There is no mention of China or Russia; Neither have any intention of curbing their use of fossil fuels, lowering their emissions or paying up.
The political logic of this report is impeccable. When the likes of John Kerry—who married into wealth, owns a family jet, yacht and multiple homes—preens that developing nations should forgo more fossil fuel and instead develop "renewable" energy (when he personally does no such thing), can you fault their diplomats for demanding a payoff? The Kerry-Heinz (Ketchup) family alone may well consume more energy than most Third World villages.
When the U.S., U.N., and global institutions (such as the World Bank) tie aid and investment in developing nations to their adoption of alternative energy, those nations should demand these First World climate globalists remunerate accordingly.
Prosperous countries like the U.S. attained that status from a relative free-market, capitalist system that basically adhered to the rule of law, and harnessed fossil fuel energy for 150 years-plus. It's the model for the developing world to reduce poverty, and grow a vibrant middle class.
"Green" energy comprising so-called renewables like wind turbines and solar panels, won't improve the lives of people in developing countries, nor will they stop climate change. These sources also are now clobbering Europe and the U.S. with skyrocketing energy costs. For the more developed world to force this on poor, Third World nations, is a form of modern day neo-colonialism, as author and progressive climate activist, Michael Shellenberger, has written.
Oil, coal and natural gas development in a market-based economic system is the answer to mitigate poverty, and create prosperity among developing nations, rather than redistribution.
As the Biden administration's army of senior officials descend on Scotland to pursue their climate obsessions for the planet, attendees from developing nations will be licking their chops. The concern is not that the rest of the world's climate diplomats and activists want to pick the pockets of the American taxpayer, to the tune of billions of dollars; the issue lies with our gullible, self-loathing U.S. delegation that will give it to them.
Author
Peter Murphy is Senior Fellow at CFACT. He has researched and advocated for a variety of policy issues, including education reform and fiscal policy, both in the non-profit sector and in government in the administration of former New York Governor George Pataki. He previously wrote and edited The Chalkboard weblog for the NY Charter Schools Association, and has been published in numerous media outlets, including The Hill, New York Post, Washington Times and the Wall Street Journal. Twitter: @PeterMurphy26 Website: https://www.petermurphylgs.com/
From cfact.org