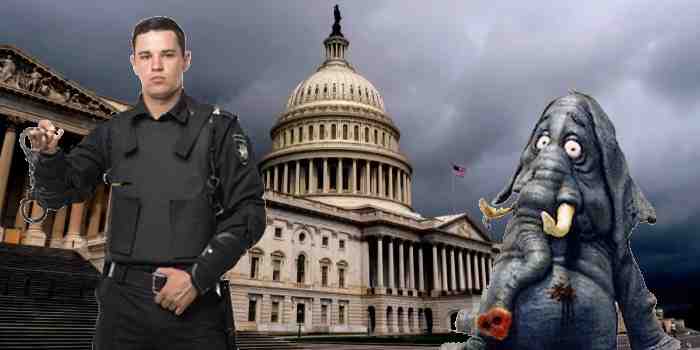 They Need to Know We Will Punish Them After They Leave Office
We are now in the Left's end game – and we have arrived here because for one hundred years we have refused to engage with the Left as seriously as they engage with us
Today's traitorous RINO Republican politicians need to wake up to the fact that their private interests are at risk even after they leave office – if they do not keep their promises.
Everyone in today's Conservative Movement understands that winning now requires far more than 'voting out' or 'primarying' the turncoat politicians in our midst.
RINO's have long been inured to such tactics. They've always traded on "What else are you going to do? Vote for the Democrat?" or the presumption that they could ride out the rest of their terms and then take up private life unbothered by any consequences for their political malfeasance.
The Left has long employed unconventional methods to achieve its political Will
For too long Conservatives have felt constrained to accept the profound limitations of this calculus. Worse, Conservatives have been constraining themselves in this process, failing to learn the lessons of the Left, a Left that operates beyond any constraints.
Clearly there is a need for additional methods – non-political or quasi-political methods – through which the Will of the Conservative electorate can manifest itself more powerfully and effectively – in order to compel its politicians to honor their pledges.
The Left has long employed unconventional methods to achieve its political Will. Commitment to ethical behavior precludes the Right from using many of them – rioting for example – but many of the Left's tactics and strategies are not only eligible for use by honorable Conservatives but are actually written down in one of the Left's own classic playbooks, Rules for Radicals, by Saul Alinsky – available free at PDF Drive.
Conservatives should adopt Rules 5, 8 and 13 immediately.
Rule 5 is, "Ridicule is man's most potent weapon." This is a method perfectly suited for use with both former and current politicians. Conservatives too rarely use this method. This must change.
For example, Conservative activists can mimic those on the Left, shaming and ridiculing the former politician in social media, in comment sections, and on websites (product ratings, etc.), and doing so as well to entities currently connected to the former politician, such as companies, Boards, Country Clubs, etc.
In particular, associated companies or businesses would be informed they might suffer boycotts, demonstrations, sit-ins, bad reviews, embarrassment and loss of public good will and revenue if they were to refuse to separate from, cease funding, cease employing or cease associating with the former politician.
Rule 8 is, "Keep the pressure on" – "with different tactics and actions…" Conservatives can employ this rule by creating multiple organizational systems that ensure the former politician will experience unceasing aversive consequences for betrayal of his/her constituents. Interminable consequences serve as a persisting reminder to current politicians they will suffer the same fate for disloyalty.
Rule 13 is, "Pick the target, freeze it, personalize it, and polarize it." This method emphasizes the need to choose a particular former politician, i.e. one most likely to be vulnerable to the types of strategies noted above.
The strategy would never be, or be permitted to be, causing losses to subordinates or similar persons, and certainly never involve the private lives of family members, children or pets.
We are now in the Left's end game – and we have arrived here because for one hundred years we have refused to engage with the Left as seriously as they engage with us.
We can still win, however. We are more than 74 million strong – and America is still a center-Right country.
Nevertheless we find ourselves in the unenviable position of one of our most famous Revolutionary War heroes, John Paul Jones, 'the father of the U.S. Navy'. His fleet was surprised by a larger fleet of British warships while sailing off the coast of England. Very quickly even his own flagship was nearly destroyed, engulfed in flames sinking.
The British Admiral requested Jones' surrender.
Cheekily, Jones replied, "I have not yet begun to fight."
Somehow Jones and the Americans prevailed. So can we.
Dr. Brad Lyles ——Bio and Archives
From canadafreepress.com