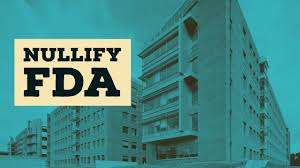 Special Report: Nullifying FDA Regulations
By The 10th Amendment Center
The FDA has grown increasingly aggressive in enforcing its unconstitutional food and drug "laws." It not only asserts the power to regulate interstate commerce; it also often asserts the authority to regulate food and drugs within state lines, including raw milk, CBD, and even meat.
But the FDA faces the same problem as every other federal agency. It does not have the personnel or resources to enforce all of its regulatory edicts without state and local support.
By refusing to cooperate with FDA rules and regulations, and passing laws that encourage the growth of markets in federally-prohibited items, state and local action can nullify onerous FDA mandates in practice and effect.
*This is an overview of recent state efforts to nullify unconstitutional FDA actions in practice and effect. To get more details, make sure you read our latest State of the Nullification Movement report. You can get it HERE.
**If you prefer a podcast or video, check out this recent episode of Path to Liberty at this link.
Food Freedom
State and local governments can undermine FDA regulations simply by getting out of the way and allowing markets to flourish with the passage of food freedom laws.
Wyoming enacted the first such law in 2015. The expansive law even allows poultry farmers with fewer than 1,000 birds to sell chicken and turkey, along with products made from their birds. It also authorizes the sale of raw milk, rabbit meat and most farm-raised fish. North Dakota, Utah and Maine have similar laws.
Wyoming expanded its Food Freedom Act in 2020 with the passage of two bills. HB155 allows consumers to buy individual cuts of meat through herd-share agreements. The law is modeled on laws that allow the sale of raw milk in some states. Consumers pay the rancher a fee for a "share" in either an individual animal or a herd. In return, the consumer gets cuts of meat. In effect, it completely bypasses the U.S. Department of Agriculture inspection regime, nullifying the federal law in effect.
HB84 allows for the sale of "non-potentially hazardous" homemade foods to be sold in retail stores and restaurants. "Potentially-non hazardous foods are defined as " food that does not require time or temperature control for safety and includes jams, uncut fruits and vegetables, pickled vegetables, hard candies, fudge, nut mixes, granola, dry soup mixes excluding meat-based soup mixes, coffee beans, popcorn and baked goods that do not include dairy or meat frosting or filling or other potentially hazardous frosting or filling.
While state law does not bind the FDA, the passage of food freedom laws creates an environment hostile to federal food regulation. And because the state does not interfere with local food producers, that means it will not enforce FDA mandates either. Should the feds want to enforce food laws in states with food freedom laws, they have to do so by themselves.
Raw Milk 
The federal regulation of raw milk reveals just how deeply the federal government is involved in local food issues. Not only do the Feds ban the transportation of raw milk across state lines; they also claim the authority to ban unpasteurized milk within the borders of a state. States can undermine federal prohibition schemes by legalizing raw milk sales within their borders.
In 2019, Vermont expanded raw milk sales in the state. The new law makes a number of changes to the state's agriculture policies, including expanding raw milk sales. Under the law, farmers who sell more than 87.5 gallons to 350 gallons of raw milk per week can sell and deliver unpasteurized milk directly to the consumer off the farm and at farmer's markets.
The former law only allowed direct-to-consumer sales on the farm where the milk was produced. Tier-2 producers were able to deliver raw milk to farmer's markets, but only if the sale and financing had been set up beforehand.
Utah also expanded raw milk sales in the 2020 legislative session. The new law allows permit holders to sell raw milk cream and butter. The former law only allowed the sale of pure raw milk even by those holding a permit.
Currently, 13 states allow raw milk sales in retail stores and 17 states allow sales only on the farm where the milk was produced. Nine states have legalized herd-share agreements.
JOIN TAC, Support Liberty!
From just 2 bucks/month *join us here*
CBD
Many people think CBD is legal now due to the fact that it's available on virtually every street corner and the 2018 farm bill legalized industrial hemp. But this is not the case. While the DEA no longer has the authority to regulate or prohibit hemp, the provisions of the farm bill don't limit the FDA. While farmers can now legally grow hemp for commercial purposes, the sale of cannabinol or food products containing CBD remains federally-illegal.
States can undermine FDA regulation of CBD by simply making it legal within their borders and refusing to enforce the agency's regulations.
Over the last few years, at least 11 states (Arkansas, Florida, Maine, New Mexico, Texas, Virginia, West Virginia, Wyoming, Ohio, Oklahoma and New York) passed laws creating regulatory structures for the manufacture and sale of CBD. These laws open the door to the production and sale of CBD products produced in the state regardless of continued federal prohibition.
And at least 10 states expressly authorized CBD as an additive in food products, despite the FDA's explicit prohibition, most recently, Virginia.
Right to Try
State Right to Try laws create a process to bypass the FDA rules and allow some patients to obtain experimental drugs from manufacturers without first obtaining federal approval. By the end of the 2018 legislative season, 41 states had implemented Right to Try.
With most of the country already offering the right to try under state law, Congress passed its own limited version of the legislation in 2018.
Now states are looking for ways to expand the concept despite ongoing FDA restrictions.
Louisiana successfully expanded its Right to Try law. In 2017, the state included robotic technology that assists patients suffering from terminal degenerative muscular diseases with mobility in its Right to Try statute. The law is specifically meant to allow ALS patients in the state to access EyeDrive technology that allows them to maneuver a wheelchair using eye movements.
The technology is currently unavailable on the market because it's still in the FDA trial phase. Passage of HB179 opens the door for all ALS patients in the state to bypass the FDA and access this potentially far-reaching technology.
Last year, North Carolina expanded its Right to Try law as well.  The expanded provisions allow certain patients to access stem cell treatments not yet given final approval by the FDA.
In June, Mississippi expanded its law, making patients with "traumatic injuries" eligible for experimental treatments under the law. It also adds adult autologous mesenchymal stem cells to the list of experimental treatments covered under the act.
We hope you found this report interesting and educational – there are others to come soon on other issues like asset forfeiture, surveillance and more!
–Michael, Mike, Dave, TJ
and the rest of the TAC Team
Before you go, please don't forget to check out the Tenth Amendment Center membership program. For as little as 2 bucks a month, you can help us continue our work – taking a stand for the Constitution and liberty no matter what team is in charge in Washington D.C.
THANK YOU for reading – and your support!
Concordia res parvae crescunt
(small things grow great by concord)
Our mailing address is:
Tenth Amendment Center
PO Box 13458
Los Angeles, CA 90013
Tenth Amendment Center <team@tenthamendmentcenter.com>