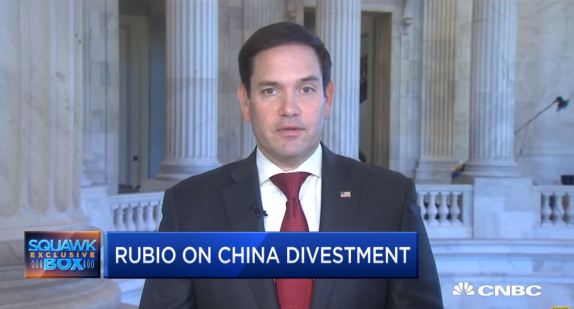 Tell Your Governor To Stop Investing State Pension Funds In Communist China
By George Rasley
Our friend Rick Manning, President of Americans for Limited Government, sent a letter to the Governors of all 50 states demanding that they end the clearly immoral, and possibly illegal practice of investing state worker pension funds in Communist Chinese enterprises.
We applaud this effort and urge CHQ readers and friends to call their Governor's office to demand that their state worker pension funds divest themselves of all investments in Communist China.
As Mr. Manning noted in his letter to each Governor, in a July 7, 2020 letter to the head of the U.S. Railroad Retirement Board, National Security Advisor Robert O'Brien and Director of the National Economic Council Lawrence Kudlow warned, "The National Railroad Retirement Investment (NRRI) Trust's investment in the PRC exposes the retirement funds of railroad workers to significant and unnecessary economic risk." Messrs. O'Brien and Kudlow cite the exact transparency risk which puts Chinese assets directly in conflict with both the letter and intent of the Employment Retirement Income Security Act (ERISA), "Another key reason why the NRRI Trust's investments in PRC companies expose American railroad retirees to substantial economic risk is because the Chinese government prevents companies with Chinese operations listed on U.S. exchanges from complying with applicable U.S. securities laws, leaving investors without the benefit of important protections."
If the U.S. government judges that Chinese assets do not conform to the auditing and other requirements of Dodd-Frank and Sarbanes-Oxley – requirements to which their U.S. counterparts must adhere in order to qualify for participation in our capital markets – it would be irresponsible for state officials not to follow suit to protect their employees' future financial security, as well.
And the White House National Security and Economic Council teams are not the only federal agencies expressing concern about the risk of investing in Communist China. Labor Secretary Eugene Scalia has assessed Chinese assets to be too risky to permit them to be included in the federal employees 401(K) Thrift Savings Plan. He wrote the Federal Retirement Thrift Investment Board on May 11, 2020 that stopping the inclusion of Chinese assets was necessary because it, "would place millions of federal employees, retirees, and service-members in the untenable position of choosing between forgoing any investment in international equities or placing billions of dollars in retirement savings in risky companies that pose a threat to U.S. national security" is exactly on point.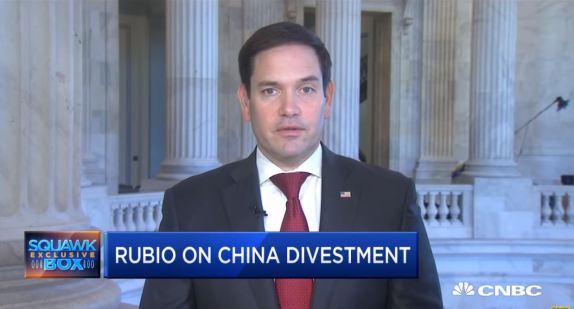 – where the same considerations directly apply? The answer is that they should not be included as states have an obligation to protect retirement-specific investments or pensions from choices that are unsuitably risky.
What's more, Mr. Manning is not the only one warning of the risks of investing public employee and state worker pension funds in Communist China.
Florida Republican U.S. Sen. Marco Rubio, the newly appointed Senate Intelligence Committee chairman, is calling on Sunshine State retirement fund managers to purge Chinese companies from the state's $200 billion investment portfolio.
John Haughey, contributor at The Center Square, reports Rubio and U.S. Rep. Michael Waltz, R-St. Augustine Beach, wrote a letter calling on Gov. Ron DeSantis, Attorney General Ashley Moody and Chief Financial Officer Jimmy Patronis to order the Florida State Board of Administration (SBA) to divest from two specific companies and adopt a policy prohibiting additional investments in Chinese-owned businesses and funds.
According to Mr. Haughey, as of February 29, FRS had more than $200 billion in assets invested across over 30 funds, including, according to Rubio and Waltz, significant shares in Hangzhou Hikvision Digital Technology Co. Ltd. and China Unicom (Hong Kong) Ltd.
"Unfortunately, like many public systems, FRS maintains investments in problematic Chinese enterprises, including firms owned and controlled by the Chinese Government and the Chinese Communist Party (CCP) that actively participate in human rights abuse and support the People's Liberation Army (PLA)," Rubio and Walsh wrote.
In October, the Trump administration blacklisted Hikvision, one of the world's largest video surveillance systems manufacturers, for providing the technology the CCP has used to repress Muslim Uighurs and Kazakhs in China's western province of Xinjiang.
"The reality is," Rubio and Waltz concluded, "that the FRS holds investments in a variety of such companies," singling out China Unicom (Hong Kong) Ltd., a subsidiary of state-owned telecommunications operator China United Network Communications (China Unicom), "which contracts with the PLA."
If you don't want your state pension funds to be invested in Communist Chinese enterprises, including those that manufacture weapons and surveillance equipment that can be used against us, contact your state's Governor and demand that your state stop investing public employee pension funds in Red China. You can obtain contact information for your state's Governor through this link, call or email today.
George Rasley is editor of ConservativeHQ.com.
Published with Permission of chq.com