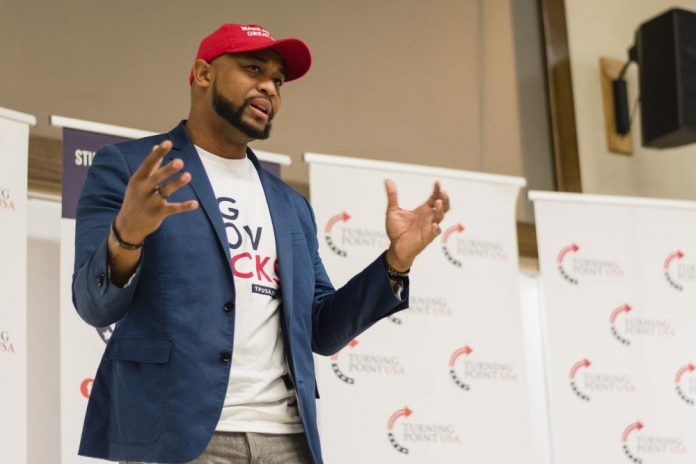 'Walk Away,' Urges College Students to Abandon Liberalism and Become Conservative
By TPUSA Staff
On March 14, around 50 students from Central Michigan University gathered to listen to Brandon Tatum, TPUSA's Director of Urban Engagement. 'Walk Away,' by virtue of its name, is a campaign headed by TPUSA encouraging students to leave liberalism.
According to CM Life, Tatum was highly energetic and enthusiastic when he appeared on campus:
"I LOVE TO HEAR WHAT PEOPLE THINK, THEIR DIFFERENT PERSPECTIVES FROM DIFFERENT CAMPUSES," TATUM SAID. "THE PEOPLE, THE CULTURE — EVERYTHING IS UNIQUE."
During his speech, Tatum talked of his troubles early in life, the events that impacted him greatly:
"[TATUM] GREW UP IN A RELIGIOUS, TWO-PARENT HOUSEHOLD IN A MAJORITY BLACK NEIGHBORHOOD. AT THE AGE OF EIGHT, HE WAS CAUGHT SMOKING MARIJUANA IN A VACANT HOUSE AND SPENT TIME IN JUVENILE DETENTION."
This arrest has taught him much at a young age, he said. If he ever wanted to play football professionally, he needed to start cooperating with the law.
Aside from his past, Tatum spoke about his own experience within politics, addressing why he left liberalism:
"THE REASON I WALKED AWAY, IS THAT I BELIEVE THE LEFT HAS BECOME SO DERANGED, FAR-OUT AND JUST RIDICULOUS THAT I JUST COULD NOT STAND IT ANYMORE."
"In this country, you have a right to believe what you want to believe," Tatum elucidated. "Everybody else has a right to disagree with you, but they don't have the right to put their hands on you."
At the end of the event, Tatum opened the floor for a Q and A session. He received questions regarding the U.S.'s southern border and other current issues.
Salicia Bayes, a TPUSA activist and organizer of this event, had just learned of Turning Point USA at the 2019 Conservative Political Action Conference in late February. She just recently got approval by CMU to start a TPUSA chapter on campus, reports CM Life.
"It was very nice having that network," Bayes said. "As a conservative on campus, you really are the minority and that's how it is. It's nice to be somewhere with people who are like-minded."
Screenshot/Hunter McLaren
We need your help exposing liberal bias on college campuses across the country.
Turning Point USA is fighting every day on over 1,300 college campuses across America to recruit and inform students about the dangers of socialism and the benefits of capitalism.
Since the founding, Turning Point USA has embarked on a mission to build the most organized, active, and powerful conservative grassroots activist network on college campuses across the country. With a presence on over 1,300 college campuses and high schools across the country, Turning Point USA is the largest and fastest growing youth organization in America.
Your donation will help us fight for conservative values and expose the liberal bias on campuses and in schools.
DONATE NOW
Published with Permission of TurningPointUSA.com