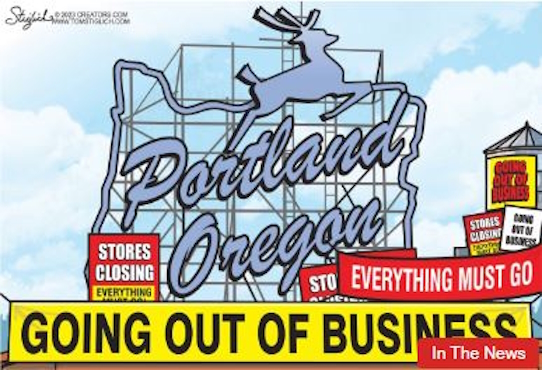 Nike Shutters Home-State Store After Dem Mayor Denies Extra Security
By Nick Pope
Nike is set to permanently close its store in Northeast Portland, Oregon, following several years of criminality and safety concerns that have made the location's continued operation untenable, according to OregonLive.
Nike, the American footwear and apparel giant established in Oregon, had effectively closed the location to the public for most of 2023, but it was unclear whether the closure was permanent, according to OregonLive. The company's decision follows Portland Mayor Ted Wheeler's rejection of a February request to provide off-duty police officers to protect the store from the criminality that has swelled in the city in recent years.
In recent years, drugs and crime have rocked the city, which is known for its progressive stance on criminal justice and dealing with drug addiction. Shootings and homicides jumped by 300% between 2019 and 2022, robberies spiked by 50% in 2022 alone, vehicle thefts hit all-time highs, authorities are expecting to record around 300 drug overdose deaths this year and requests for graffiti removal rose by 500% between 2020 and 2022, according to the City Journal and KGW8.
Entire Portland Police Rapid Response Team Resigns https://t.co/TMkAha6GAC
— Daily Caller (@DailyCaller) June 17, 2021
"The store closure was starting to impact the small businesses in the area, who were telling me that they were getting less and less foot traffic and business was not going well," John Washington, executive director of the Soul Business District Association, said, according to OregonLive. "Why close down a flagship store that has supported Black Portland for over 40 years? It was an economic driver in this area, and we should be looking at the long-term impact of that closure."
Washington was informed by Nike that the company was leaving due to safety and security issues, according to OregonLive.
Wheeler said that the news of Nike's decision to abandon reopening the location is disappointing to him, and that his team had worked closely with the company in "good faith" to find solutions to its concerns about safety and criminality, according to OregonLive. He said in March that he turned down the request to detail off-duty officers because the city's law enforcement bodies are in the midst of a staff shortage, according to local outlet Fox 12 Oregon.
Portland cut funding for its police force during the George Floyd riots in the summer of 2020, before boosting funding in 2021 amid an exodus of officers and rising crime rates, according to PBS.
Nike stated that it would "seek the input of local community organizations and leaders to determine the best new location," according to OregonLive. The company also said that it was presenting the location's employees with "options to continue to be part of the Nike family."
Neither Nike nor Wheeler's office responded immediately to requests for comment.