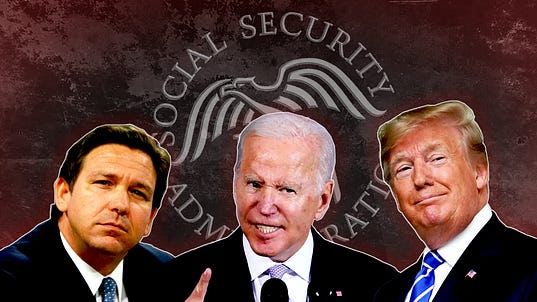 Biden, Trump, DeSantis, and the Politics of Social Security
The Republican for whom this issue could be extremely problematic is Governor Ron DeSantis…
By Roger Stone
In his State of the Union address last week, President Joe Biden departed substantially from the print version of his speech to concede that virtually no one in the Republican Party is currently proposing cuts in either Social Security or Medicare. In the print version of his speech released prior to the address, Biden said "some Republicans" are proposing such cuts, but in the actual remarks that he made he conceded "I'm not saying it's the majority." Also adding, "Other Republicans say — I'm not saying it's a majority of you, I don't even think it's even a significant — but it's being proposed by individuals. I'm not — politely not naming them, but it's being proposed by some of you."
This conciliatory back pedaling by Biden certainly removes the sting from his prepared remarks in which he said, "If anyone tries to cut Social Security, I will stop them. And if anyone tries to cut Medicare, I will stop them." The prepared remarks were clearly designed to set up the straw man of those evil Republicans planning to cut both entitlements. Perhaps it was the vocal eruption of House Republicans during his speech which caused the President to temper his remarks.
Stone Cold Truth with Roger Stone is a reader-supported publication. To receive new posts and support my work, consider becoming a free or paid subscriber.
Considering that the Democrat Party has used the faux line of attack in every October every two years, it may be an actual recognition by Biden that President Donald Trump, who is still today Biden's most probable 2024 opponent, has adamantly opposed any proposal to cut either Social Security or Medicare his entire public career—even chiding Congressional Republicans on the issue prior to his ever becoming a candidate for Federal Office.
The Republican for whom this issue could be extremely problematic, however, is Governor Ron DeSantis—in both the Republican nominating process and, were he to get that far, in the 2024 election.
DeSantis voted for resolutions to cut Social Security and Medicare and to extend the retirement age to 70 when he was a member of Congress in 2013, 2014, and 2015. Given the average age of Republican primary voters, this is probably the Governor of Florida's greatest single vulnerability if, as expected, he moves ahead to announce his candidacy for President later this year.
FOOTNOTE: Under current Florida law, Governor DeSantis would be required to resign from State Office in order to become a formal candidate for Federal Office. Look to Republicans in the Florida Legislature to repeal this provision of law in an amendment to unrelated legislation later this year.