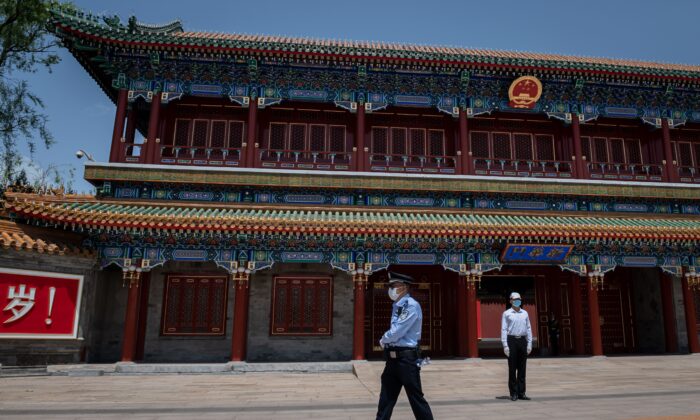 A security guard (right) and a police officer (left) secure the area at the entrance to Zhongnanhai, the leadership compound of the Chinese Communist Party, in Beijing on May 18, 2020. (Nicolas Asfouri/AFP via Getty Images)
Recent Deaths of China's Top Officials and Elites Amid COVID Surge Expose an Unspeakable Crime
By Heng He
During the new wave of COVID-19 cases and deaths in China, it's hard not to notice the number of deaths among high-ranking officials and elites.
For example, in less than one month, between Dec. 15, 2022, and Jan. 13, 22 members of the Chinese Academy of Engineering died, compared with only 12 in the entire previous year, according to the academy's official website. Most were between the ages of 80 and 100—their lifespans being way above the national average. Like officials at the provincial level and above, scientists and experts at the national academy level enjoy free medical care and many other benefits. Their health is well taken care of—even during the COVID-19 pandemic.
But why did many elites die at this time, when they had survived other health issues? What put this group at high risk just after Beijing abandoned its zero-COVID policy and the outbreak in China got out of hand? In the past month, bodies piled up in hospitals, intensive care units were overcrowded with patients, and fever clinics were overwhelmed by long lines.
Former CCP Official Gao Zhanxiang
Of all the reported death cases among China's elite, one stands out.
On Jan. 2, state media outlet Xinhuanet announced that Gao Zhanxiang, former vice minister of the Ministry of Culture, had died at 87 on Dec. 9, 2022. The report didn't provide further information.
It gets even more interesting.
According to the eulogy posted on Chinese social media by Zhu Yongxin, executive vice chairman of the China Association for Promoting Democracy, "over the years, Gao Zhanxiang has been fighting the disease tenaciously. He had replaced many organs in his body. He joked that many parts are not his own."
Gao wasn't high up in the Chinese Communist Party (CCP) hierarchy, and there were at least several hundred officials at the same level. Why did he receive such special treatment, and how could he obtain "many" organs, when they're supposedly in short supply?
This may confirm the rumor that high-level CCP officials mainly rely on organ transplants—sourced from young and healthy people—to extend their lives. I believe that national-level experts also receive this kind of treatment. However, this privilege has become a disadvantage amid the recent wave of COVID-19 infections.
The latest COVID-19 outbreak started in the hospitals in Beijing, where many elderly high-ranking officials and elites had reserved wards. What made things worse is that the organ recipients used immunosuppressants. A suppressed immune system leaves organ recipients vulnerable to viral infection. This explains why this time, top-level officials and experts between the ages of 80 and 90, who may have had organ transplants, died within a few days after Beijing abruptly abandoned its zero-COVID policy.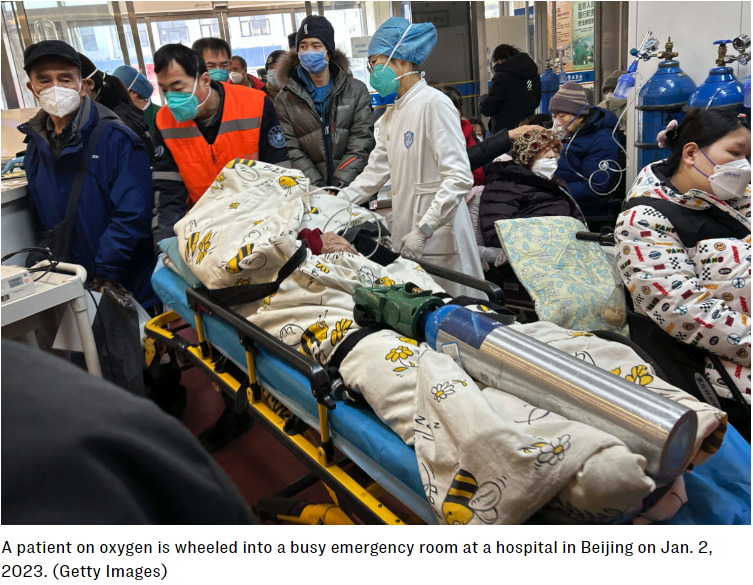 A patient on oxygen is wheeled into a busy emergency room at a hospital in Beijing on Jan. 2, 2023. (Getty Images)
In China, human lives have different values. In the new wave of COVID-19 cases, the world witnessed how the CCP treated its people and took away their dignity. Not only is there a shortage of medicines, respirators, and hospital wards, but there are no proper funeral and cremation services throughout the country.
Organ Transplantation During the Pandemic
While the official number of deaths since early December 2022 reached 60,000 (although the number could be higher, given Chinese authorities' past record of underreporting infections and covering up information), the renowned Dr. Chen Jingyu announced a successful double lung transplant for a COVID-19 survivor. Given the limited medical resources at this time, why did this patient get special treatment?
It isn't the first time that Chen conducted a lung transplant during the pandemic.
He performed his first lung transplant on March 10, 2020, soon after COVID-19 first broke out in China's Wuhan city. He found an organ donor for his patient within two days.
Another operation was done in Wuhan. Chen went to the city on April 18, 2020, examined the patient the following day, and confirmed that the patient needed a lung transplant. The transplant was done on April 20, 2020! That means the organ was obtained in less than a day.
Four days later, Chen performed two other lung transplants in Wuhan. Both patients had suffered lung failure from COVID-19. There was suspicion about the source of the organs, the hospitals and doctors involved, and the identity of the patients. One transplant was done during the Wuhan lockdown, and the other took place just after the lockdown was lifted in the city. At that time, most COVID-19 patients couldn't even get diagnostic reagents, and medical equipment was in short supply. Who could use ECMO or life support while waiting for a lung donor?
Moreover, the transplant shouldn't have been performed even according to China's transplant guidelines during the pandemic. Generally, patients with acute infectious diseases aren't suitable for lung transplantation, especially those with lung infections, and these patients are in a period of potential infection, which is why the physician and nurses involved in the procedure are very cautious. In addition, due to the scarcity of lung sources, lung transplantation isn't recommended for patients who can't be guaranteed a transplant outcome. These are some of the reasons why these transplants aren't worthwhile or shouldn't be done.
According to Chinese media reports, those patients weren't rich or powerful. Thus, the transplants can only be considered part of the "981 Health Project for Leaders." The transplants weren't done to save those recipients' lives. They were experimental transplants that provided doctors with experience to operate successfully on China's most influential people when necessary. The project was first revealed by an ad for 301 Hospital, also known as the General Hospital of the People's Liberation Army, in 2019. The project's goal is to extend the lifespan of top leaders to 150 years.
It's noteworthy that Huang Jiefu, the tsar of China's organ transplant system, kept only two titles after he retired from his post as health minister: director of the China Organ Donation and Transplantation Committee and deputy director of the Central Health Commission, whose only function is to look after the top leaders' health.
It appears that Chinese leaders' longevity is linked to organ transplants.
Transplant Tourism
CCP officials, the ultrawealthy, and the elites aren't the only ones to get organ transplants. The overseas associates of the CCP's United Front Work Department (UFWD) also get transplants as a reward for their loyalty to the CCP.
For example, Rose Pak, a political and community activist from San Francisco, was one of the top friends of UFWD in the United States. She was an overseas executive director of the China Overseas Exchange Association, a united front organization. She went to China to have a kidney transplant in 2016. Sadly, she died several months after returning to San Francisco. That raised several questions.
Pak wasn't employed at the time of her surgery—so where did she get the money for the transplant? Where did she get the kidney in China as a U.S. citizen?
Organ tourism to China is already banned in Israel, Taiwan, Italy, and Spain. The UK also changed its bioethics law to prevent British patients waiting for organs from going to China for transplants.
Shouldn't the United States do the same?
Where Did the Organs Come From?
China's organ transplant industry started booming in 2000, the second year of the persecution of Falun Gong adherents. In 2006, the state-backed crime of organ harvesting from live Falun Gong practitioners was exposed. In 2019, an independent people's tribunal concluded that forced organ harvesting has taken place in China for years "on a significant scale" and that killing to supply the transplant industry continues today. The main victims, the tribunal stated, were detained Falun Gong practitioners.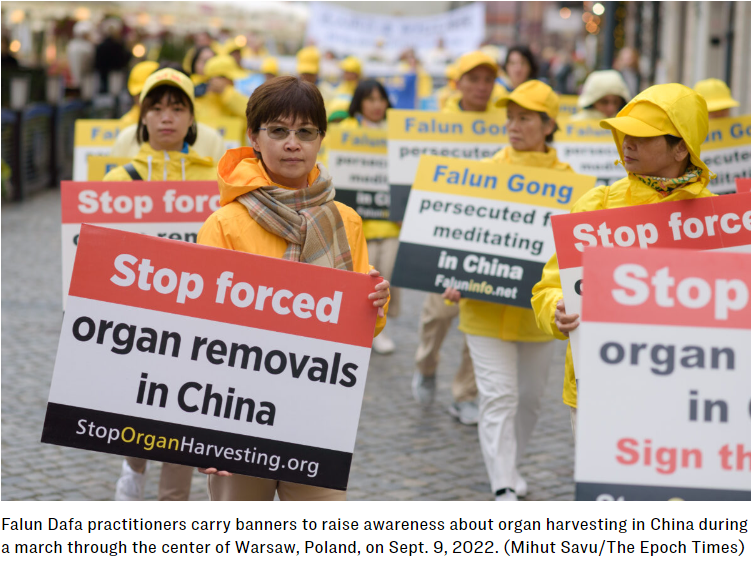 Falun Dafa practitioners carry banners to raise awareness about organ harvesting in China during a march through the center of Warsaw, Poland, on Sept. 9, 2022. (Mihut Savu/The Epoch Times)
Beijing had insisted that most of the organs, if not all, were from executed prisoners. It took another nine years for China to establish a bogus organ donation and distribution system. The system was largely used for international public relations campaigns—and it worked. The global transplant community, mainly The Transplantation Society, lifted the restriction on China and endorsed the CCP's lies. The endorsement of the international transplantation community encouraged the CCP.
The transplantation business continues to expand without a functional organ donation system. However, the organ supply from prisoners of conscience isn't unlimited. Under the regime's umbrella, underground organ harvesting and trading started booming with the growth of the transplant business. From 2013 to 2017, more than 100 university students disappeared without a trace. Despite surveillance cameras being installed everywhere, none of the cases were solved. Many Chinese people began to believe that the disappearances had something to do with organ harvesting.
Recently, another wave of cases became a hot topic on Chinese social media: missing teenagers. One of the victims is Hu Xinyu, a middle school student in Yanshan County, Jiangxi Province, who went missing from school. The surveillance recording may have been tampered with because there was missing footage that may have provided clues about his disappearance. The case remains unsolved. The authorities' goal isn't to solve the case but to silence the victim's family. There are several unofficial versions of the story, but most link the teen's disappearance to organ harvesting.
Heng He is a commentator on Sound of Hope Radio, China analyst on NTD's "Focus Talk," and a writer for The Epoch Times.
From theepochtimes.com