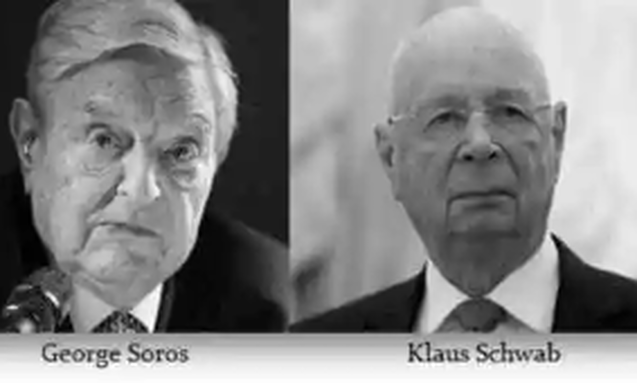 Klaus Schwab, George Soros Pull Out of the WEF Summit
By M Dowling
George Soros and Klaus Schwab, the venomous duo.
All but three Republicans of the original ten and venomous billionaire elitists Klaus Schwab and George Soros have announced that they won't attend the World Economic Forum's annual summit in Davos, Switzerland.
We need Bill Gates to pull out now. He's as venomous as any of them.
People worldwide are catching on to how kooky, and out of control these powermongers are. Perhaps this duo is trying to turn down the heat?
The venomous transhumanists of Davos want to treat us, peasants, as machines. They appear to love population control. Fascism, uniting globalist corporations and international governments, is their theme.
There are something like 5,000 military men and police surrounding the secretive group of authoritarians. These people have somewhere around 10,000 influencers in government around the world.
The Biden-WEF build back better mantra for their Great Reset is a feudalistic vision for the world's future.
Yuval Harari, a gay venomous Israeli, is one of Klaus Schwab's favorite philosophers. He wants to inject and drug the "worthless" and "useless" people to keep them occupied and harmless. He is talking about the middle class.
People have all kinds of concerns about why they pulled out. There is no need to suspect anything more; they are just trying to save the WEF and know they are napalm.
Perhaps they will try to clean up their image now that everyone sees how dangerous and extreme they are. They won't clean up their act, just how they look to the world.
Scheduling conflict?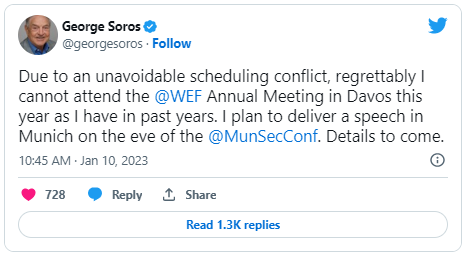 Schwab did give opening remarks, and the foolish man in the clip below encouraged totalitarianism to be "in harmony with nature."
Schwab said he has a "health conflict." I'm guessing his opening remarks were via zoom, but I don't know.
The venomous toadies will carry on for these two kooks.