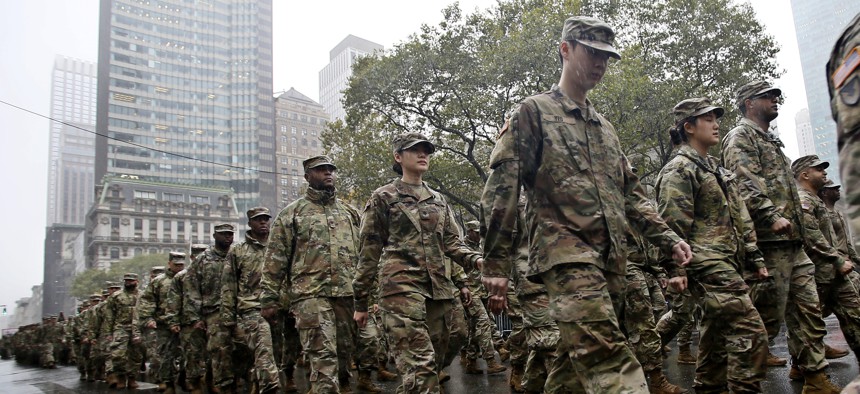 U.S. Army soldiers attend the 103rd annual Veterans Day Parade on November 11, 2022, in New York City. LEONARDO MUNOZ/VIEWPRES
Just Half of Americans Trust the Military, Survey Finds
Most want to continue helping Ukraine—and most don't think there's a clear China strategy, according to the Reagan Institute poll.
Americans' trust and confidence in the military increased slightly over the past year, but remains near a five-year low, according to a new survey by the Ronald Reagan Institute.
Conducted in early November after the U.S. midterm elections, the study found that 48 percent of the American public trusts and has confidence in the military, up from 45 percent last year but way down from 70 percent in 2018.
"No other public institution has seen this stark of a decline as we have seen for the U.S. military," said Rachel Hoff, the institute's policy director. "I'll note that it does still rank at the top of the list of the institutions we poll."
Why the decline? The perceived over-politicization of military leaders was cited by 62 percent of respondents as the top reason for their decline in confidence. And 59 percent cited "the performance and competence of presidents, as the Commander-In-Chief."
Also of note: 57 percent of those surveyed said the U.S. "must continue to stand with Ukraine and oppose Russian aggression." But 33 percent said that "America has enough problems at home and cannot afford to spend more on the conflict." More Democrats favored continued support for Ukraine (73 percent) than Republicans (51 percent). Some 76 percent of respondents said they view Ukraine as an ally, up from 49 percent one year ago. And 82 percent view Russia as an enemy, up from 65 percent last year. Recall: in 2019, one in four surveyed viewed Russia as an ally of the United States.
Some 77 percent of those surveyed said they were concerned that Russia might use a nuclear weapon, while 74 percent said they were concerned the war in Ukraine might spill over into Eastern Europe and force the U.S. to get involved. And some 70 percent said they were concerned that the war in Ukraine is distracting U.S. policymakers "from the threat posed" by China.
"To me, the way I read it, despite these very real concerns, and the survey makes the respondents aware of those concerns, there's still this continued support for Ukraine," said Roger Zakheim, the institute's Washington director.
Some 71 percent of those surveyed said they are concerned that Russian aggression "will inspire other authoritarians to invade their democratic neighbors," Hoff said.
Finally, 54 percent of those surveyed said that the United States does not have a clear strategy for managing its relationship with China, while 27 percent said the U.S. does have a clear strategy. And 54 percent said they support efforts to reduce the amount of trade between the United States and China. Also: "a bipartisan majority of Americans support efforts to discourage a Chinese invasion of Taiwan."
From defenseone.com