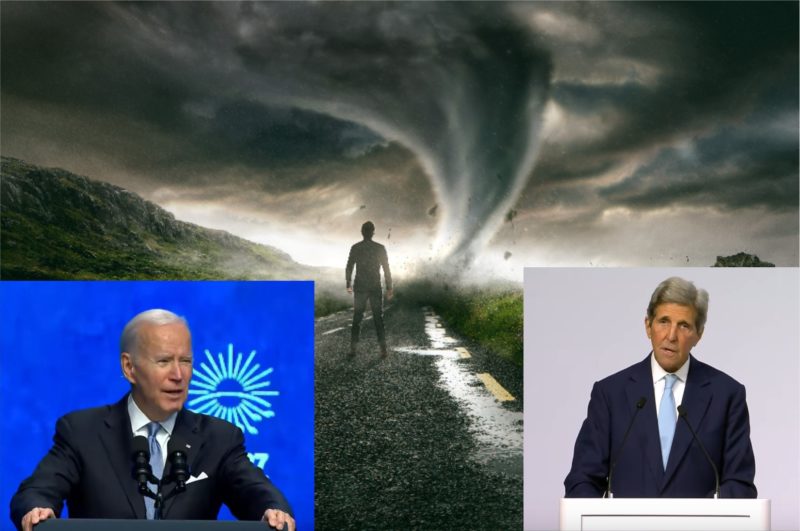 Biden and Kerry cave — UN climate reparations are here
By Craig Rucker
UN climate negotiators have been talking about "loss and damage," a concept that would make you liable when bad weather strikes developing nations, since the Bali action plan in 2007.
This amounts to developed nations accepting liability for extreme weather they did not cause.  Naturally developing nations, the hard climate Left, UN bureaucrats, and businesses seeking to cash in, have been salivating over this.  Europe and the U.S. have been rightly blocking "loss and damage" at every year's UN climate conference — until now.
A coalition of 130 nations, egged on by China, introduced a draft plan for loss and damage at COP 27 in Egypt.  This year it passed, despite U.S. climate envoy John Kerry's recent statement that, "it's a well-known fact that the United States and many other countries will not establish . . . some sort of legal structure that is tied to compensation or liability. That's just not happening."
Read the UN's official plan to set up a "loss and damage" climate reparations scheme at CFACT.org.
The language adopted by the COP sets up a framework for a future plan while leaving the details of who will pay for what deliberately nebulous.  Don't take too much comfort from this watered down language.  This is how UN climate diplomacy operates.  First they place something into the text, assign committees to study and report back in the future, then decide who will pay.  Witness the infamous "Green Climate Fund" for which hundreds of billions of dollars are theoretically owed that developed nations continually (hopefully perpetually) avoid paying.  Every so often, however, payments are made.  President Obama twice sent $500 million in payments that Congress had appropriated for other purposes to the "GCF" just before President Trump took office.
As CFACT has reported, the inclusion of "loss and damage" in the COP 27 outcome represents the thin end of the wedge.  We can expect a chorus of demands for climate reparations from here on out.
That chorus must be vigorously resisted.
Author
Craig Rucker is a co-founder of CFACT and currently serves as its president.
From cfact.org