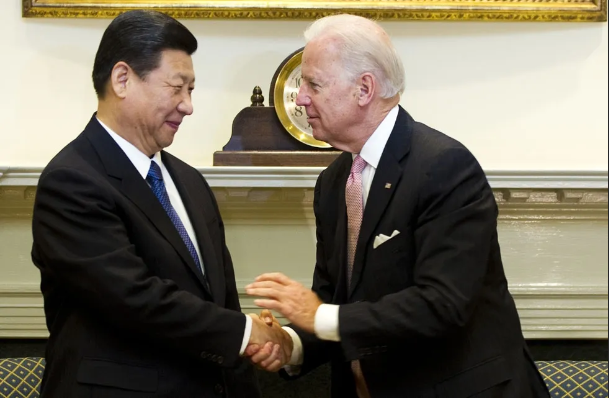 Biden Seeks to Establish 'Red Lines' in Meeting With China's Xi
 The talks are expected to be about managing tensions
President Biden on Sunday said that he's looking to establish what the US and China's "red lines" are in a meeting with Chinese President Xi Jinping that is scheduled for Monday.
"We just got to figure out where the red lines are and what we — what are the most important things to each of us going into the next two years," President Biden told reporters in Phnom Penh, Cambodia, where he was attending the East Asia Summit.
China has made clear that one of its red lines is increasing US support for Taiwan, which Beijing believes goes beyond the one-China policy. But that hasn't stopped the Biden administration from taking steps to forge stronger ties with Taipei.
The tensions over Taiwan are expected to be discussed in Monday's meeting, as well as new US sanctions that target China's chip industry, recent North Korean missile launches, and the war in Ukraine.
When the Biden-Xi meeting was first announced, a US official said that major differences likely wouldn't be resolved. Instead, the meeting is expected to be about managing tensions and better understanding each other's positions.
The meeting will be the first time that the two leaders hold in-person talks since President Biden came into office in January 2021. It comes as US-China relations are at their lowest point in decades, and the Biden administration has repeatedly named China as the biggest "threat" facing the US this century.
Biden is set to meet with Xi on the Indonesian island of Bali ahead of the summit of G20 leaders. At the East Asia summit in Cambodia on Sunday, Biden held a series of meetings with other world leaders, including South Korean President Yoon Suk Yeol, Japanese Prime Minister Kishida Fumio, and Australian Prime Minister Anthony Albanese.
On Saturday, Biden met with Cambodian Prime Minister Hun Sen and called out China without mentioning Beijing by name. He said the US will work with Southeast Asian countries to defend against "significant threats" to the so-called "rules-based order," which the US often accuses China of challenging.
Author: Dave DeCamp
Dave DeCamp is the news editor of Antiwar.com, follow him on Twitter @decampdave. View all posts by Dave DeCamp
From news.antiwar.com