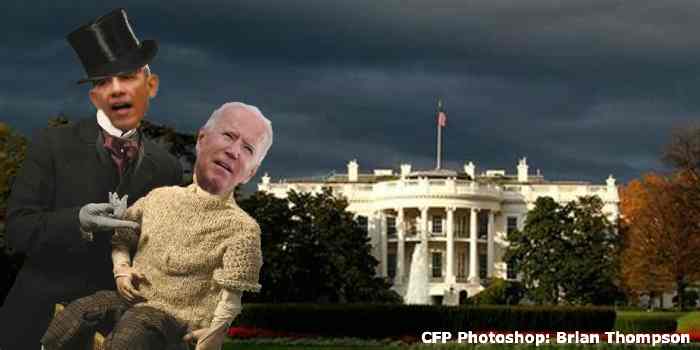 Remember when you go out to vote on Tuesday that a vote for the Biden Democrats is a vote for Barack Obama. Obama builds the bombs. Joe Biden throws them
Barack Obama, Joe Biden's Coming Out Party
By Judi McLeod
When Barack Obama first blew into view as a celebrity presidential candidate back in 2007, diddly-squat was known about him until five days before Election when he announced his intention to "Fundamentally Transform" America.
Were it not for the law already on the books that no one could serve 3 terms as U.S. President, the junior senator from Illinois likely would have breezed through a 3rd consecutive presidential election. No probs.
Instead he achieved his 3rd term the reliable Marxist way: through the election of his former vice president Joe Biden in 2020.
Twice elected as president, Obama talked little about his past to either the press or public at large, keeping his past well hidden.
Today he's talking volumes about Joe Biden—most—if not all of it—LIES.
"Former President Barack Obama said that President Biden has fixed the economy while keeping unemployment low amid an inflation rate of 8.2%.(Fox Business, Nov. 5, 2022)
Only power crazed Democrats and their supporters would by into this sugar-spun political fairytale.
"Obama made the comments during a campaign event for Pennsylvania U.S. Senate candidate John Fetterman in Philadelphia on Saturday night.(Fox Business)
"Think about what Joe Biden has already got accomplished. Despite historic pandemic, he not only repaired the economy and kept unemployment low, which, by the way, you should not take for granted, because a lot of folks thought with a historic pandemic like that and the shutdown, that we would potentially go into a Great Depression, and we did not," Obama said.
No, Mr. Obama, it wasn't "a lot of folks" but you and your globalist pals who—mistakenly—thought that way!
"Obama also said that Biden has "lowered health care and prescription drug costs" and passed an infrastructure bill "that will put more folks here in Pennsylvania and around the country to work and make our economy stronger." (Fox Business)
"If you help Democrats keep the House and get a few more seats in the Senate, you can guarantee he'll make more progress on the issues you care about," Obama said.
"Employers in October added 261,000 nonfarm jobs, which were more than expected, while the unemployment rate increased slightly to 3.7%, up from 3.5% in September.
"In January 2021, when Biden took office, the consumer price index, a measure of everyday items such as gasoline, groceries and rents, was climbing at a 1.4% annualized basis.
"In September, prices climbed by 8.2% on an annual basis.
"When compared to the same time last year, core prices, which exclude food and energy, rose by 6.6%, the fastest rate since 1982."
Almost everything out of Biden's mouth came out of Obama's first!
"President Joe Biden vowed to shut down coal plants "all across America" during a speech on Friday. Democratic Sen. Joe Manchin from West Virginia shot back at President Biden and demanded he apologize for his remarks.
Biden claimed that coal plants "cost too much money." (The Blaze, Nov. 5, 2022)
"So it's going to become a wind generation," Biden said at an event in Carlsbad, California. "And all they're doing is it's going to save them a hell of a lot of money and using the same transmission line that they transmitted the coal-fired electric on."
"Biden proclaimed, "We're going to be shutting these plants down all across America and having wind and solar power."
On Saturday, Manchin fired back at Biden on his plan to shut down coal plants – which would severely impact his home state of West Virginia.
"President Biden's comments are not only outrageous and divorced from reality, they ignore the severe economic pain the American people are feeling because of rising energy costs," Manchin began his statement.
"Comments like these are the reason the American people are losing trust in President Biden and instead believes he does not understand the need to have an all-in energy policy that would keep our nation totally energy independent and secure," the Senator from West Virginia continued.
"Being cavalier about the loss of coal jobs for men and women in West Virginia and across the country who literally put their lives on the line to help build and power this country is offensive and disgusting," he said."
Here's Obama about shutting down the coal industry in 2008:
…"So if somebody wants to build a coal-fired power plant, they can. It's just that it will bankrupt them", Obama said, responding to a question about his cap-and-trade plan."  He later added, "Under my plan … electricity rates would necessarily skyrocket." (Politico, April 5, 2012)
"Of course, cap and trade is long dead. But coal-fired power plants are powering down nationwide, and they are blaming the Obama Environmental Protection Agency. The president's critics say proposed greenhouse gas regulations for future power plants are designed to cripple the coal industry.
"And just like with another 2008 quote — Energy Secretary Steven Chu's famed call to "figure out how to boost the price of gasoline to the levels in Europe" — "Republicans say the Chronicle clip shows what's really in the president's heart, that high electricity prices and the death of coal have always been Obama's goal."
"When I was asked earlier about the issue of coal, under my plan of a cap-and-trade system, electricity rates would necessarily skyrocket," he added. "Regardless of what I say about whether coal is good or bad, because I'm capping greenhouse gases, coal-powered plants … would have to retrofit their operations. That'll cost money; they will pass that money on to consumers."
Remember when you go out to vote on Tuesday that a vote for the Biden Democrats is a vote for Barack Obama.
Obama builds the bombs.  Joe Biden throws them.
Judi McLeod ——Bio and Archives
From canadafreepress.com