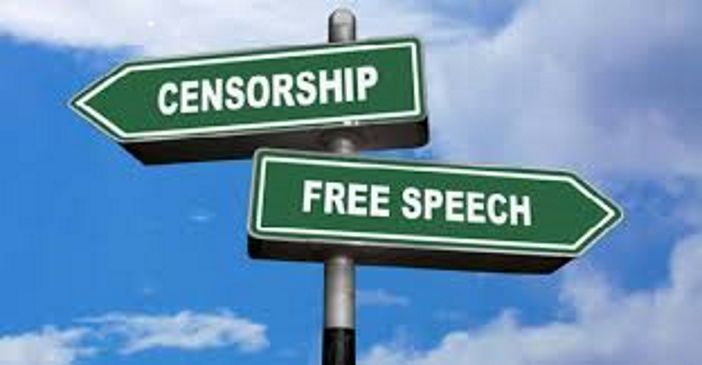 Censorship Ordered by Biden Admin
By Denise Simon
Simply, it is a violation of law. Remember recently when the Department of Homeland Security was creating a disinformation task force? Remember how it was quickly terminated? Well…it was never terminated.
Primer: Attached is our final report, DHS Needs a Unified Strategy to CounterDisinformation Campaigns. We incorporated your formal comments into the final report.
(that report is dated August 2022)
Then there is this Fact Sheet from May of 2022 by DHS.
Do you ever wonder about what is actually on social media including Wikipedia? You should, but even more importantly, you should wonder what is not on social media, Wikipedia but more…those internet search results. Every American is being politically engineered by tech companies, social media and the cable/print media operations….but read on…
A big hat tip to the Attorney General of Missouri and to The Intercept…excellent work and this case continues.
Court Orders Depositions of Top Biden Officials in Missouri AG's Case
Oct 21, 2022, 16:38 PM by AG Schmitt
JEFFERSON CITY, Mo. – Missouri Attorney General Eric Schmitt announced today that the United States District Court for the Western District of Louisiana granted Missouri and Louisiana's request for depositions from top-ranking officials in the federal government. This is movement in his lawsuit against top-ranking Biden Administration officials for allegedly colluding to suppress freedom of speech. The list of granted depositions includes Dr. Anthony Fauci, former White House Press Secretary Jen Psaki, Director of White House Digital Strategy Rob Flaherty, Surgeon General Vivek Murthy, CISA Director Jen Easterly, and FBI Supervisory Special Agent Elvis Chan.
"After finding documentation of a collusive relationship between the Biden Administration and social media companies to censor free speech, we immediately filed a motion to get these officials under oath," said Attorney General Schmitt. "It is high time we shine a light on this censorship enterprise and force these officials to come clean to the American people, and this ruling will allow us to do just that. We'll keep pressing for the truth."
The original lawsuit was filed by Missouri Attorney General Eric Schmitt and Louisiana Attorney General Jeff Landry on May 5, 2022. Missouri and Louisiana filed a Motion for Expedited Preliminary Injunction-Related Discovery on June 17, 2022, and that motion was granted on July 12, 2022, clearing the way for Missouri and Louisiana to gather discovery and documents from Biden Administration officials and social media companies.
The request for depositions was filed on October 10, 2022, and that motion was granted on October 21, 2022, allowing Missouri and Louisiana to depose top-ranking officials in the federal government under oath. More here.
Furthermore, the Biden White House approving the operations are already infecting the mid-term elections and those of the 2024 general election.
In part from the documents revealed by The Intercept: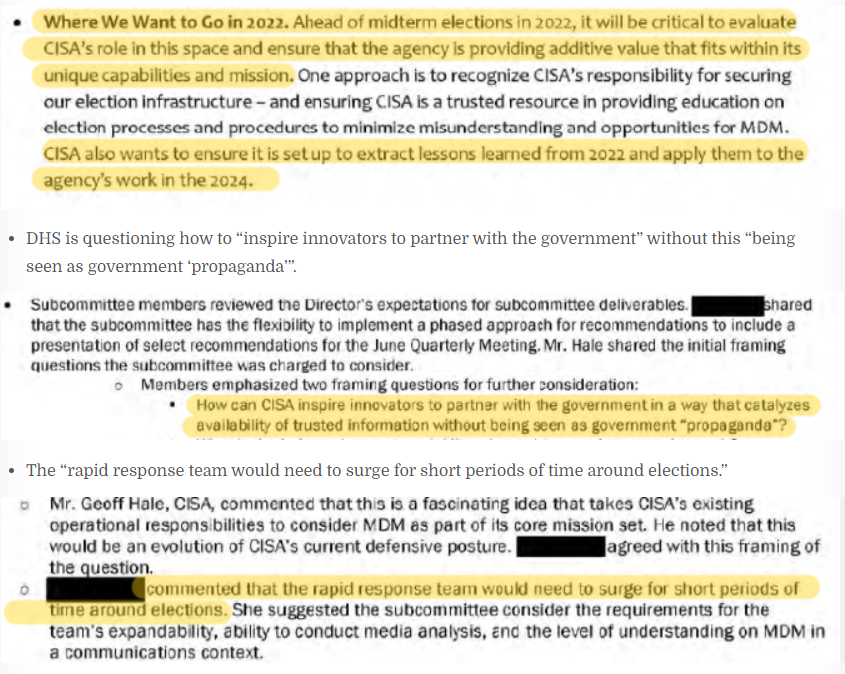 CISA is by the way is The Cybersecurity and Infrastructure Agency. It is an agency known to work with partners to defend against threats and collaborates to build a more secure and resilient infrastructure for the future as noted on the website. Hummm…is right. www.cisa.gov
***
Additional details include in part:
The government had its fingers all over social media companies. DHS would tell social media companies what they wanted off the platforms via "takedown requests," and then the platforms would submit reports to government. They would be "called on to 'process reports and provide timely responses, to include the removal of reported misinformation from the platform where possible.'"
This was specifically done with election information, which would be flagged by state election officials, submitted to DHS, which would then tell social media companies to pull it.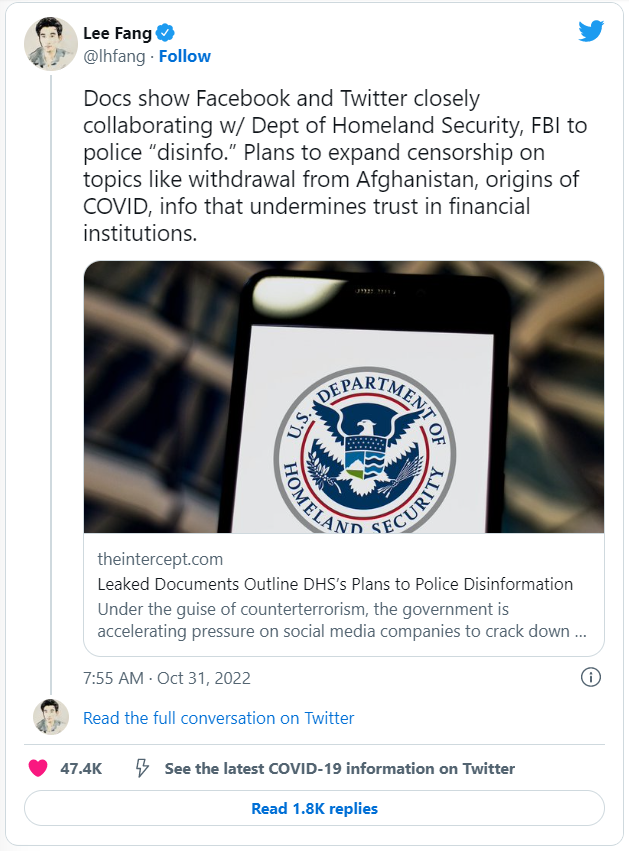 From founderscode.com