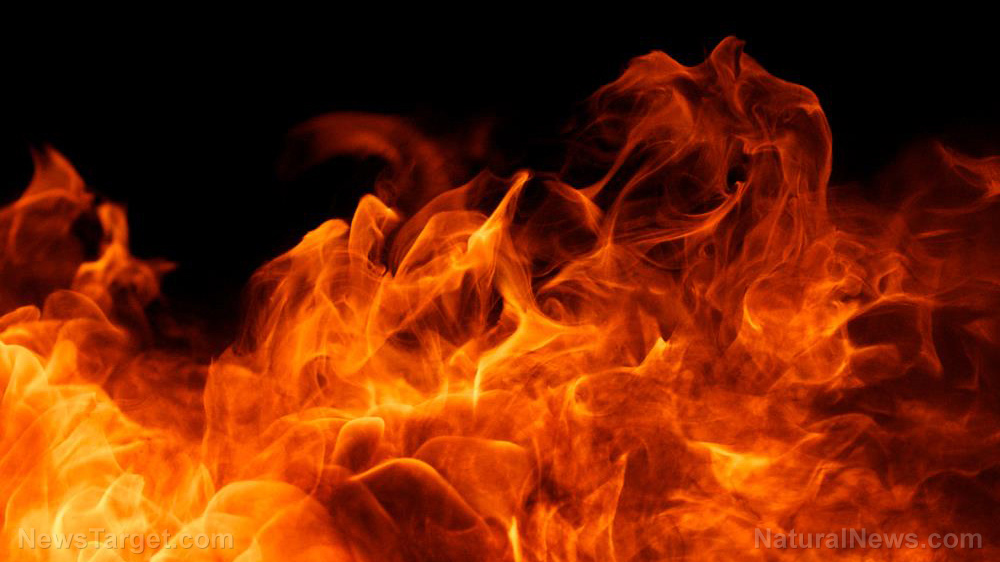 Washington state fertilizer plant burns to the ground; locals told to "shelter in place" due to air pollution
By Ethan Huff
The sheriff's office in Grant County, Washington, has extended a "shelter in place" order that was issued following the mysterious recent explosion of the Wilbur Ellis fertilizer plant, located near Moses Lake in eastern Washington.
Poor air quality following a massive fire that left the facility in shambles has made it unsafe for area residents to engage in certain activities. Until it clears up, folks are being advised to lay low, use air purifiers and just wait.
The incident occurred on Sunday afternoon, Oct. 23, with firefighters called to the scene at around 4 p.m. They arrived to a building that was fully engulfed in flames. (Related: Remember back in 2013 when Monsanto was believed to have been involved with the freak explosion of a Texas-based West Fertilizer Company production plant?
Because of the nature of the chemicals used and produced at the plant, the Grant County Health District (GCHD) issued a health advisory for people living downwind (north-east) from the fire.
"GCHD warns that smoke from the fire may contain dangerous chemicals which can irritate eyes, nose, throat, airways, and lungs," reported King 5.
"People most at risk include infants, children, the elderly, and people with respiratory conditions, such as asthma, chronic obstructive pulmonary disease (COPD), or other lung diseases. People at risk should stay indoors."
Why are so many fertilizer plants mysteriously catching fire?
Very little water was used to put out the fire due to the presence of fertilizer chemicals. Extra care had to be taken to avoid having those chemicals end up seeping into underground water tables and ecosystems.
There is also a standing elevator on site that fire crews had to pay special attention to in order to prevent the flames from jumping to and causing a second fire. Had that occurred, the elevator could have collapsed, bringing down nearby power lines.
At the time of the fire, nobody was inside the plant – it was a Sunday afternoon, after all. This meant that no evacuation order was necessary.
An investigation is ongoing to determine the cause of the fire, which is just one of many that have occurred in recent months, also under mysterious circumstances.
Hurricane Ian also happened to strike Florida's "fertilizer alley," delivering another blow to the production of this important crop input. Could it be that this is all just a big coincidence?
Then we have entire fertilizer plants in Europe that need to shut down because there is no more cheap energy available to keep them running. Everywhere you look, fertilizer – and thus the food supply – is under attack, it would seem.
"Seems to be a lot of factors, all happening at the same time, that have the effect of shutting down worldwide food production in years to come," wrote someone who reads Natural News. "If I didn't know better, I'd wonder if this were all part of some larger plan."
"This winter will be very hard for the Europeans when they are cold and hungry," wrote another, suggesting that this does not necessarily have to spell the end for global food production. "Come the Spring the cold and hungry masses will hopefully make the necessary changes to end this nonsense."
Someone else not all that convinced about the resolve of the people, wrote that he is just amazed at the amount of passivity in response to this, "especially after all we've been through these past two years."
More related news coverage about the spate of freak explosions and fires occurring at food chain-related companies across the country and around the world can be found at Collapse.news.
Sources for this article include:
From naturalnews.com